Rethinking the watercraft lifeguard
By Diane Tyrrell
The use of lifeguards in the primary supervision of watercraft activities, along with the term "Watercraft Lifeguard", is a prevalent practice at camps and organized youth programs. While these practices may be entrenched, it's time to critically re-think the practices in your program - noting that the inherent problem first and foremost is that there is no such thing as a "Watercraft Lifeguard" certification … And the reality is that, with few exceptions, lifeguard certification by itself is completely irrelevant in the supervision of watercraft activities.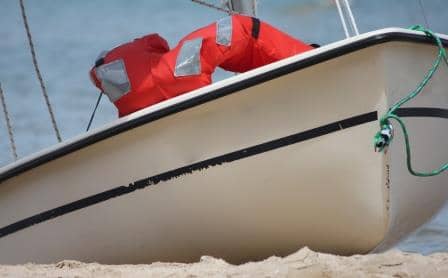 …Wait, what?
Currently in the US training marketplace, the majority of lifeguard certification courses focus on skills specific to swimming activities only, and most do NOT include any instruction in (1) watercraft operation and/or operation of rescue craft (2) watercraft rescue, or (3) any skills needed to safely supervise watercraft activities, such as activity management, hazard recognition, or accident prevention strategies.
While the use of lifeguards in watercraft activity supervision may be well intended, it's critical to understand that the skills and knowledge required to supervise activities and execute rescue in a watercraft emergency are very different than those required to rescue an individual who is swimming. At the end of the day, unless that lifeguard ALSO has competent operating ability, solid boat control skills (or competency when using motorized watercraft for rescue) and the ability to execute watercraft rescue in a quick and effective manner in an emergency, they may be totally ineffective.
Further, lifeguards not trained specifically in watercraft rescue skills can actually become an additional hazard in an emergency situation, and can endanger the lives of the participants, as well as their own. For example, lifeguards without competent craft control may not arrive to the victim in a timely manner, may hit victims in the water, or may capsize their own craft in the rescue attempt.
In other words, expecting someone to have any boating knowledge or ability to supervise or rescue watercraft activities based solely on their lifeguard certification is akin to asking a mechanic to take out a gall bladder – the skills and knowledge simply don't translate. Just because your staff can swim doesn't automatically mean they know how to rescue a capsized kayak ... One has nothing whatsoever to do with the other.
A critical safety factor is to ensure that those supervising watercraft activities are well trained. Nothing takes the place of supervision by qualified individuals.
Ideally, those supervising watercraft activities should, at minimum, have: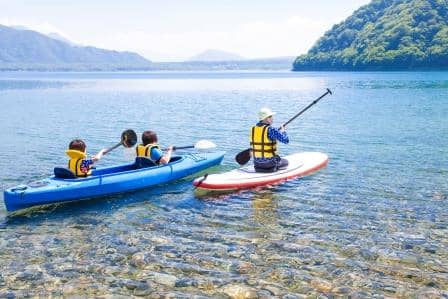 Competent operating ability, specific to the type(s) of craft and bodies of water to be used

Knowledge, ability, and skills required to execute rescue in a quick and effective manner in an emergency, specific to the type(s) of craft, and bodies of water to be used

Ability to recognize and respond to hazards, and effectively implement Emergency Action Plans

Excellent judgment and mature decision making

Physical fitness and physical ability to execute emergency skills/rescue
Ideally, the recommended best practice is to ensure that watercraft activities are supervised by an adult who holds an Instructor level certification from a nationally recognized boating organization, specific to the type(s) of craft, and bodies of water to be used.
Still want to use lifeguards?
Be ready to commit to providing additional training. In order to use someone certified as a lifeguard in the primary supervision of watercraft activities, they should be additionally trained AND be able to demonstrate proficiency in:
Operating skills – such as paddling, sailing, driving – to effectively operate the watercraft in an efficient and controlled manner

How to execute watercraft rescue

Safety Management: Recognition, prevention, hazards, common accidents, emergency response, decision making, risk management, etc.
All of which should be specific to the type(s) of craft, and bodies of water to be used.
Program operators should also require skills verification of those who are instructing and supervising watercraft activities. Skills verification helps ensure that lifeguards (and others) supervising watercraft activities have demonstrated skills in water rescue and emergency procedures, have the ability and knowledge to conduct activities, as well as the physical ability to perform the skills required.
Note that like most sports, "watercraft" is not a skill that one learns and masters to the level of being able to supervise or effectively execute rescue in a "learn-to-blank" course. The risk issues around using lifeguards and/or inexperienced operators in the supervision of watercraft activities are far greater than "just" demonstrating ability to execute rescue skills in a staged setting. Again, ideally, those supervising activities should be experienced - specifically in the type(s) of watercraft and on the type(s) of water used in the program. If for no other reason than an experienced individual will generally have better ability to execute rescue in a quick and efficient manner than a novice.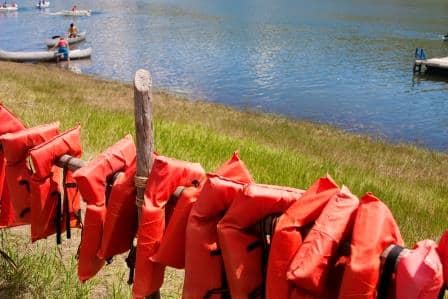 Certainly, it is reasonable to split the tasks of staff, assigning those with appropriate watercraft skills to roles of supervision and rescue, and assigning lifeguards who do not have additional specific watercraft training/ability to roles such as responding to medical emergencies near the water, participant supervision on land, etc. Further, as/if applicable, they may meet requirements for staff with certification/training in CPR/AED and First Aid to be present.
Because your camp/organization "has-always-done-it-this-way" with regards to hiring lifeguards for watercraft activities is not a reason to continue the practice. The key is to be thoughtful in staffing decisions to ensure that safety while on-and around-the water is priority one, and that those supervising watercraft activities have the knowledge and skills to be diligent in protecting participants against risk of injury.
Please note that the above are suggested minimum qualifications for those supervising activities. Operators should evaluate the supervision needs of their program specific to the facilities, body of water, boats used, activities conducted, and clientele served. Additionally, there may be local, state, or federal laws and regulations which dictate how activities must be conducted and supervised. Those supervising watercraft activities should be familiar with the standards and regulations applicable to the program, facility, and body of water, and conduct activities in compliance.
---
Diane Tyrrell, CCD is the CEO of Frog Pond Aquatics and has over 30 years-experience in aquatics risk management, working with camps, municipalities, universities, youth organizations, insurance companies, and legal professionals. Diane is the author of the book 101 Games & Activities for Canoes & Kayaks, and has contributed content to the American Red Cross Small Craft Safety and Lifeguard Management training curriculum, and the book Camp Waterfront Management. dianettyrrell@gmail.com
Playground safety: The dirty dozen
The National Playground Safety Institute (NSPI) has identified 12 of the leading causes of injuries on playgrounds, which they
call the "Dirty Dozen."
Improper protective surfacing:
Hard surfaces under and around playground equipment can cause injuries if children fall. Replace these surfaces with materials that are soft enough to cushion a fall, such as hardwood fiber/mulch, sand, or pea gravel. Maintain these surfaces at a depth of 12 inches, don't allow them to become compacted, and make sure they are free of standing water and debris. You can also use unitary materials (synthetic or rubber tiles, shredded rubber, and mats) under play equipment. Consult a vendor certified in playground safety before installing these materials.
Inadequate use zones:
A use zone is the area under and around playground equipment where a child might fall. Make sure to cover use zones with protective surfacing material that extends a minimum of 6 feet in all directions from the edge of the equipment. Some equipment (slides between 6 and 8 feet high and swing sets) needs a larger use zone.
Protrusion/entanglement hazards:
A protrusion hazard is anything that could impale or cut a child who might fall against it. An entanglement hazard is anything that could catch an item of clothing or jewelry worn around a child's neck. Children have been strangled when a drawstring from a hood or a necklace catches on an exposed bolt end or open "S" type hook on play equipment. Pay special attention to the area at the top of slides, where gaps and spaces could catch clothing. Anchor ropes securely at both ends so they cannot form a loop or noose.
Entrapment in openings:
Children often enter enclosed openings on play equipment feet first and try to slide through the opening. Even if the opening is large enough to allow the child's body to pass through, it may entrap the child's head. Generally, openings on play equipment should measure less than 3-1/2 inches or greater than 9 inches. Pay special attention to openings at the top of a slide, between platforms, and on climbers where the distance between rungs might be less than 9 inches.
Insufficient equipment spacing:
If there is not enough space between pieces of play equipment, children can fall off one structure and strike another. Each item of play equipment has a use zone around it, and for certain types of equipment, these use zones may overlap. Equipment less than 30 inches high can overlap use zones with 6 feet between each structure. Equipment higher than 30 inches must have 9 feet between each structure. The to-fro area of swings, exit area of slides, standing rocking equipment, and merry-go rounds cannot overlap use zones. Install swings and other pieces of moving equipment in an area away from other play equipment.
Trip hazards:
Exposed concrete footings, abrupt changes in surface elevations, containment borders, tree roots, tree stumps, and rocks are all common trip hazards that are often found in play environments.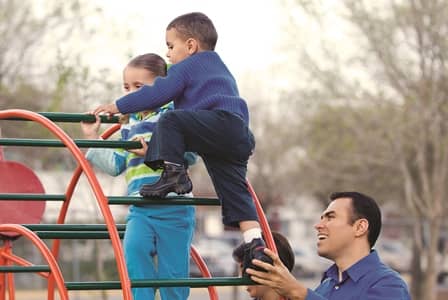 Lack of supervision:
Increased supervision on the playground directly relates to increased safety and fewer injuries. Design your play area so that it is easy for caregivers to observe children at play. Position supervisors so they can immediately respond to emergencies. Make sure that elevated play equipment is supervised at all times.
Age-inappropriate activities:
Make sure that your play equipment is age-appropriate for the children who will use it. Areas for preschool age children (2-5) should be separate from areas for school age children (5-12).
Lack of maintenance:
A sloppily maintained playground is dangerous, and can invite vandalism. Make sure play equipment has no missing, broken, or worn-out components, and that all hardware and parts are secure. Maintain the surface material of your play equipment, whether wood, metal, or plastic. Inspect equipment frequently, and replace it as necessary.
Pinch, crush, and sharp-edged hazards:
Inspect play equipment to make sure that there are no sharp edges or points that could cut a child. Check moving components, such as suspension bridges, track rides, merry-go-rounds, seesaws, and some swings, to make sure that there are no moving parts or mechanisms that might crush a child's fingers.
Platforms with no guardrails:
Make sure elevated surfaces (platforms, ramps, and bridge ways) have guardrails or barriers to prevent falls. Preschool age children are at greater risk from falls, so equipment intended for this age group should have guardrails on elevated surfaces higher than 20 inches and protective barriers on platforms higher than 30 inches. Equipment intended for school-age children should have guardrails on elevated surfaces higher than 30 inches and barriers on platforms above 48 inches.
Equipment not recommended for public playgrounds:
Because accidents have been associated with the following types of equipment, the Consumer Product Safety
Commission discourages their use on public playgrounds:
Heavy swings such as animal figure swings and multiple occupancy/glider swings.
Free-swinging ropes that may fray or form a loop.
Swinging exercise rings and trapeze bars.
You can learn more about playground safety from the National Recreation and Park association at
www.nrpa.org
.