Deb Witty
Markel horse insurance specialist since 2003
Quick Facts
Arabian, NRHA & NRHCA judge
About Deb
Born in 1967 in the state of Washington, Deb is a third generation horse trainer. At four years of age she was given her first Arabian gelding and the passion for show horses began. Showing throughout her youth, Deb rode pleasure and reining horses and competed Nationally in the Arabian breed.
In 1992, Deb along with her husband Kim Witty established HIGH COUNTRY TRAINING. Kim's success in the reining and cow horse industries combine well with Deb's love for pleasure horses, to create a well rounded, full service training facility. Located in the Kittitas valley of eastern Washington, the facility offers much to the show enthusiast, as well as the recreational rider.
Deb began judging Arabian shows in 1991. Then in 1996, her judging expanded to include NRHA shows and in 2002 NRCHA as well. She has judged all major breed events in the US, the NRHA Futurity and Derby as well as the Italian NRHA Futurity twice.
Into this busy schedule of training and judging, Deb also works as an equine insurance specialist for Markel and fits in being a mom to her son, Ryan James, who's love for animals is already evident.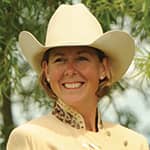 +1.509.968.4259

+1.206.999.0121
highcountrytraining@msn.com

Ellensburg, WA 98926
Buy insurance online now