Debi DeTurk Peloso
Markel horse insurance specialist since 1982
Quick Facts
Breed/discipline specialties: Hunters, Jumpers, Dressage, American Quarter Horses and Paso Finos
Farm & Liability product specialist
Responsible for PATH Int'l Centers insured with Markel
Earned CPCU (Chartered Property Casualty Underwriter) designation in October, 2002
Valued relationship with the Professional Association of Therapeutic Horsemanship Internationl (PATH Int'l), American Riding Instructors Association (ARIA), and ARICP Advisory Board Member
About Debi
My love of all things horsey began early. I pestered my parents until they finally let me begin riding lessons. My first horse show in 1964 on a borrowed pony named Star Ridge was a triumph of sorts – I didn't fall off and we all survived the day.
I joined the local Pony Club which provided an elementary education in horse care and introduced me to hunting and cross country riding. At the age of 13, I had saved enough babysitting money to purchase my first pony. Buying green, training a little with my instructor's help and selling my horses for small profits enabled me to trade up until I finally had a ring-worthy horse. I was also catch-riding for my trainer, showing hunters and equitation in small rated shows in CT and NY.
When college rolled around, my parents pressured me to sell my horse and get ready for a 'real job' (my father's words). So off I went to U of Michigan. But after two years of day dreaming about the perfect hunter round during Journalism class, I purchased another horse and began instructing for a local barn. My first experience teaching adult beginners taught me more about people than 4 years of college. I graduated college despite my distractions and returned home to CT with my diploma and my thoroughbred-Appy mare Country Music.
Armed with my Journalism degree, I interviewed with magazine companies in NY. On my way into the city for my third call-back at Time/Life, I sat next to a man on the train who said his company needed someone like me. My first 'real job' turned out to be in computer leasing – I was hired as a facilitator and customer service contact. The company had operations in Europe as well as the US, and I was often in the office overnight and on weekends. I began representing the company in sales situations and traveling for work. The mare was sold to someone who loved her and had time for her.
As my career grew, I was able to take more time for myself. I began riding again with a well-known trainer, showing on borrowed horses in Adult Equitation and Adult Hunters. I longed to be in the horse world, but knew I didn't have the talent to ride as a professional, nor the money to make it as an Amateur. Then I read an ad in the Chronicle of the Horse – an insurance company was looking for someone who could sell and who loved horses. I wrote a letter, sent a resume, and promptly forgot about the ad.
Six months later, I received a call from the insurance company, asking me to come for an interview. Over 200 people had responded to the ad – I was the only one with sales experience. I was hired, and my whole life changed.
Since 1982, I have been learning about property and casualty insurance, and enjoying my association with the horse world. I specialize in Liability and Property coverages for lesson, boarding, training, breeding and show facilities. I have customers across the US both large and small.
I often travel to visit farms and to speak at seminars and conventions. With my Journalism background, I enjoy writing articles for national and local trade publications. I am very proud of Markel's association with Professional Association of Therapeutic Horsemanship International (PATH Int'l), and I am the Markel representative responsible for our insured PATH Int'l Centers. I also have a close association with American Riding Instructor Association (ARIA) and value my many ARIA clients. I feel it is my job to educate my customers about their insurance needs and to act as a resource, not a salesman.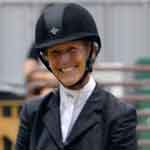 888-217-3657

850-973-3914

ddpmic@gmail.com

Greenville, FL 32331
Buy horse mortality insurance