Frank Costantini
Markel horse insurance specialist since 1995
About Frank
Frank has been involved with horses since riding at a young age in 4-H. His lifetime of horse experience gives him a working knowledge of all breeds and disciplines, but his primary focus has been on the Quarter horse and the Western Disciplines in which it excels. Frank has served in many roles with the National Reining Horse Association, the Reining Horse Foundation and working with USET and ASHA, and has been chair of the FEI Reining Committee.

Frank Costantini has been the Director of Western Disciplines for Markel since 2013. Prior to his appointment to Director with Markel, Frank had a very active role in the horse industry. Frank has been on the Board of Directors and Executive Board of Directors since 1985. He has served four two year terms as President of the National Reining Horse Association. He has been President of the Reining Horse Sports Foundation on three different occasions. Frank has also been on the Board of the USET, the AHSA, now the USEF and has also served as Chair of the Reining Committee of the International Equestrian Federation for two terms. He was inducted into the National Reining Horse Hall of Fame and now serves as the Chairman of the NRHA Hall of Fame Committee.

Frank has been in the insurance industry since 1976 when he started with Prudential. He expanded into the Casualty and Financial Services sectors of the industry with Prudential and became affiliated with Markel during his second term as President of the NRHA. Frank gravitated to the horse industry with Markel and with his wife Susan's assistance, made the decision to pursue that aspect of the business full time. Frank has 25 plus years of service with Markel. As Discipline Director, Frank has led the Markel team in their reaching out to other equine organizations.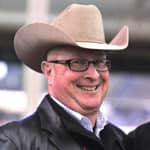 +1.800.314.0077
frank.costantini@markel.com

North Jackson, OH 44451
Buy insurance online now