Premier Partner Program
Take your partnership with Markel Specialty Commercial to the next level.
Join a community of recognized insurance agents and provide your customers with industry leading risk management. As a Markel Style agent, you have access to a wide array of partner enablement resources to help grow your business, maintain a competitive edge, and keep customer satisfaction at an all-time high.



**All criteria will be reviewed annually on December 31st**
Program eligibility
A maximum of 10 agency locations can be reviewed as one for criteria eligibility, if agency group has the same FEIN across all locations
Benefits listed below are only available per FEIN and not per location
Program exclusion may apply depending on the nature of existing producer agreement and/or other incentive arrangements
Rewards and compensation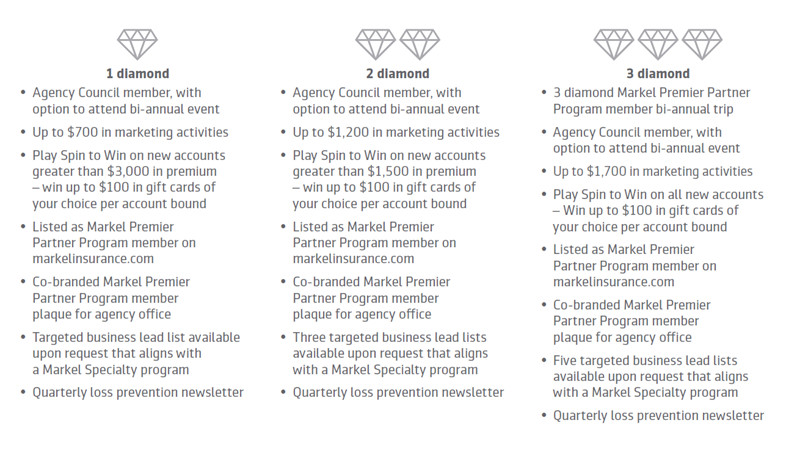 The producer benefits you receive are provided to assist your agency in promoting Markel Specialty products, policies and services. All benefits provided are considered producer compensation. All marketing assistance is at the cost of MSI.
All agreements with the vendors providing the benefit, are between your agency and the vendor. MSI is simply providing access and funding for the vendors services. Please review all vendor contracts and agreements before signing and seek legal advice as you need.
The Program does not alter or amend the terms and conditions of your Producer Agreement at any time. Participation is voluntary and will not impact your Producer Agreement status with MSI, however all Program benefits cease upon termination of your Producer Agreement.

All terms and conditions offered by Markel Specialty associated with any and all, past or present promotions, contests, or other producer incentives remain unchanged.