Benefits of e-bikes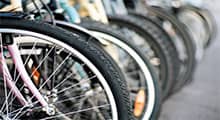 Riding an e-bike is a lot like riding a regular bike with the added boost of an electric motor. And having this motor with pedal assist has some advantages. Let's take a look at a few.
Improved physical health
Some people may think because the bike is electric and takes less effort to ride that it's not really exercise. A study conducted out of Brigham Young University and published in the Journal of Medical Internet Research found that people who ride electric bikes experience nearly as much exercise as those who ride mountain bikes without feeling as if they've had a difficult workout. The truth is that even with pedal assist, riders still have to pedal which results in burning calories. It's a great cardiovascular exercise that can help build endurance and muscle.
Easier to ride
Pedal assist gives riders a boost. It helps with hills, inclines, and rough terrain, allowing for a smoother ride thus reducing stress on joints. You can also ride with greater power and precision than a regular bike. And it gets people cycling who may not otherwise ride a traditional bike because of physical aches and pains. Additionally, you can take longer rides without physical exhaustion.
Better mental health
E-bikes make cycling more accessible and people are more likely to do it because it's easier, getting about the same workout with less the effort. For those who may be living an otherwise sedentary life, riding an e-bike gets them moving and in nature. This exercise, change in scenery, and fresh air helps improve mood, reduces stress, provides for a more restful sleep, and increases productivity.
Great alternative to cars
E-bikes are great for commuting to work a few miles away and for running quick errands. Because it's classified as a bike, in many cities, you can ride on sidewalks and in bike lanes, and cut across parks. With alternative ways to travel to your destination, your commute can be faster than a car stuck in traffic. When people ride their e-bike instead of driving, they cut down on gas and pollution, helping to improve air quality and the environment.
Faster and safe
Most cyclists travel 10 to 12mph, but an e-bike can average 20mph. E-bikes allow you to get to your destination faster than a regular bike. E-bikes are not more dangerous than regular bikes. They just have different risks. E-bikes tend to be safer than regular bikes because you can accelerate to get out of the way faster, and travel at higher speeds, keeping up with traffic.
Now that you've learned the benefits of e-bikes, you'll want to consider protecting your e-bike with insurance. Your e-bike is an investment and you want to make sure you have adequate coverage for theft or damage. It's a risky move for your e-bike to be uninsured. Fortunately, there's bicycle insurance specifically for e-bikes. Electric bike insurance provides coverage between auto, home and renters insurances where there are gaps and fine print exclusions.
Markel Specialty can offer a stand-alone electric bike insurance policy that insures e-bikes with power assist up to 750 watts and covers theft, damage and more. Policies start as low as $100 per year and offer a variety of coverage levels and deductible options.
Each policy can be customized to fit you and your riding style. Coverages can include protection for damage caused by theft, crash, collision, fire, attempted theft, vandalism or hitting another object. Coverage of spare parts, cycle apparel, and rental reimbursement can also be included at no additional cost.
Take action today and get a free, no-obligation quote to protect yourself and your e-bike.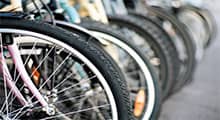 This "document" is intended for general information purposes
and should not be construed as advice or opinions on any specific facts or circumstances. The content of this document is made available on an "as is" basis, without warranty of any kind. This document cannot be assumed to contain every acceptable safety and compliance procedure or that additional procedures might not be appropriate under the circumstances. Markel does not guarantee that this information is or can be relied on for compliance with any law or regulation, assurance against preventable losses, or freedom from legal liability. This publication is not intended to be legal, underwriting, or any other type of professional or technical advice. Persons requiring advice should consult an independent adviser or trained professional. Markel does not guarantee any particular outcome and makes no commitment to update any information herein, or remove any items that are no longer accurate or complete. Furthermore, Markel does not assume any liability to any person or organization for loss or damage caused by or resulting from any reliance placed on this content.
Was this helpful?
Policies as low as $100 per year.
Get a fast, free online quote today and get the protection and peace of mind you deserve.
Or call +1.800.236.2453 to speak with a bicycle insurance specialist.