Navigating the inflatable jungle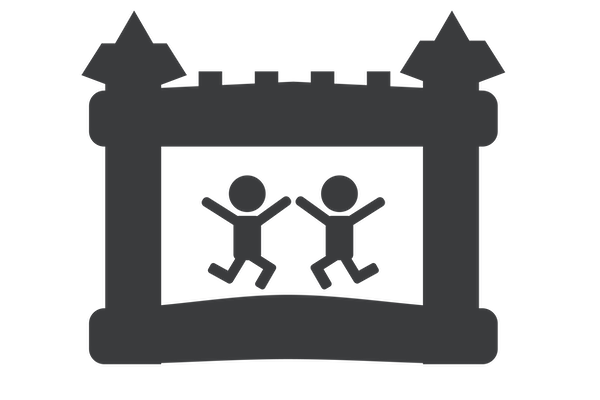 It is important that inflatable amusement devices are well maintained, effectively anchored, and utilized in a safe environment so that they can be a great source of entertainment for children. Depending on your specific need, you may choose to own an inflatable, as opposed to renting, which places a heavier responsibility on you.
Inflatable amusement device safety
Either way, your operation and supervision needs to follow the guidelines outlined by the manufacturer in their owner's manual. At a minimum, operation guidelines should adhere to user height, weight, age, and other physical requirements. They should maintain minimum scheduled service and component checklists, properly inflate and anchor the device, require users to wear appropriate attire, and provide protective ground cover in accordance with manufacturer's specifications. Weather should also be a consideration. The maximum recommended wind speed for operations of the inflatable is 25 mph.
Supervision should maintain manageable staff-to-user ratios, control inappropriate activities for the inflatable such as flips, pushing, and aggressive user behaviors, and regulate users entering and exiting the inflatable.
The American Society for Testing and Materials (ASTM) produced a standard,
F2374-10 - Practices for Design, Manufacture, Operation, and Maintenance of Inflatable Amusement Device
, which outlines the following best practices concerning inflatables:
Inflatable devices shall be maintained in accordance with manufacturer's recommendations, requirements, and instructions contained in the owner's operations manual.
Details of all maintenance work performed on the inflatable devices shall be documented and maintained.
Daily inspections shall be performed in accordance with the inflatable device manufacturer's recommendation and requirements.
Inspection to verify that appropriate crowd control measures and barriers are in place.
Anchoring systems are intact and ropes are not worn or chafed.
Anchoring systems secure the inflatable device.
There are no significant holes or rips in the fabric or seams.
The correct blower(s) specified for the device is being used and the air pressure is within the manufacturer's specification for operation.
There are no exposed electrical contacts.
The insulation on all of the electrical cables is in good condition.
Electrical plugs, sockets, and switches are not damaged and are properly grounded.
No utility lines are located within 20 ft of the device in all directions.
The bolts and screws of the blower are properly secured and appropriate guards are secured over the air inlet.
The blower inflation tube is in good condition and is firmly fixed to the blower.
The blower is positioned correctly, adequately protected or guarded, and does not present a tripping hazard.
Renting an inflatable
If you choose to rent an inflatable, do so from a credible third party to safeguard against potential mishaps. If the third party does not carry adequate insurance, you could be held liable for their mistakes. Consider the following:
Get proof of insurance before signing a contract. Require a third party owner/operator to maintain their own liability and workers' compensation insurance, with policy limits that are equal to, or greater than, your policy limits. Avoid agreements where the owner/operator requires you to hold them harmless from liability.
Check with your insurance agent to confirm you have the proper coverage before renting an inflatable amusement device. Ask that your business be named as an additional insured on the owner/operator's general liability policy.