Winter preparation for your club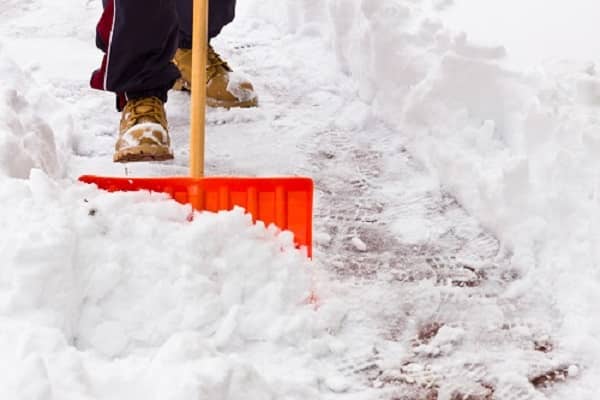 Loss prevention strategies to support BGCA programs during the winter season can involve three key areas of focus: slip-and-fall accident prevention, preventing rupture of pipes due to freezing, and safe winter driving activities.
Slip-and-fall accident prevention
Slip-and-fall accidents occur frequently during the winter months, mainly when snow and ice are not adequately cleared from walkways and parking lots. You can prevent these accidents by following these guidelines:
Clear walkways of ice and snow as soon as practical. Make advance arrangements with your snow removal vendors so that sidewalks, parking lots, and walkways are cleared before people arrive.

Watch for black ice. This occurs when water melts and refreezes on dark asphalt surfaces, making it difficult to see. Downspouts and areas near curbs can become especially hazardous. Keep ample amounts of ice-melting compound on hand to treat these areas.

Place skid-resistant, absorbent mats at all entrances. Inspect the mats frequently so they do not become tripping hazards. Replace frayed mats immediately.

Check your floors frequently and mop up excess moisture immediately. Post "Wet Floor" signs as necessary.

Document your efforts to keep your floors hazard free in your daily log or calendar and retain these records.
Other proactive measures you can take to prevent slip-and-fall accidents include:
Inspect bathrooms frequently, ideally every 30 to 60 minutes, and clean up spills immediately.

Apply abrasive tape and surfacing on stairs and handicap ramps, or consult a contractor for a more permanent fix.

Make sure internal and external step heights comply with local codes. Shifts in underground foundations and cracks between risers can cause steps to exceed local code heights, creating a hazard. Have a professional contractor inspect your risers.

Frequently inspect stairway handrails and repair loose rails immediately.
To keep pipes from freezing:
Plan to inspect your pipes. If your facility is going to be unoccupied for more than 24 hours, inspect your pipes once a day for freezing.

Keep your heat on. If you close during the holidays, heating expenses incurred while closed are far less costly than having to close your facility for water damage repair.

Seal all openings to the outdoors. Cold air can harm unprotected water pipes, so cover pipes with foam or fiberglass insulation sleeves.

Open interior cabinet doors. To keep pipes from freezing under sinks, open cabinet doors allowing warmer room air to circulate around the pipes.

Let water drip. If pipes start to freeze, let water drip slowly through an open faucet to help prevent pipes from bursting.

Pipes that rupture due to freezing can result in extensive water damage to walls, carpets, furniture, and important electronic equipment such as computers, printers, phones, and copiers. While the electronics themselves can be replaced, important business records can be lost indefinitely if computers are damaged. Protect equipment with a cover before you leave each day. Elevate computers off the floor to reduce their exposure to potential rising water. These measures may help prevent you from suffering downtime during wintry weather

.
Winter safe driving preparations
Preparations for safe vehicle operation during the fall and winter seasons involve action steps for both the vehicle and the driver.
Having a well-maintained vehicle supports an effective vehicle safety program. Many auto accidents are the direct result of poorly maintained vehicles. Before inclement weather arrives, carefully inspect your vehicles to identify and correct maintenance issues that may contribute to an accident. It is strongly recommended that any inspection be completed by a certified professional mechanic.
Sometimes, even with proper maintenance, a vehicle can still break down. Having an emergency road kit may help you respond better to such an unwelcomed event. Update your vehicle's emergency kit for winter weather.
An Emergency Road Kit should include:
Snow shovel, broom, and ice scraper.
Abrasive material such as sand or kitty litter, in case your vehicle gets stuck in the snow.
Jumper cables, flashlight, and warning devices such as flares and emergency markers.
Blankets for protection from the cold.
A cell phone with charger, water, food, and any necessary medicine (for longer trips or when driving in lightly populated area)
When inclement weather occurs, remind drivers to operate the vehicle with safety in mind. Driving under the posted speed-limit, remaining aware of road conditions, and being prepared to respond to a skid are well planned precautions.
Stay alert
Keep your gas tank close to full, even with a hybrid-electric vehicle. If you get stuck in a traffic jam or in snow, you might need more fuel than you anticipated to get home or to keep warm.

If road conditions are hazardous, avoid driving if possible. Wait until road and weather conditions improve before venturing out.

On longer trips, plan enough time to stop to stretch, get something to eat, return calls or text messages, and change drivers or rest if you feel drowsy.
Avoid risky driving behaviors
Do not text or engage in any activities that may distract you while driving.

Obey all posted speed limits, but drive even slower if necessary for weather conditions.

Drive sober. Alcohol and drugs impair perception, judgment, motor skills, and memory – the skills critical for safe and responsible driving.
Driving in winter conditions
Drive slowly. It's harder to control or stop your vehicle on a slick or snow-covered surface. On the road, increase your following distance enough so that you'll have plenty of time to stop for vehicles ahead of you.

Know whether your vehicle has an antilock brake system and learn how to use it properly. Antilock brake systems prevent your wheels from locking up during braking. If you have antilock brakes, apply firm, continuous pressure to the brake pedal. If you don't have antilock brakes, you may need to pump your brakes if you feel your wheels starting to lock up.
Navigating around snow plows
Don't crowd a snow plow or travel beside it. Snow plows travel slowly, make wide turns, stop often, overlap lanes, and exit the road frequently.

The road behind an active snow plow is safer to drive on. If you find yourself behind a snow plow, stay behind it or use caution when passing.

When you are driving behind a snow plow, don't follow or stop too closely. A snow plow operator's field-of-vision is limited; if you can't see the mirrors, the driver can't see you. Also, materials used to de-ice the road could hit your vehicle.

Snow plows can throw up a cloud of snow that can reduce your visibility to zero in less time than you can react. Never drive into a snow cloud – it can conceal vehicles or hazards.
---
Ref:
National Highway Traffic Safety Administration. "Winter Driving Tips 2016. Focus on Safety – Winter Driving".
https://one.nhtsa.gov/nhtsa/tips/winter/2016/WinterDrivingTips.pdf