Business essentials for disaster management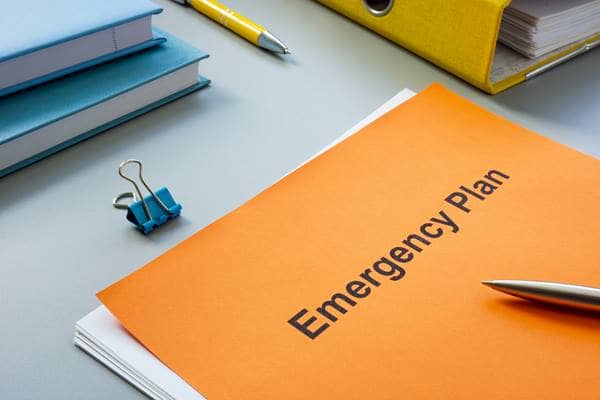 Disaster and emergency management is essential to keeping workers safe and healthy. When employers take steps to prepare for potential disasters, they are more likely to prevent worker injuries and reduce the frequency and severity of workers compensation losses. When disasters occur, businesses without a plan to protect their employees are especially vulnerable to injury and illness, and entities of any size, scope, and industry can be affected.
Two fundamental terms must be defined to understand the importance of managing disasters. A disaster is a serious disruption to a community (caused by natural, human-made, or hybrid hazards) where the resources needed to function exceed its capacity. Furthermore, emergency management involves creating the framework within which communities reduce vulnerability to threats/hazards and cope with disasters. Emergency management can occur at multiple levels within a community:
Federal/national level – e.g., FEMA
State level – e.g., state agencies
Local level – e.g., county or city agency
Entity level – e.g., individual organizations, businesses

Emergency management phases
When managing any disaster, the process can be broken down into four phases: mitigation, preparedness, response, and recovery. However, instead of viewing these phases as a start-to-finish process, consider them a continuous cycle.
Mitigation – activities and steps that aim to prevent future emergencies.
Preparedness – planning, training, equipping, and evaluating to ensure effective coordination when responding to a disaster.
Response – taking action during an incident to ensure the safety of all affected people and help protect property.
Recovery – reorganizing and rebuilding after an incident until the community or entity is fully functional.

Standards and best practices
Employers should comply with all applicable regulations regarding emergency action plans and other related items, which may include standards from OSHA, local agencies, etc. These regulations represent the minimum level of engagement required of businesses. Below is an overview of some necessary plan elements from OSHA's emergency action plan standard (29 CFR § 1910.38), but it is not comprehensive. Please reference the complete standard for all requirements.
Means of reporting emergencies
Evacuation procedures and emergency escape route assignments
Procedures for employees who operate critical operations before evacuating
Accounting for all employees after an evacuation
Rescue and medical duties
Contact names with job titles, phone numbers, etc.
It is a best practice for employers to go beyond the requirements and address emergency management more comprehensively. After complying with regulations for emergency action plans, consider taking your preparation to the next level by:
Building emergency management principles into your safety culture
Developing a disaster recovery plan
Implementing employee training programs
Conducting periodic drills and evaluations
For more information on managing disasters for your business, visit https://www.osha.gov/emergency-preparedness or https://www.ready.gov/business.

References
Emergency Action Plans, 29 C.F.R § 1910.38 (2023). https://www.osha.gov/laws-regs/regulations/standardnumber/1910/1910.38
Federal Emergency Management Agency. (n.d.). Emergency management. https://emilms.fema.gov/is_0230e/groups/999.html
OSHA.gov. https://www.osha.gov/
This "document" is intended for general information purposes and should not be construed as advice or opinions on any specific facts or circumstances. The content of this document is made available on an "as is" basis, without warranty of any kind. This document cannot be assumed to contain every acceptable safety and compliance procedure or that additional procedures might not be appropriate under the circumstances. Markel does not guarantee that this information is or can be relied on for compliance with any law or regulation, assurance against preventable losses, or freedom from legal liability. This publication is not intended to be legal, underwriting, or any other type of professional or technical advice. Persons requiring advice should consult an independent adviser or trained professional. Markel does not guarantee any particular outcome and makes no commitment to update any information herein, or remove any items that are no longer accurate or complete. Furthermore, Markel does not assume any liability to any person or organization for loss or damage caused by or resulting from any reliance placed on this content.
Markel® is a registered trademark of Markel Group Inc.
© 2023 Markel Service, Incorporated. All rights reserved.
Was this helpful?