Camp risk management news - Vol. 3, 2018
With the right safety program, you can keep minor upsets from turning into major mishaps. Markel is committed to providing the tools you need to help put Safety 1st at your Camp. This newsletter is designed to help you avoid accidents and potential claims--while controlling costs at the same time.

Articles/topics in this issue include:
More safety/educational webinars this fall -- Register now!

2018 Safety 1st award nominations - Mark your calendars to nominate!

Assessing electronic health record readiness at camp

Reinforcing social media and cell phone policies
Markel 2018 Safety 1st Award nominations announcement
Mark the date! 2018 Safety 1st award nominations open October 16.
Self nominate your camp for Markel's Safety 1st recognition. Markel's Safety 1st program recognizes camps that have shown an outstanding commitment to safety.
Remember, actual 2018 nominations don't open until October 16th.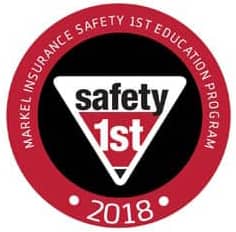 Assessing electronic health record readiness at camp
As the transformation of our world by digital technology continues, and smart phones and tablets guide the way we communicate, it is essential that camps leverage this technology to improve the flow of health information and do everything in their power to reduce unnecessary risk and liability.
Reinforcing social media and cellphone policies
Inappropriate contact through social media and unauthorized cellphone communications, such as texting, can often lead to allegations of abuse.
The information provided in this article is intended for general informational purposes only and should not be considered as all encompassing, or suitable for all situations, conditions, and environments. Please contact us or your attorney if you have any questions.