Getting the most out of your preseason arborist and tree service vendor visits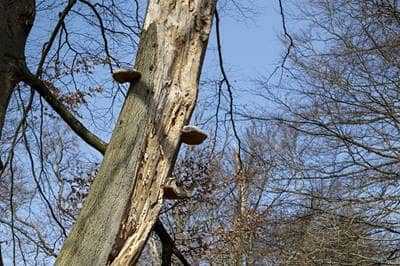 As you plan for arborist and tree service vendor visits this year, consider addressing the following areas to get the best outcome from their visit.
Aesthetics

Potential falling branch and tree hazards

Fire threat mitigation
Aesthetics
Aesthetics are an important part of your camps appearance. Not only do you want your camp to look like a camp, but you want visitors to appreciate the beauty that a well-maintained tree can provide. It's part of the beauty of camp! As you do your aesthetics assessment, take time to evaluate whether you need to do an integrated pest management (IPM) program. Invasive tree pest such as beetles, insects, and fungus can quickly change the appearance of or compromise the health of a tree. Consult with your local forestry agency or simply ask your arborist to see if there are any threats you need to be aware of in your area and take appropriate actions. This will help support your efforts to keep your trees beautiful and safe.
Falling branches and trees
can easily cause unwanted property and vehicle damage. They can also cause serious injuries and death to unsuspecting people. If you have a hazardous tree, you may be liable for damages it causes if it (or parts of it) falls. To reduce the likelihood of falling branches and trees, the Agricultural Extension Service of the University of Tennessee provides the following recommendations for controlling these tree hazards:
Check your trees, especially the large ones. Complete one inspection during the summer while the leaves are on the tree and one in the winter.

Look for cracks, seams, dead branch stubs and large, older wounds. These may be signs of tree decay, which increases the likelihood of tree or branch failure.

Leaning or lopsided trees may represent a hazard if they are above property or within playground areas.

Remove trees that lean more than 15 degrees from vertical.

Use binoculars to inspect higher parts of trees. Walk completely around the tree, and document what you see. This will help you track the tree's health and evaluate whether it should be removed.
Fire threat mitigation
The third reference in this article involves fire threat mitigation. By eliminating ignition zone tree fuels, a program can take significant steps to help reduce their exposures to wildfires. According to Firewise Pruning, by the Alaska Division of Forestry effective pruning can help control wildfire threats. The article provides guidelines for pruning trees that may be in three ignition zone areas.
WITHIN 30 FEET OF STRUCTURE
Maintain deciduous trees and shrubs so that crowns are at least 10 feet apart to avoid the spread of fire from one to the other. Within this zone remove tree limbs within eight feet of the ground to prevent a ground fire from climbing into the canopy. Remove trees that are within 10 feet of your building and keep branches at least 10 feet from the roof, chimney, or deck. All shrubs and groundcovers near buildings should be kept less than 18 inches tall. Remove all dead or broken branches and all dead or dying trees. Remove highly flammable plant material from this zone.
ZONE 2: 30~100 FEET FROM STRUCTURE
In Zone 2, maintain spacing of at least 10 feet between crowns. Limb trees up to 8 feet to help prevent a ground fire from tuning into a crown fire. Keep grasses short and space shrubs two to three times their mature height apart to break up the continuity of the fuels. They may cause a fire to burn at a lower intensity. Remove dead, dying, or unhealthy trees. Prune dead, rubbing, and broken branches from remaining trees. Limit the number of dead trees left as habitat snags in this area, as wildlife need only one or two per acre. Stack firewood away from trees and shrubs, and at least 30 feet from any structure.
ZONE 3: BEYOND 100 FEET FROM HOME (Buildings)
This is a transition zone between your defensible space and the surrounding area and extends to your property line. Pruning may not be necessary within this zone but you may wish to thin dense stands of trees, especially evergreens, and remove lower branches that are dead or could act as ladder fuels.
It is important that your access road and driveway be maintained to provide safe access for firefighters and their equipment. Clear vegetation from around street signs so that they are visible. Thin the number of trees along the driveway to maintain ten feet between crowns and remove dead or dying trees. Prune trees along the driveway and remove or shorten lower branches that could prevent firefighting equipment from entering your property. Remember that they will need more room than the average sized vehicle.
Confirm the arborist or tree service vendor has insurance
One final point to keep in mind before you contract the services of an arborist or tree service vendor, confirm they have proper insurance before hiring them. For insight on what to expect from an independent contractor, see the article titled: What you need to know about working with independent contractors available in the Markel risk management library.
---
References:
Alaska Division of Forestry. "Firewise Pruning." forestry.alaska.gov/Assets/pdfs/community/publications/08firewisepruning.pdf .2007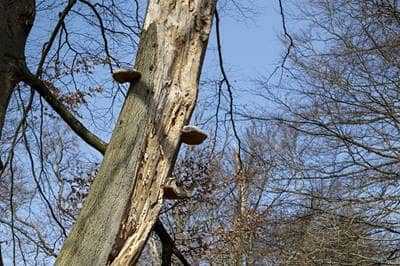 This document is intended for general information purposes only, and should not be construed as advice or opinions on any specific facts or circumstances. The content of this document is made available on an "as is" basis, without warranty of any kind. This document can't be assumed to contain every acceptable safety and compliance procedures or that additional procedures might not be appropriate under the circumstances. Markel does not guarantee that this information is or can be relied on for compliance with any law or regulation, assurance against preventable losses, or freedom from legal liability. This publication is not intended to be legal, underwriting, or any other type of professional advice. Persons requiring advice should consult an independent adviser. Markel does not guarantee any particular outcome and makes no commitment to update any information herein, or remove any items that are no longer accurate or complete. Furthermore, Markel does not assume any liability to any person or organization for loss or damage caused by or resulting from any reliance placed on that content.

*Markel Specialty is a business division of Markel Service, Incorporated, the underwriting manager for the Markel affiliated insurance companies.
© 2022 Markel Service, Incorporated. All rights reserved.

Was this helpful?