Keep your chimney clean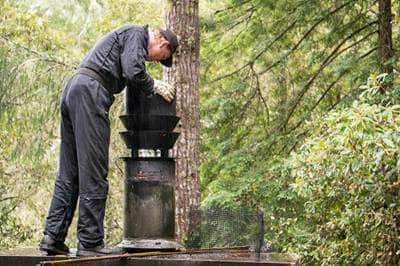 One frequently overlooked area of maintenance involves the routine inspection and cleaning of chimneys. It is highly recommended to inspect chimneys, fireplaces, and vents at least once a year for soundness, freedom from deposits, and correct clearances. It is further recommended to have an annual inspection completed by a certified chimney sweep. Understanding the inspection process helps to ensure you receive a quality inspection. The Chimney Safety Institute of America (csia.org) highlights three levels of inspections and services recommended by the NFPA.
Level 1 inspections
– A Level 1 inspection is a recommended minimum requirement if your appliance or venting system has not been modified, has been regularly serviced by your technician, and you plan to use the system as you have in the past. In a Level 1 inspection, your chimney service technician should examine the readily accessible
1
exterior and interior portions of the chimney and the accessible
2
portions of the appliance-to-chimney connection. Your technician will be looking for the basic soundness of the chimney structure and flue and the appliance installation and connections. The technician will also verify the chimney is free of obstructions and combustible deposits.
Level 2 inspections
– A Level 2 inspection, more in-depth than Level 1, is required upon the sale or transfer of a property, after an operation malfunction or external event that likely caused damage to the chimney, or when any changes are made to the system. Changes can include a change in the fuel type, changes to the shape of or material in the flue (i.e. relining), or the replacement or addition of a different type, input rating, or efficiency of an appliance.
Building fires, chimney fires, and seismic and weather events are all indicators that this level of inspection is warranted. A Level 2 inspection includes everything in a Level 1 inspection plus examination of the accessible portions of the chimney exterior and interior found in attics, crawl spaces, and basements. The inspection will ensure proper clearances from combustibles are met in these accessible locations. A Level 2 inspection also includes a visual examination of the internal surfaces and joints of all flue liners incorporated within the chimney by video scanning or other means. A Level 2 inspection does NOT require the use of specialty tools or the removal or destruction of permanently attached portions of the chimney, building structure, or finish.
When a Level 1 or Level 2 inspection suggests a hidden hazard and the evaluation cannot be performed without requiring special tools to access concealed areas of the chimney or flue, a Level 3 inspection is recommended.
Level 3 inspections
– A Level 3 inspection verifies the proper construction and condition of concealed portions of the chimney structure and the flue. A Level 3 inspection includes examination of all the areas and items checked in a Level 1 and a Level 2 inspection as well as the removal or destruction of certain components of the building or chimney where necessary. Components (i.e. chimney crown, interior chimney wall) will only be removed to gain access to the hidden areas that are being inspected.
1 Readily accessible – indicates exposed, or capable of being exposed, for operation, inspection, maintenance, or repair without the use of tools to open or remove doors, panels or coverings.
2 Accessible – may require the use of commonly available tools to remove doors, panels, or coverings, but will not damage the chimney, building
structure, or finish.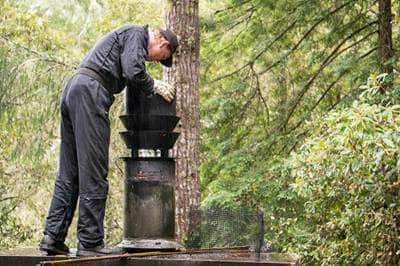 This "document" is intended for general information purposes
and should not be construed as advice or opinions on any specific facts or circumstances. The content of this document is made available on an "as is" basis, without warranty of any kind. This document cannot be assumed to contain every acceptable safety and compliance procedure or that additional procedures might not be appropriate under the circumstances. Markel does not guarantee that this information is or can be relied on for compliance with any law or regulation, assurance against preventable losses, or freedom from legal liability. This publication is not intended to be legal, underwriting, or any other type of professional or technical advice. Persons requiring advice should consult an independent adviser or trained professional. Markel does not guarantee any particular outcome and makes no commitment to update any information herein, or remove any items that are no longer accurate or complete. Furthermore, Markel does not assume any liability to any person or organization for loss or damage caused by or resulting from any reliance placed on this content.
Was this helpful?