Camp loss control news - Vol 1, Issue 2 - 2019
Learn more about documenting leased vehicle conditions and protecting your camp from cyber attacks. Also, preview Markel Specialty's upcoming webinars and conference appearance.

Documenting leased vehicle condition to avoid unwarranted damage claims
It is common practice to do a "walk-around" in order to validate the condition of the vehicle(s) before you drive it off the lessor's premises. Before the "walk-around" is completed, take time to understand the lessor's definition of damage to the vehicle.
Protecting your camp from cyber attacks
By following some of the simple but effective mitigation techniques below, you can significantly reduce the attack surface of your network and make it more difficult for a malicious cyber actor to launch a successful attack.
Markel presents practical and effective safety training webinars
Free to Markel policyholders
Register now and mark your calendar
Dr. Chris Thurber
Waterfront safety design: Top ten ways to prevent accidents and injuries
Thursday, March 21, 1:00 pm eastern
Certified guards and brand new kickboards are a good start, but preventing injuries and drownings at your waterfront requires careful design of the physical plant, as well as the procedures you use for instruction, accountability, maintenance, and site-specific training. In this compelling webinar, Dr. Chris Thurber will use personal photos and his 30 years of experience as a lifeguard and waterfront director to give participants 10 safety principles that have saved lives and limbs. Now is the time to refine your pre-season safety audit and lifeguard training goals.
---
Dr. Deborah Gilboa
How to put young people in jobs they're not ready for
Tuesday, April 16, 1:00 pm eastern
We hire promising staff every year, and then give them leadership opportunities. We flex and shift our staff over the summer, putting teens and college students into jobs they've never done and need them to excel almost immediately. Dr. G will talk about how to set our staff - new and returning - up for success in their new roles, and how to build next year's leadership staff this summer.
---
Mic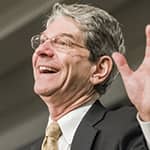 hael Brandwein
How to "Higher" Staff You've Hired: Practical & Powerful Techniques to Coach, Evaluate, Motivate, & Turbo-Charge Staff Performance
Tuesday, May 7, 2019 1:00 p.m. Eastern
Michael coined the term "Highering Staff" to mean supporting them in growing on the job. The most important job of the camp leadership team is to bring out the best work of our front-line staff. Team leaders must have terrific training every year to excel in this role, and this webinar will meet this need for you in an efficient way. Michael has assembled for us a special collection of his original tools and methods that camp team leaders can use right away to produce higher levels of staff performance. This session includes: Michael' special GPS cards for coaching staff on a weekly basis; instantly solving the number one misconception about camp coaching and mentoring; how to get the whole staff team to focus on specific goals of outstanding leadership; reinforcing excellent staff behavior with greater credibility; preventing burnout; boosting responsibility; and more. The quality of our camps is defined by the quality of our staff's behavior. This webinar will help you lead staff to your best season ever.
Visit Markel at upcoming conferences and play "Find the Counselor"
ACA National Conference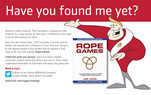 Come visit us at our booths #513 and #515 at the ACA National Conference – February 11 to February 14, 2020 – in San Diego, CA, and play our game, "Find The Counselor," to win Jim Cain's Rope Games.