Camp risk management news - Vol. 4, 2018
With the right safety program, you can keep minor upsets from turning into major mishaps. Markel is committed to providing the tools you need to help put Safety 1st at your Camp. This newsletter is designed to help you avoid accidents and potential claims--while controlling costs at the same time.

Articles/topics in this issue include:
Nominate your camp and get the safety recognition it has earned
Markel 2018 CAMP Safety 1st Award -- nominations now open!
Self-nominate your camp for Markel's Safety1st recognition.
Markel's Safety 1st program recognizes camps that have shown an outstanding commitment to safety.
If your program is selected to receive the Safety 1st designation, you will receive:
Markel's Safety 1st certificate

A press release you can use to announce your achievement

Rights to use the official Safety 1st logo

A listing in Markel's nationally distributed Risk Management News

Recognition in the Safety 1st Hall of Fame on Markel's website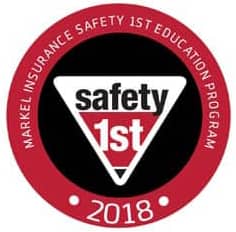 Facility Risk Assessment for an Active Shooter/Hostile Event Response (ASHER) Program
To address what needs to occur for your camp to establish an effective response, you should complete a risk assessment of your program. Guidelines for what can be involved with that assessment are provided by the National Fire Protection Association (NFPA).
Controlling claims costs through timely reporting
You can help control the costs of claims by immediately reporting any allegation of property damage or bodily injury that is made against your business, even if the allegation is not an official claim. Timely reporting of incidents may also have a positive impact on your overall cost of insurance
Suggested guidelines for incident report forms
It is highly recommended that an organization consult with their attorney or insurance company so they can develop an incident form that captures useful information that can serve as a positive tool for accident investigations.