Teach kids to recognize the warning signs of COVID-19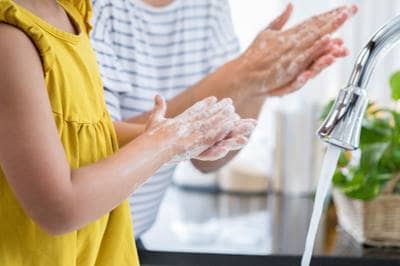 Start every program session by teaching kids to recognize signs that someone may be impacted by COVID-19. This will help support your program's efforts to reduce the possibility of spreading the virus.
The following message from the Center for Disease Control (CDC) can help provide a consistent message that can help children understand best practices to prevent the spread of COVID-19.
The CDC message is as follows:
You can practice healthy habits at home, school, and play to help protect against the spread of COVID-19:
Cough or sneeze into a tissue or your elbow. If you sneeze or cough into a tissue, throw it in the trash right away.
Keep your hands out of your mouth, nose, and eyes. This will help keep germs out of your body.
Wash your hands with soap and water for at least 20 seconds. Follow these five steps—wet, lather (make bubbles), scrub (rub together), rinse and dry. You can sing the "Happy Birthday" song twice.
If you don't have soap and water, have an adult help you use a special hand cleaner.
Keep things clean. Older children can help adults clean the things we touch the most, like desks, doorknobs, light switches, and remote controls.
If you feel sick, stay home. Just like you don't want to get other people's germs in your body, other people don't want to get your germs either.
Review this message with all children daily. Post signage throughout your facility that helps to remind kids of these CDC tips. As you know, with any message that is communicated to children, seek acknowledgement that they understand before moving on. Observe children and confirm ALL understand.
Furthermore, it is recommended that you share this information and your process for educating children with parents or guardians so they can help reinforce your efforts to keep everyone safe.
---
Reference:
Center for Disease Talking with children about Coronavirus Disease 2019: Messages for parents, school staff, and others working with children. www.cdc.gov/coronavirus/2019-ncov/daily-life-coping/talking-with-children.html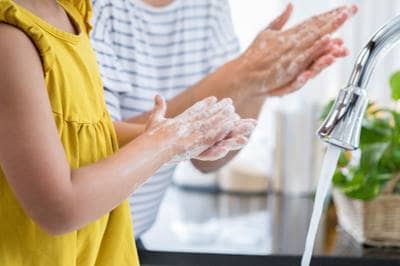 This document is intended for general information purposes only, and should not be construed as advice or opinions on any specific facts or circumstances. The content of this document is made available on an "as is" basis, without warranty of any kind. This document can't be assumed to contain every acceptable safety and compliance procedures or that additional procedures might not be appropriate under the circumstances. Markel does not guarantee that this information is or can be relied on for compliance with any law or regulation, assurance against preventable losses, or freedom from legal liability. This publication is not intended to be legal, underwriting, or any other type of professional advice. Persons requiring advice should consult an independent adviser. Markel does not guarantee any particular outcome and makes no commitment to update any information herein, or remove any items that are no longer accurate or complete. Furthermore, Markel does not assume any liability to any person or organization for loss or damage caused by or resulting from any reliance placed on that content.

*Markel Specialty is a business division of Markel Service, Incorporated, the underwriting manager for the Markel affiliated insurance companies.
© 2022 Markel Service, Incorporated. All rights reserved.

Was this helpful?