Assisting children with hand hygiene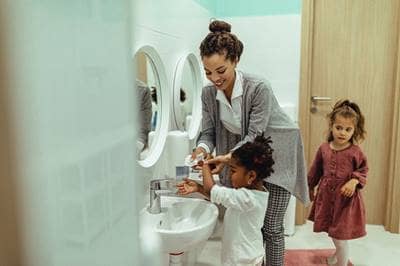 Teaching children the proper way to wash their hands will help reduce the transmission of germs and help support your efforts to keep your center a safe environment.
Organizations such as the American Academy of Pediatrics and American Public Health Association offer effective handwashing practices for infants and young children. These age groups may have difficulty reading signs so it is important that the caregiver become involved.
Caregivers/teachers should provide assistance with handwashing at a sink for infants who can be safely cradled in one arm and for children who can stand but not wash their hands independently. A child who can stand should either use a child-height sink or stand on a safety step at a height at which the child's hands can hang freely under the running water. After assisting the child with handwashing, the staff member should wash his or her own hands.
Hand hygiene with an alcohol-based sanitizer is an alternative to handwashing with soap and water by children over twenty-four months of age and adults when there is no visible soiling of hands.
---
References:
"The Color of Safety"www.safetyandhealthmagazine.com/articles/the-color-of-safety-2. Safety+Health magazine. The National Safety Council.2011
American Academy of Pediatrics, American Public Health Association, National Resource Center for Health and Safety in Child Care and Early Education. Caring for Our Children: National Health and Safety Performance Standards; Guidelines for Early Care and Education Programs. 4th ed. Itasca, IL: American Academy of Pediatrics; 2019. Printed in the United States of America
OSHA Hazard Communication Standard, Section 1910.1200(f)(6)(ii). www.osha.gov/laws-regs/standardinterpretations/2017-06-20
"Disinfectants for Use against SARS-CoV-2". www.epa.gov/pesticide-registration/list-n-disinfectants-use-against-sars-cov-2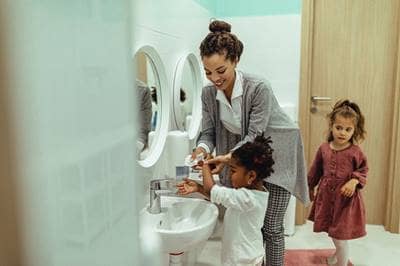 Was this helpful?