Assisting children with hand hygiene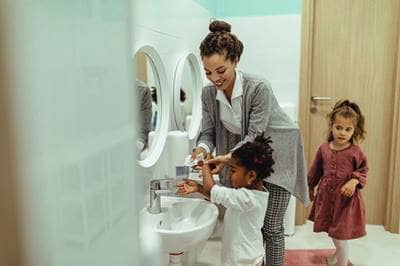 Teaching children the proper way to wash their hands will help reduce the transmission of germs and help support your efforts to keep your center a safe environment.
Organizations such as the American Academy of Pediatrics and American Public Health Association offer effective handwashing practices for infants and young children. These age groups may have difficulty reading signs so it is important that the caregiver become involved.
Caregivers/teachers should provide assistance with handwashing at a sink for infants who can be safely cradled in one arm and for children who can stand but not wash their hands independently. A child who can stand should either use a child-height sink or stand on a safety step at a height at which the child's hands can hang freely under the running water. After assisting the child with handwashing, the staff member should wash his or her own hands.
Hand hygiene with an alcohol-based sanitizer is an alternative to handwashing with soap and water by children over twenty-four months of age and adults when there is no visible soiling of hands.
---
References:
"The Color of Safety"www.safetyandhealthmagazine.com/articles/the-color-of-safety-2. Safety+Health magazine. The National Safety Council.2011
American Academy of Pediatrics, American Public Health Association, National Resource Center for Health and Safety in Child Care and Early Education. Caring for Our Children: National Health and Safety Performance Standards; Guidelines for Early Care and Education Programs. 4th ed. Itasca, IL: American Academy of Pediatrics; 2019. Printed in the United States of America
OSHA Hazard Communication Standard, Section 1910.1200(f)(6)(ii). www.osha.gov/laws-regs/standardinterpretations/2017-06-20
"Disinfectants for Use against SARS-CoV-2". www.epa.gov/pesticide-registration/list-n-disinfectants-use-against-sars-cov-2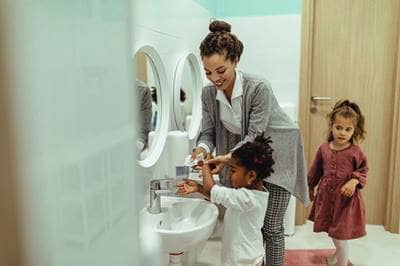 This document is intended for general information purposes only, and should not be construed as advice or opinions on any specific facts or circumstances. The content of this document is made available on an "as is" basis, without warranty of any kind. This document can't be assumed to contain every acceptable safety and compliance procedures or that additional procedures might not be appropriate under the circumstances. Markel does not guarantee that this information is or can be relied on for compliance with any law or regulation, assurance against preventable losses, or freedom from legal liability. This publication is not intended to be legal, underwriting, or any other type of professional advice. Persons requiring advice should consult an independent adviser. Markel does not guarantee any particular outcome and makes no commitment to update any information herein, or remove any items that are no longer accurate or complete. Furthermore, Markel does not assume any liability to any person or organization for loss or damage caused by or resulting from any reliance placed on that content.

*Markel Specialty is a business division of Markel Service, Incorporated, the underwriting manager for the Markel affiliated insurance companies.
© 2022 Markel Service, Incorporated. All rights reserved.

Was this helpful?