Avoiding toy hazards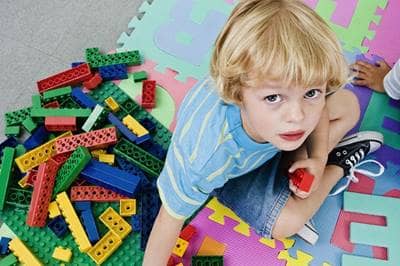 Does your center allow children to bring in toys or accept toy donations? Along with the joy a toy can bring, there are a number of hazards that can accompany them. You can take steps to help reduce the risks associated with toys by increasing your staff's awareness and educating parents as well.
The Consumer Product Safety Commission's website (www.cpsc.gov) is an excellent resource for potential recalls associated with lead paint or other manufacturer-related hazards. It is a good website to check before accepting any toy donations. Additional hazards may be associated with the selection, use, supervision, and upkeep of toys after they have been used.
KidsHealth.org offers these general guidelines when selecting toys for infants, toddlers, and preschoolers:
Toys should be large enough — at least 1¼ inches (3 centimeters) in diameter and 2¼ inches (6 centimeters) in length — so that they can't be swallowed or lodged in the windpipe. A small-parts tester, or choke tube, can determine if a toy is too small. These tubes are designed to be about the same diameter as a child's windpipe. If an object fits inside the tube, then it's too small for a young child. If you can't find a choke tube, a toilet paper roll can be used for the same purpose.
Avoid marbles, coins, balls, and games with balls that are 1.75 inches (4.4 centimeters) in diameter or less because they can become lodged in the throat above the windpipe and restrict breathing.
Battery-operated toys should have battery cases that secure with screws so that kids cannot pry them open. Batteries and battery fluid pose serious risks, including choking, internal bleeding, and chemical burns.
When checking a toy for a baby or toddler, make sure it's unbreakable and strong enough to withstand chewing. Also, make sure it does not have:

sharp ends or small parts like eyes, wheels, or buttons that can be pulled loose
small ends that can extend into the back of the mouth
strings longer than 7 inches (18 centimeters)
parts that could become pinch points for small fingers

Most riding toys can be used once a child is able to sit up well while unsupported, but check with the manufacturer's recommendation. Riding toys like rocking horses and wagons should come with safety harnesses or straps and be stable and secure enough to prevent tipping.
Stuffed animals and other toys that are sold or given away at carnivals, fairs, and in vending machines are not required to meet safety standards. Check carnival toys carefully for loose parts and sharp edges before giving them to your infant.*
Prevent the sharing of toys that have been mouthed. Toys that cannot be washed and sanitized should not be used. Supervision also needs to include controlling aggressive behaviors associated with toy play. Arguments, fights, and throwing of toys should be stopped immediately.
Toys can be hazardous if not properly stored after use. Inspect walkways frequently, removing any toys that may pose a slip and fall hazard. Be mindful that active visitor hours may require a more aggressive upkeep policy.
To store toys, keep them at ground level in an easily accessible storage bin with a removable lid or no lid at all. Lids need to be light-weight and self-supporting so they do not slam shut, creating a finger pinch hazard. Storing toys on shelves may encourage a child to climb up shelves, tables, or chairs, potentially leading to a fall. Or children may pull objects down from shelves that can strike them in the head.
___________________________
*© 1995- 2015. The Nemours Foundation/KidsHealth. Reprinted with permission.
"Choosing Safe Toys for Toddlers and Preschoolers." KidsHealth.org. The Nemours Foundation, 2014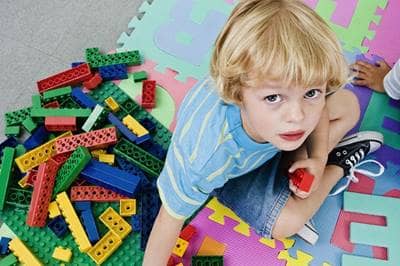 This document is intended for general information purposes only, and should not be construed as advice or opinions on any specific facts or circumstances. The content of this document is made available on an "as is" basis, without warranty of any kind. This document can't be assumed to contain every acceptable safety and compliance procedures or that additional procedures might not be appropriate under the circumstances. Markel does not guarantee that this information is or can be relied on for compliance with any law or regulation, assurance against preventable losses, or freedom from legal liability. This publication is not intended to be legal, underwriting, or any other type of professional advice. Persons requiring advice should consult an independent adviser. Markel does not guarantee any particular outcome and makes no commitment to update any information herein, or remove any items that are no longer accurate or complete. Furthermore, Markel does not assume any liability to any person or organization for loss or damage caused by or resulting from any reliance placed on that content.
Markel® is a registered trademark of Markel Group Inc.
© 2023 Markel Service, Incorporated. All rights reserved.
Was this helpful?