Be aware, there may be a catalytic converter thief out there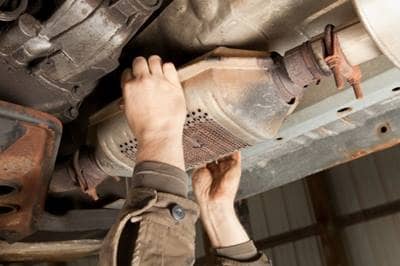 In case you have not seen or heard the news lately, theft of catalytic converters is now an epidemic. Thieves are targeting converters because they contain a combination of three metals: platinum, rhodium, and palladium, which can be sold at local scrap yards for $50 to $250 per converter. The values of these precious metals have increased significantly over the last few years. As of March 1, 2021, rhodium was valued at $27,400 per ounce, palladium is approximately $2,383 per ounce, and platinum going for $1,130 per ounce. Typically, recyclers will pay $50 to $250 per catalytic converter; making a catalytic converter a potential revenue source for thieves.

According to the National Insurance Crime Bureau's Operations, Intelligence and Analytics study of reported thefts, there were 108 catalytic converter thefts per month on average in 2018, 282 average monthly thefts in 2019, and 1,203 average thefts per month in 2020. During this time period, the top five states for catalytic converter thefts were California, Texas, Minnesota, North Carolina, and Illinois. In 2020, there was a continual climb in thefts. January had the fewest number of thefts at 652, but it continued to climb markedly throughout the year, with December having 2,347 thefts.

These thefts only take seconds to achieve. Because centers often park their vans in remote parking areas that may not be readily visible; it is important to take every precaution in order to reduce the likelihood of your vehicle(s) becoming a target.

The following recommendations may help you implement strategies to prevent this crime from occurring to one of your vehicles.
Whenever possible, park your vehicle in a secured garage.
If no garage is available, park your vehicle(s) in a highly visible, high traffic area. Consider installing motion detector lighting to help promote an awareness that your vehicles are under surveillance.
Consult your local law enforcement agency about catalytic converter etching programs in your area. These programs are designed to deter theft of a catalytic converter by your etching your driver's license number in an obvious area on the catalytic converter. (Scrap yards are required by law to copy the driver's license number of anyone trying to sell small auto parts.)
Muffler shops and garages can also tack-weld the bolts of a catalytic converter, which increases the effort needed to remove a catalytic converter.
Post visible signage stating your catalytic converters are etched and vehicles are under surveillance.
Other deterrents include adding security sensors to a catalytic converter that triggers your vehicle alarm and the installation of a cage around the catalytic converter that hinders its accessibility.

It is estimated that a thief with a plan and power equipment can remove a catalytic converter in less than 60 seconds. If you see something suspicious, document what you see and report it to the police immediately.


Ref: National Insurance Crime Bureau. Catalytic Converter Theft Skyrocketing Nationwide. Des Plaines, IL. March 9, 2021. www.nicb.org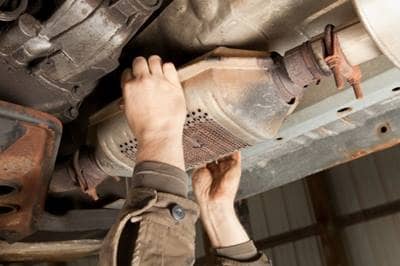 This document is intended for general information purposes only, and should not be construed as advice or opinions on any specific facts or circumstances. The content of this document is made available on an "as is" basis, without warranty of any kind. This document can't be assumed to contain every acceptable safety and compliance procedures or that additional procedures might not be appropriate under the circumstances. Markel does not guarantee that this information is or can be relied on for compliance with any law or regulation, assurance against preventable losses, or freedom from legal liability. This publication is not intended to be legal, underwriting, or any other type of professional advice. Persons requiring advice should consult an independent adviser. Markel does not guarantee any particular outcome and makes no commitment to update any information herein, or remove any items that are no longer accurate or complete. Furthermore, Markel does not assume any liability to any person or organization for loss or damage caused by or resulting from any reliance placed on that content.

*Markel Specialty is a business division of Markel Service, Incorporated, the underwriting manager for the Markel affiliated insurance companies.
© 2022 Markel Service, Incorporated. All rights reserved.

Was this helpful?