Implementing a playground maintenance program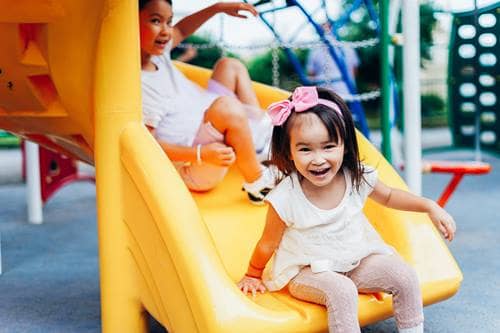 By: Libby Reed, Risk Solutions Specialist
For child care centers with outdoor playground areas, ensuring that the equipment, surfacing material, fencing, gates, and other components are regularly maintained is essential to children's safety. Without a process to monitor, identify, and address potential hazards, issues can be missed and potentially lead to injuries. Therefore, developing and implementing a formal playground maintenance program at your center can be a helpful tool to drive the tasks necessary for the proper upkeep of your playground.
A playground maintenance program should be outlined in a written document that includes detailed processes and procedures for staff to follow. Management or a designated program administrator should ensure that staff members correctly execute the program. A written plan will only be helpful if used to take action.
Program elements
Below are some recommended elements to include in your center's plan:

Roles and responsibilities – Who is responsible for executing the procedures (e.g., conducting inspections, scheduling repairs, administering the program, training employees, etc.)?

Playground safety standards – What standards is your center subject to as required by local governing bodies and organizations providing best-practice industry guidelines?

Inspection frequency – How often will inspections be conducted? Will there be different types of inspections, such as daily inspections to check for apparent hazards and quarterly audits by a certified individual with extensive training to conduct in-depth investigations?

Inspection checklists – What specific areas and conditions should the inspector check for hazards/wear and tear, etc.?

Maintenance schedules – What has the manufacturer recommended for each piece of equipment?

Inspection, maintenance, and repair records – List all prior maintenance and repair activities (date completed, who performed the work) and document all inspections (date completed, who performed the inspection, findings, remediation plans)

Employee training – How will staff be trained on their role and responsibilities within the plan?

Program review and evaluation – How often will the program administrator review/update the plan? How will they evaluate the plan's execution to measure effectiveness?
Common playground maintenance hazards
Along with a formal playground maintenance program, all staff members need to be aware of common hazards that can risk a child's safety.
*Please note that the following list is not comprehensive and does not include every potential risk; consult with local governing bodies and certified inspectors to ensure your center's playground complies with safety standards.
Broken or missing parts
Protruding bolts or fixtures
Dangerous gaps that can catch drawstrings or entrap body parts
Gaps between 3.5 inches and 9 inches as they create special hazards
Rust on metal parts
Splinters on wood pieces
Cracks and holes in plastic equipment
Improper depth of shock-absorbing surface material in use zones
Trip hazards such as exposed concrete footings, abrupt changes in surface elevations, containment borders, tree roots, tree stumps, and rocks
For more information on playground safety, access the U.S. Consumer Product Safety Commission's Public Playground Safety Handbook at https://www.cpsc.gov/s3fs-public/325.pdf.
Source: U.S. Consumer Product Safety Commission (CPSC)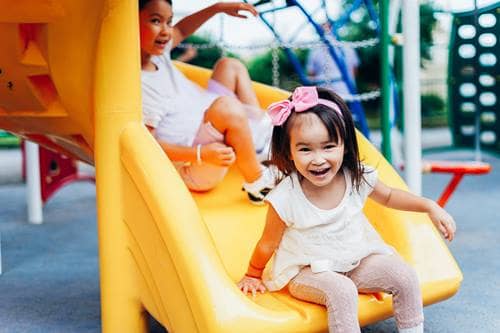 This "document" is intended for general information purposes and should not be construed as advice or opinions on any specific facts or circumstances. The content of this document is made available on an "as is" basis, without warranty of any kind. This document cannot be assumed to contain every acceptable safety and compliance procedure or that additional procedures might not be appropriate under the circumstances. Markel does not guarantee that this information is or can be relied on for compliance with any law or regulation, assurance against preventable losses, or freedom from legal liability. This publication is not intended to be legal, underwriting, or any other type of professional or technical advice. Persons requiring advice should consult an independent adviser or trained professional. Markel does not guarantee any particular outcome and makes no commitment to update any information herein, or remove any items that are no longer accurate or complete. Furthermore, Markel does not assume any liability to any person or organization for loss or damage caused by or resulting from any reliance placed on this content.
Markel® is a registered trademark of Markel Group Inc.
© 2023 Markel Service, Incorporated. All rights reserved.
Was this helpful?