Outdoor play at in-home child care centers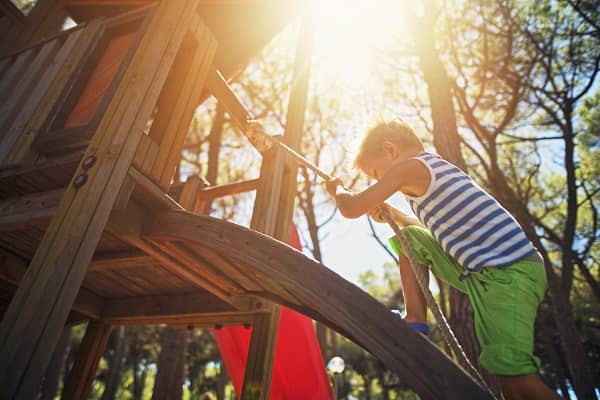 Outdoor play time for children in the care of a home based child care center includes a wide variety of exposures to injury depending on the play environment. Some child care homes have small playgrounds on the property; other programs will use playgrounds at local parks. In either case, the key to a safe play experience for all children is for caregivers to recognize common playground hazards that cause injuries to thousands of children each year. Years ago the National Playground Safety Institute (NPSI) created a list of the "dirty dozen" playground hazards to watch for, and the list is still relevant today. This short article will look at a few of the "dirty dozen" that may help small child care centers avoid costly playground accidents.
On typical residential playgrounds at home based child care centers, there may be one or two pieces of equipment such as a swing set and a slide, and an open play area such as a field for sports. Smaller outdoor play areas may have plastic play structures that are common for children under four years of age. Some centers do not have a fenced area which adds to the risk of accidents and injuries. Based on these demographics, here are three of the "dirty dozen" playground problems home based child care centers should pay close attention to.
Surfacing
Inadequate protective surfacing underneath equipment is a leading cause of playground related injuries. [1] The amount of surfacing material used depends on how high the playing surface of the equipment is and what type of surfacing material is being used. There are guides from the National Recreation and Park Association (NRPA) that provide the depth of surface material needed based on the equipment height. It is important to note surfacing material is only intended to reduce the risk of life threatening injury if a child were to fall and hit their head on the surface below. The material will not eliminate all injuries which is why supervision is one of the most important aspects of playground safety.
Supervision
Some organizations estimate that more than 40% of all playground injuries are directly related to a lack of supervision. [2] That percentage may be higher when you consider that adequate supervision may reduce the risk of children being injured by some of the other "dirty dozen" playground hazards. Since home centers deal with fewer staff members than commercial centers it's important that staff is trained on proper playground supervision. Constant eyes on the children as well as continual walking around the playground observing and helping children is the best model for high quality supervision in a small play environment.
Protrusion and entanglement hazards
It's common to see wood supported swing sets at home based child care centers. This equipment is designed for use by few children in a home environment and is often not replaced when a home based center is opened. The increased use can cause loosening of nuts and bolts creating entanglement hazards. An entanglement hazard is anything on the play structure that could "catch" an item of clothing worn around the neck. A drawstring in sweatshirts is a common entanglement hazard as is jewelry. The risk of strangulation is serious if a child attempting to slide down a slide has clothing caught at the top of the slide. Entanglement is the leading cause of fatalities on playgrounds. [3]
More information about the "dirty dozen" playground hazards is available from the Markel Risk management library. If you would like to visit about your playground or if there are other risk management questions, please contact Senior Loss Control Specialist Bill Coons at BillC@MarkelCorp.com or call 1-888-546-4042.

References: