Protect against tip-over accidents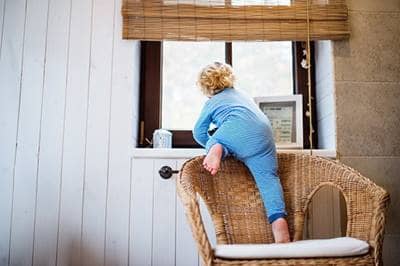 According to the Consumer Product Safety Commission (CPSC) tip-over incidents accounted for an average of 30,700 emergency medical department treated injuries each year from 2014 through 2016 and were responsible for 514 reported fatalities between the years 2000 and 2016 [1]. The term "tip-over incidents" refers to a very common accident when a piece of furniture, television, or appliance becomes unstable due to being bumped into or climbed on. This instability may cause the furniture, television or appliance to tip and fall, resulting in an injury or fatality, if a person is struck.&
Since the year 2000, on average, a child dies every 10 days from a tip-over incident [2]. These types of accidents have been in the media spotlight recently since IKEA Corporation was forced to recall more than 17 million chests and dressers that did not comply with voluntary industry standards for stability [3]. The problems with tipping furniture, however, is not limited to any one specific manufacturer or brand of furniture and needs to be addressed in any home where children are present, including home based child care centers.
In home based child care centers over the years there have been several tip-over related claims involving serious injuries and death. Despite the close supervision of children in your home it is difficult to react in time to tipping furniture when a young child decides to climb the front of the furniture to reach up for something. One solution to reduce the potential for these tragic accidents is to improve control over the exposures. The Consumer Product Safety Commission website offers the following advice on their "Tip-Over Information Center's
Steps to prevent tip over accidents
Use sturdy furniture
Televisions should only be placed on furniture designed to hold a television, such as television stands or media centers.
Secure your TV
Televisions that are not wall mounted should still be anchored to the wall.
Mount flat-screen TVs
Mount flat-screen TVs to the wall or furniture to prevent them from toppling over.
Follow instructions
Follow the manufacturer instructions to secure TVs and furniture properly.
Low and stable – CRT TV
CRT televisions should only be placed on furniture designed to hold a television, and should be anchored to the wall or the TV stand.
Secure top-heavy furniture
Existing furniture can be anchored with inexpensive anti-tip brackets. New furniture, such as dressers, are sold with anti-tip devices. Install them right away.
Remove tempting objects
Remove items that might tempt kids to climb, such as toys and remote controls, from the top of the TV and furniture [4].
As a result of one recent tragedy, Shane's Foundation was established to increase awareness and is run by a mother whose child was killed in a tip-over accident.
For more information on this important safety topic, and for links to other valuable resources please take some time to visit:
shanesfoundation.org
. You may also contact Bill Coons, a Markel Specialty Senior Loss Control Specialist by calling 1-888-546-4042 or by e-mail at

BillC@MarkelCorp.com



References: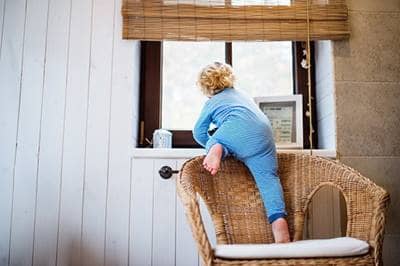 This "document" is intended for general information purposes and should not be construed as advice or opinions on any specific facts or circumstances. The content of this document is made available on an "as is" basis, without warranty of any kind. This document cannot be assumed to contain every acceptable safety and compliance procedure or that additional procedures might not be appropriate under the circumstances. Markel does not guarantee that this information is or can be relied on for compliance with any law or regulation, assurance against preventable losses, or freedom from legal liability. This publication is not intended to be legal, underwriting, or any other type of professional or technical advice. Persons requiring advice should consult an independent adviser or trained professional. Markel does not guarantee any particular outcome and makes no commitment to update any information herein, or remove any items that are no longer accurate or complete. Furthermore, Markel does not assume any liability to any person or organization for loss or damage caused by or resulting from any reliance placed on this content.
Markel® is a registered trademark of Markel Group Inc.
© 2023 Markel Service, Incorporated. All rights reserved.
Was this helpful?