Protect kids from falls inside, too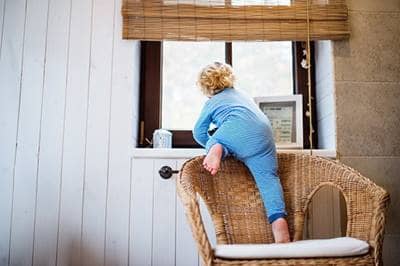 One commonly overlooked hazard is inadequate fall protection for indoor play equipment. Many facilities provide adequate fall protection surfaces for outdoor play equipment, but have little or no protection for indoor play equipment. Indoor carpet is insufficient fall protection.
Voluntary standards that govern indoor play equipment are the same as those that govern outdoor play equipment. For example, play equipment that children use while standing or seated at ground level is not required to follow the recommendations for resilient fall protection surfacing. The Consumer Product Safety Commission defines this type of play equipment as sand boxes, playhouses, or any other equipment that does not have an elevated designated playing surface.
Indoor play equipment that has an elevated platform, like tot slides and other structures, should have some form of fall protective surfacing. Unitary materials, such as rubber mats, provide a very effective protective surface for indoor use. Mats must have a nonskid backing or be anchored to prevent them from skidding out of place. Also, make sure mats are securely bound together to prevent gaps, which could present a tripping hazard.
The ideal indoor play area is a room full of mats. If this isn't practical, place protective mats at the bottom of stairs and slide exit areas. Also place mats along any play platforms that do not have rails, such as some self-contained play structures.
Allow ample space between indoor play equipment and structures so children don't run into each other while playing. Close-proximity supervision during indoor play is crucial—staff members must be close enough to children to react immediately to any potential emergency.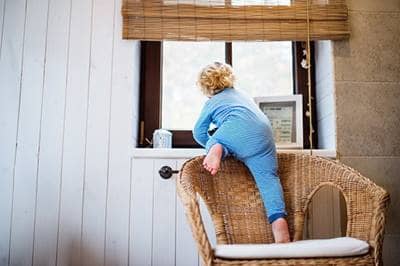 This document is intended for general information purposes only, and should not be construed as advice or opinions on any specific facts or circumstances. The content of this document is made available on an "as is" basis, without warranty of any kind. This document can't be assumed to contain every acceptable safety and compliance procedures or that additional procedures might not be appropriate under the circumstances. Markel does not guarantee that this information is or can be relied on for compliance with any law or regulation, assurance against preventable losses, or freedom from legal liability. This publication is not intended to be legal, underwriting, or any other type of professional advice. Persons requiring advice should consult an independent adviser. Markel does not guarantee any particular outcome and makes no commitment to update any information herein, or remove any items that are no longer accurate or complete. Furthermore, Markel does not assume any liability to any person or organization for loss or damage caused by or resulting from any reliance placed on that content.

*Markel Specialty is a business division of Markel Service, Incorporated, the underwriting manager for the Markel affiliated insurance companies.
© 2022 Markel Service, Incorporated. All rights reserved.

Was this helpful?