Avoiding collisions with deer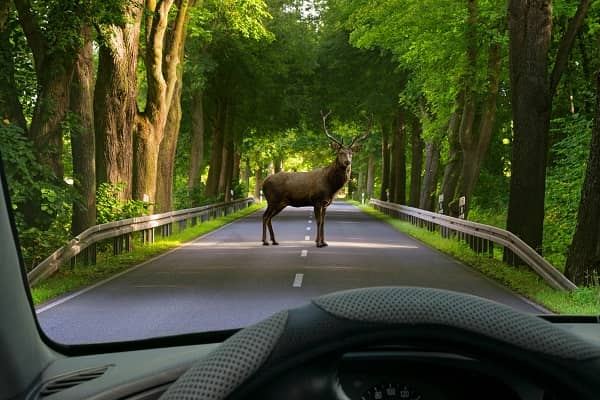 Markel's camp insureds see their fair share of auto accidents that involve collisions with deer. A deer collision can potentially have a significant impact on your transportation program. In 2012, these accidents averaged approximately $3,970 in damages. According to the Washington Department of Fish and Wildlife, more than half of all deer/vehicle collisions occur in October and November. The rut (mating season) and peak days for hunting may account for this. Markel's claim history shows these events occurred throughout the year, so it is important to always be alert and aware regardless of the season.
Driving tips to help prevent collisions:
Deer are most active at dawn and dusk. Be especially watchful during these times.
One deer crossing the road may be a sign that more deer are about to cross. Watch for other deer-- they will move fast to catch up with leaders, mothers, or mates and may not pay attention to traffic.
When you see brake lights, it could be because the driver ahead of you has spotted a deer. Stay alert as you drive by the spot, as more deer could try to cross.
Wonder why the person ahead is driving so slowly? The driver may know where to slow down and be extra alert for deer. Don't be too quick to pass, and watch out.
Try to drive more slowly at night, giving yourself time to see a deer with your headlights. Lowering the brightness of your dashboard lights slightly will make it easier to see deer.
Be especially watchful when traveling near steep roadside banks. Deer will pop onto the roadway with little or no warning.
Be aware that headlights confuse deer and may cause them to move erratically or stop. Young animals in particular do not recognize that vehicles are a threat.
Deer hooves slip on pavement and a deer may fall in front of your vehicle just when you think it is jumping away.
Deer whistles, small devices that can be mounted on your vehicle, emit a shrill sound that supposedly alerts deer nearby. (Humans cannot hear the sound.) How well the devices work is not scientifically known.
If a collision with a deer seems imminent, take your foot off the accelerator and brake lightly. But—and this is critical--keep a firm hold on the steering wheel while keeping the vehicle straight. Do not swerve in an attempt to miss the deer.
The Insurance Information Institute provides these additional defensive driving tips:
Be especially attentive from sunset to midnight and during the hours shortly before and after sunrise. These are the highest risk times for deer-vehicle collisions.
Drive with caution when moving through deer-crossing zones, in areas known to have a large deer population and in areas where roads divide agricultural fields from forestland. Deer seldom run alone. If you see one deer, others may be nearby.
When driving at night, use high beam headlights when there is no oncoming traffic. The high beams will better illuminate the eyes of deer on or near the roadway.
Slow down and blow your horn with one long blast to frighten the deer away.
Brake firmly when you notice a deer in or near your path, but stay in your lane. Many serious crashes occur when drivers swerve to avoid a deer and hit another vehicle or lose control of their cars.
Always wear your seat belt. Most people injured in car/deer crashes were not wearing their seat belt.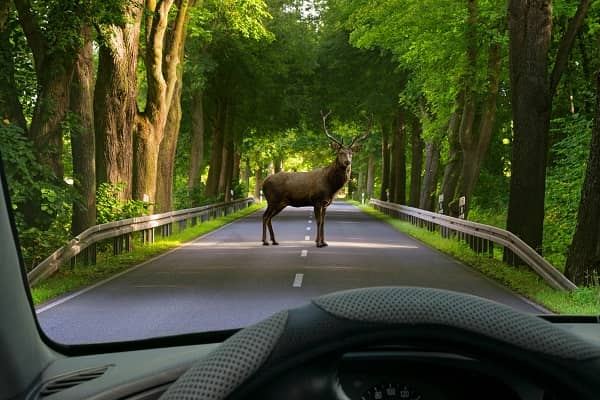 This document is intended for general information purposes only, and should not be construed as advice or opinions on any specific facts or circumstances. The content of this document is made available on an "as is" basis, without warranty of any kind. This document can't be assumed to contain every acceptable safety and compliance procedures or that additional procedures might not be appropriate under the circumstances. Markel does not guarantee that this information is or can be relied on for compliance with any law or regulation, assurance against preventable losses, or freedom from legal liability. This publication is not intended to be legal, underwriting, or any other type of professional advice. Persons requiring advice should consult an independent adviser. Markel does not guarantee any particular outcome and makes no commitment to update any information herein, or remove any items that are no longer accurate or complete. Furthermore, Markel does not assume any liability to any person or organization for loss or damage caused by or resulting from any reliance placed on that content.

*Markel Specialty is a business division of Markel Service, Incorporated, the underwriting manager for the Markel affiliated insurance companies.
© 2022 Markel Service, Incorporated. All rights reserved.

Was this helpful?