Dry cutting and grinding is risky business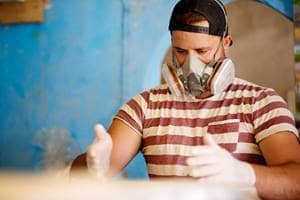 That cloud of dust you see when a worker cuts or grinds concrete, brick, or stone is not just harmless dust. It contains crystalline silica, and it can kill. Most crystalline silica is in the form of quartz. Common sand is almost 100% quartz. Fine particles created by cutting and grinding can get deep into the lungs. Most concrete and masonry products contain large amounts of sand. When you inhale the dust, silica particles scar your lungs, causing a disabling, irreversible, and incurable lung disease called silicosis. The good news is that silicosis is 100% preventable. You can work with silica-containing materials in ways that do not result in exposure to dust.

Silica-containing materials include; asphalt, block, brick, ceramic tile, concrete, granite, grout, joint compound, mortar, pavers, roof tiles, sand, slate, some siding, and terrazzo.

Types of operations that may result in exposure to silica dust include; sawing, chipping, tuck pointing, milling, polishing, drilling, clean-up, scarifying, grinding, crushing, and needle gunning.
Types of silicosis
Acute silicosis: Can occur after only weeks or months of exposure to very high levels of crystalline silica. Death can occur within months.
Accelerated silicosis: Results from exposure to high levels of crystalline silica and occurs five to 10 years after exposure.
Chronic silicosis: Usually occurs after 10 or more years of exposure to crystalline silica at low levels. This is the most common type of silicosis.
Symptoms
Silicosis begins with few, if any, symptoms. Once present, these symptoms can include shortness of breath, severe cough, wheezing, and chest tightness. Breathing dust containing crystalline silica has also been linked to other diseases such as tuberculosis, kidney disease, and lung cancer. Symptoms can include fever, weight loss, and night sweats. These symptoms can become worse over time, leading to death.

How to prevent silica exposure
The key to preventing silicosis is to keep dust out of the air. Dust controls can be as simple as a water hose to wet the dust before it becomes airborne. Employers and employees should use the following methods to control respirable crystalline silica dust:
Recognize when silica dust may be generated and plan ahead to eliminate or control the dust at the source.
Provide workers with training that includes information about health effects, work practices, and protective equipment for respirable crystalline silica.
Use engineering controls such as local exhaust ventilation (with dust collectors) or wet methods to prevent the release of dust into the air.
Routinely maintain dust control systems to keep them in good working order.
Do not cause dust to become airborne during clean-up. Remove dust from equipment with a water hose or wet wiping rather than with compressed air. Use vacuums with high-efficiency particulate air (HEPA) filters or use wet sweeping instead of dry sweeping.
Minimize exposures to nearby workers by using good work practices, such as marking and posting the boundaries of work areas where exposure to airborne dust can occur.
Wear disposable or washable protective clothes at the worksite.
Shower if possible and change into clean clothes before leaving the worksite to prevent contamination of cars, homes, and other work areas.
Conduct air monitoring to measure worker exposures and ensure that controls are providing adequate protection for workers.
Provide annual medical examinations for all workers who may be exposed to respirable crystalline silica.
Use proper respiratory protection when engineering controls cannot keep silica exposures below the NIOSH Recommended Exposure Limit (REL). Respirators should not be the primary method of protection. If engineering controls cannot keep dust levels below the NIOSH REL, then respirators should be used.
Choose the right respirator
When respirators are used, the employer must establish a comprehensive respiratory protection program as required by the OSHA Respiratory Protection Standard 29 CFR 1910.134 and outlined in the NIOSH Guide to Industrial Respiratory Protection. A respiratory protection program must cover the following basic elements, as applicable:
Periodic environmental monitoring;
Regular training of personnel regarding exposure and respirator use;
Selection of appropriate NIOSH-approved respirators;
A medical evaluation of the worker's ability to perform the work while wearing a respirator;
Respirator fit testing (annually);
Maintenance, inspection, cleaning, and storage of respiratory protection equipment; and
Procedures for regularly evaluating the effectiveness of the program
Tips for controlling dust
Use the dust collection systems available for many types of dust-generating equipment. When purchasing equipment, look for dust controls.
Use local exhaust ventilation to prevent dust from being released into the air. Always use the dust control system, and keep it well maintained.
Do not use equipment if the dust control system is not working properly.
Use equipment that provides water to the blade or grinder when sawing or grinding concrete or masonry. Be sure to only use blades and abrasive wheels that are rated as safe for use with water.
Keep in mind that dust levels can remain high for some time even after cutting, grinding, or sweeping has stopped.
Source: NJ Dept. of Labor and Workforce Development, Public Safety and Occupational Safety and Health Safety Compliance Unit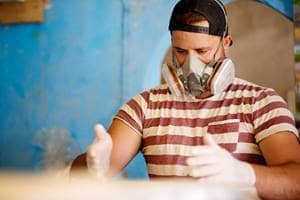 This document is intended for general information purposes only, and should not be construed as advice or opinions on any specific facts or circumstances. The content of this document is made available on an "as is" basis, without warranty of any kind. This document can't be assumed to contain every acceptable safety and compliance procedures or that additional procedures might not be appropriate under the circumstances. Markel does not guarantee that this information is or can be relied on for compliance with any law or regulation, assurance against preventable losses, or freedom from legal liability. This publication is not intended to be legal, underwriting, or any other type of professional advice. Persons requiring advice should consult an independent adviser. Markel does not guarantee any particular outcome and makes no commitment to update any information herein, or remove any items that are no longer accurate or complete. Furthermore, Markel does not assume any liability to any person or organization for loss or damage caused by or resulting from any reliance placed on that content.

*Markel Specialty is a business division of Markel Service, Incorporated, the underwriting manager for the Markel affiliated insurance companies.
© 2023 Markel Service, Incorporated. All rights reserved.

Was this helpful?