Emergency exits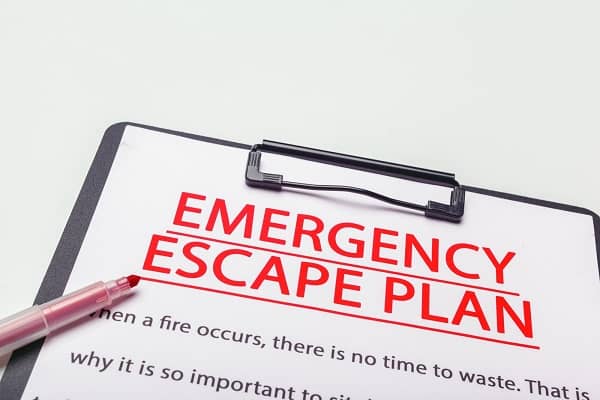 Emergency exit routes
Would you know how to escape from your workplace in the event of an emergency? Do you know where every exit is in case others are too crowded? Can you be sure the doors will be unlocked and not blocked? If not, you should find out the answers to these questions to keep you safe during an emergency situation in your workplace.
Number of exit routes
Typically a workplace must have at least two exit routes to allow people to exit quickly. If the number of employees, size of the building, or building arrangement does not allow safety evacuation additional routes may be required. They must also be located apart from each other in case one is blocked by fire or smoke.
Other route requirements
Routes must be permanent parts of the workplace. They must lead directly outside or to a street, walkway or open space with outdoor access. Exit doors must be unlocked from the inside. They must be free of devices or alarms that restrict the use of the route if the alarm would fail. Ceilings of exit routes must be at least 7 feet, 6 inches high. The exit access must also be at least two feet 4 inches wide. Outdoor exit routes are permitted but they must have guardrails to protect from fall hazards. They must also be covered if snow or ice is likely.
Exit requirements
Exits must be separated by fire resistant materials. If there are three or fewer stories, it must have a one-hour fire resistance rating and if it is greater than three floors, a two hour fire resistance rating. Door openings must be protected by a self-closing, approved fire door that remains closed or automatically closes in an emergency.
Some additional requirements
Provide adequate lighting for exit routes.
Post signs along the access indicating direction of travel to the nearest exit.
Mark doors or passages along an exit access that could be mistaken for an exit "Not an Exit" or a sign identifying its use.
Install EXIT signs in plainly legible letters
Provide an alarm system to alert employees
Highlights
Know how to escape your workplace in the event of an emergency.
A typical workplace needs two exit routes.
Exit doors must stay unlocked from the inside.
Exits must be separated by fire resistant materials.
Exit signs must be installed in plain legible letters.
An alarm system must be provided to alert employees.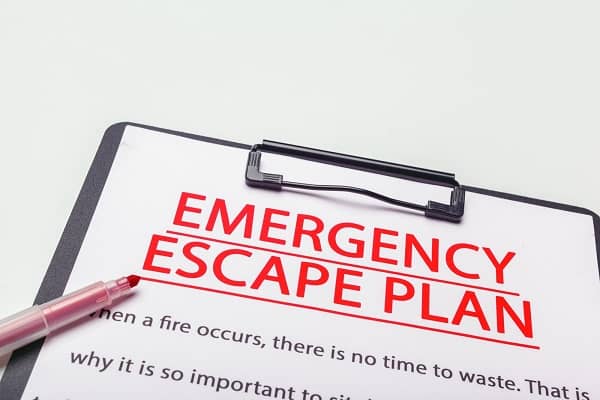 This document is intended for general information purposes only, and should not be construed as advice or opinions on any specific facts or circumstances. The content of this document is made available on an "as is" basis, without warranty of any kind. This document can't be assumed to contain every acceptable safety and compliance procedures or that additional procedures might not be appropriate under the circumstances. Markel does not guarantee that this information is or can be relied on for compliance with any law or regulation, assurance against preventable losses, or freedom from legal liability. This publication is not intended to be legal, underwriting, or any other type of professional advice. Persons requiring advice should consult an independent adviser. Markel does not guarantee any particular outcome and makes no commitment to update any information herein, or remove any items that are no longer accurate or complete. Furthermore, Markel does not assume any liability to any person or organization for loss or damage caused by or resulting from any reliance placed on that content.

*Markel Specialty is a business division of Markel Service, Incorporated, the underwriting manager for the Markel affiliated insurance companies.
© 2022 Markel Service, Incorporated. All rights reserved.

Was this helpful?