Stop crime with Business Watch programs
Health Club Risk Management News - Volume 1 2018
Small health and fitness clubs often located in strip-mall locations can be targets for burglary and vandalism. These crimes are typically committed in areas that cannot be easily observed by the public or law enforcement because they are in secluded areas. Business Watch programs, similar to Neighborhood Watch groups, seek to reduce these commercial crimes.

Stop crime with Business Watch programs
To get started, contact your local Chamber of Commerce. They can give you information on how to launch a Business Watch program with neighboring merchants, or direct you to members already located in your community.

The Small Business Crime Prevention Guide, published by the Texas Department of Insurance, offers the following ideas to help business owners prevent crime:
Get to know neighboring businesses and occupants including schools, civic groups, libraries, and clubs.
A telephone tree is an effective means of sharing information with neighboring businesses. Should a problem develop, a business can easily call others on the tree to make them aware and keep each other advised.
Be alert and report suspicious behavior to law enforcement immediately, even if it means taking a chance on being wrong.
Secure your property thoroughly. Ask local law enforcement officials to conduct a survey of your business and provide advice on lights, alarms, locks, and other security measures.
Engrave all valuable office equipment and tools with an identification, tax, license, or other unique number.
Aggressively advertise the Business Watch group. Post signs and stickers stating that the neighboring block of businesses is organized to prevent crime.
Make sure all outside entrances and inside security doors have deadbolt locks. If padlocks are used, they should be made of steel and kept locked at all times. Remember to remove serial numbers from locks to prevent unauthorized keys from being made.
All outside or security doors should be metal-lined and secured with metal security crossbars. Pin all exposed hinges to prevent removal, install security hinges or peen hinge pins.
Light the inside and outside of the business, especially around doors, windows, skylights, or other entry points. Consider installing covers over exterior lights and power sources to deter tampering.
Before investing in an alarm system, check with several companies and decide what level of security fits the needs of the business. Local law enforcement can recommend established companies. Learn how to use the system properly, check it daily, and run a test when closing.

Crime prevention through environmental design (CPTED) involves a series of action steps that incorporates design and the building of your physical environment so that it positively influences people's behavior and reduces crime. CPTED has four basic operating strategies:
Natural surveillance is the placement of physical features, activities, and people in such a way as to maximize visibility. Take a close look at your facility— if you can find places to hide, so can intruders.
Access control is a way to guide people through a space by the proper placement of entrances, exits, fencing, landscaping, and lighting.
Territorial reinforcement is the use of physical attributes to express ownership, such as fencing, signage, landscaping, proper maintenance, and pavement treatments.
Activity support is the use of group activities to foster community interaction. Criminal activity is discouraged when residents, customers, businesses, and other legitimate users conduct activities in public spaces.
You can read more about crime prevention tips by accessing the Crime Prevention through environmental design Safety 1st Guide available in the Markel Risk Management Library.

Strategies for protecting store fronts from vehicular damage and vandalism
Damage to store fronts caused by vehicles, whether accidental or not, can cost a business thousands of dollars to repair and potentially close your business until repairs are completed. There are a variety of strategies you can try to help reduce such an event.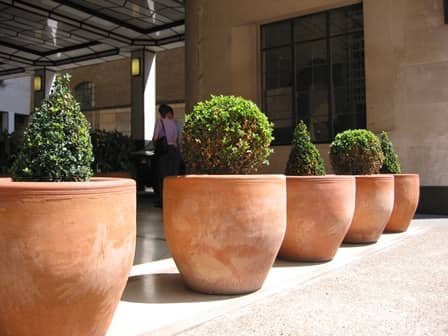 Install concrete filled metal post or bollards so they can protect your business from vehicle impact. Space bollards no more than three feet apart, in front of store fronts and along building sides that have accessible parking.
Place large vases and concrete planters filled with dirt, or painted boulders near store fronts, so a car does not have direct access to it.
Position jersey barriers (used to separate traffic lanes on highways) in front of your facility. When properly anchored, these barriers can stop a 4,000 pound vehicle traveling at 50 mph.
Parking stops provide minimal protection for building structures. These can serve as visual and sensory deterrents. While parking stops may not stop a car completely, they are better than having nothing at all.
Whichever method you choose, use reflective tape or paint barriers and parking stops in a bright color to be sure they are visible at all times.



---
Reference
Small Business Crime Prevention Guide. The Texas Department of Insurance, Division of Workers' Compensation Resource Center.resourcecenter@tdi.state.tx.us
The information provided in this article is intended for general informational purposes only and should not be considered as all encompassing, or suitable for all situations, conditions, and environments. Please contact us or your attorney if you have any questions.