Slip and fall prevention tips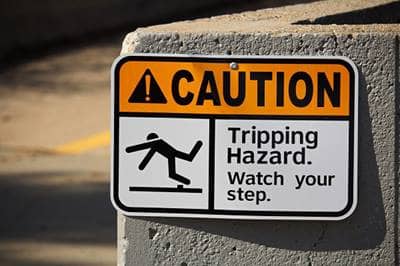 Slips and falls due to excess water on the bathroom floors are one of the more frequently reported claims we see at Markel. Overflowing sinks and toilets can also lead to extensive repair and water extraction costs. Left unmonitored, either can quickly result in inches of water on a gym floor.
Frequent inspections of floors, particularly entryway, bathroom, locker room and around water fountains, are important to the success of a good plan to prevent slip and falls. If you notice water or debris on the floor, clean it up immediately. If the floor is wet, post a highly visible warning sign to advise gym members and any guests of a potential hazardous condition. Because an overflowing toilet and ruptured pipes can quickly dump several gallons of water on the floor, it is important that staff know how to turn the water off if faced with this emergency. Keep in mind that commercial urinals and toilets may require additional steps to shut off the water at the source. Does your emergency action plan include how to shut off the water if you have to? Invite a plumber to your location to show staff what to do and then include those steps in your new hire orientation and staff training as a reference for the future.
Most importantly, keep your inspection process consistent and well documented should you need to refer to it later. Maintain this information with your other business records indefinitely.
Place skid-resistant, absorbent mats at all entrances. Inspect the mats frequently so they do not become tripping hazards, and replace frayed mats immediately.

Check your floors frequently and mop up excess moisture immediately. Post "Wet Floor" signs as necessary.

Document your efforts to keep your floors hazard free in your daily log or calendar and retain these records.
The frequency of your inspections depends on how often the restrooms are used and the number of clients in your facility each day. We recommend the minimum standard should be every hour or more frequently for high volume usage. Inspections should be thorough. Check stalls, under fixtures, trash cans, and floor mats. If a stall is occupied, wait for it to become available so it can be checked. That way, nothing is overlooked.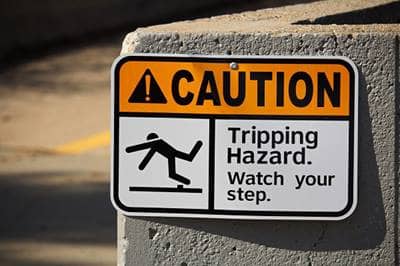 This document is intended for general information purposes only, and should not be construed as advice or opinions on any specific facts or circumstances. The content of this document is made available on an "as is" basis, without warranty of any kind. This document can't be assumed to contain every acceptable safety and compliance procedures or that additional procedures might not be appropriate under the circumstances. Markel does not guarantee that this information is or can be relied on for compliance with any law or regulation, assurance against preventable losses, or freedom from legal liability. This publication is not intended to be legal, underwriting, or any other type of professional advice. Persons requiring advice should consult an independent adviser. Markel does not guarantee any particular outcome and makes no commitment to update any information herein, or remove any items that are no longer accurate or complete. Furthermore, Markel does not assume any liability to any person or organization for loss or damage caused by or resulting from any reliance placed on that content.

*Markel Specialty is a business division of Markel Service, Incorporated, the underwriting manager for the Markel affiliated insurance companies.
© 2022 Markel Service, Incorporated. All rights reserved.

Was this helpful?