Farm safety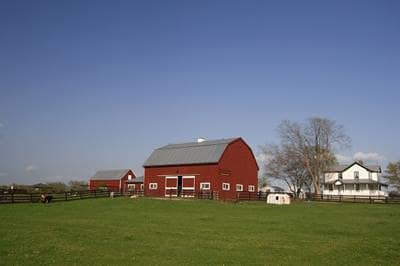 Over 50 ways to protect people, horses, and property on your farm. Besides saving lives and protecting property, using these guidelines can help you qualify for lower insurance premiums.
What can you do on your farm to minimize the likelihood of accidents and fires?
For every threat of a mishap, there's unusually a simple safety measure that you can apply to eliminate or drastically reduce the possibility of an accident. However, you have to make sure you are looking in all the right places for possible pitfalls.
The following safety tips can help you to reduce accidents and even save lives, but their effectiveness will depend on how frequently you use them – and on how well you communicate to others on your premises the importance of using them too. A successful safety program requires consistent supervision and planning. While these checklists do not take the place of the advice given by fire and police departments, utility specialists, and other trained professionals, they will provide suggestions for what to look for and how to establish your own safety program.
Besides saving lives and protecting property, using these guidelines can help you qualify for lower insurance premiums. Insurance costs less for people who use safety guidelines because they have fewer losses. While safety can help you save money on your premium, insurance remains a necessity for every farm and business. Liability and property coverage help to protect your assets and keep you in business in the event of a loss. Markel can provide this protection. See your local agent today!
Proper housekeeping
All buildings need regular maintenance. Periodically inspect roofs, interior ceilings and walls for leaks or weak spots. Windows or glass should be replaced as needed. Loose siding or boards should be repaired as needed.
All debris or refuse should be removed on a regular basis.
Any materials or supplies should be stored away from doorways or walkways. Keep emergency exit ways open.
Combustible materials or liquids (i.e. paint, gas, kerosene, cleaning solvents) should be stored away from any potential ignition hazard and kept in properly labeled containers.
Dispose of all flammable trash and debris immediately in an appropriate waste container. Paper towels and oily shop towels make excellent kindling; dispose of them right away. Secure waste containers so potential arsonists cannot gain access to them. If you wash oily coveralls and rags, allow them to air dry. Drying them in a dryer could cause a fire.
Fencing should be checked and repaired on a regular basis (at least once a month).
Machinery should be housed in an area distant from flammables or combustibles and cautiously used in areas frequented by people or animals.
Cobwebs and dust should be regularly removed from sources of heat and electricity, including lights, fans and receptacles.
All materials, supplies and tools should be properly stored when not in use to prevent injuries.
Emergency medical supplies should be easily accessible and re-stocked as needed. Emergency numbers should be posted in each building and at all phones. Conspicuously post directions for dialing 911.
Grass and weeds should be mowed between and around buildings regularly.
All sidewalks, driveways and walkways should be free of debris and in good repair. Redirect gutter down spouts so runoff water is directed away from walkways.
All trees surrounding buildings and electric wires should be pruned regularly to avoid possible losses.
Establish a routine maintenance and premises inspection program. Keep accurate and consistent records of all activities conducted.
Theft protection
Central station burglar alarms or a local (loud) alarm should be installed on premises.
Proper outdoor lighting of premises is recommended. Motion sensor lights are best.
A nightly barn check at sporadic times can help reduce theft.
The phone number for the local and state police should be displayed near all telephones.
Machinery, equipment, or tack should be routinely locked at night. Don't leave keys in vehicles. Secure all keys when not in use.
Keys to buildings, equipment, and locked areas should be monitored carefully and given out to reliable employees only. Avoid duplicates, and change locks when needed.
Complete a written or video inventory and log serial numbers for easy identification if necessary. Prominently label laptops and computers with personal identification to discourage theft. You may want to consider installing tracking software for business related laptops.
Fire protection
No smoking signs should be posted and no smoking enforced in all outbuildings. Smoking should be restricted to designated areas. Proper fireproof disposal containers should be provided and emptied daily.
Fire protection devices are recommended in all buildings (i.e. lightning rods, smoke detectors, smoke alarms or heat detectors). All devices should be properly installed, meet UL standards, and be tested periodically for defects.
Replace battery operated smoke alarm batteries every six months.
ABC type fire extinguishers should be placed throughout the dwelling and all outbuildings, and serviced on an annual basis. All personnel should be instructed on the proper use of these extinguishers. Anyone who is in the barn should know the location and how to operate the fire extinguishers properly. The best location is to mount a fire extinguisher by the door and prominently identify the location of all fire extinguishers.
An established, well-practiced fire escape plan should be in place for all buildings. All exits should be clearly marked and a fire evacuation plan posted. This should include plans for removing livestock or horses from areas of danger, such as a designated pasture for turn out.
All roads and lanes should be maintained year round for easy access by fire fighters. Ask your local fire department to do a "practice run" to your farm. Inviting them to do a training activity on your property might help encourage a "practice run". Gated entries need to have proper clearance so that the long fire trucks can successfully make the turn into the property. Keys to the property can be placed on file at the fire department.
Emergency telephone numbers should be displayed near all telephones along with directions on how to dial "911" if it requires accessing an outside line. Numbers for fire, police, vet and hospital should be included.
Fuel tanks should be far away from any building, and have barriers placed around the tank to avoid collision with a vehicle or machinery.
Welding must be conducted in confined areas or off premises.
Metal-sided or framed buildings and structures must be properly grounded.
Handle and store flammable liquids with care.
A separate open shed should be used for hay storage to avoid spontaneous combustion. Check hay to be sure it is dry and properly cured. Store in building without horses. Hay storage should be limited by stacks that are at least 250 feet apart. Stack limit may vary based on insurance coverages.
Inspect dry exhaust hoses every 6 months. Clean and/or replace any hose congested with lint and remove any debris covering the exhaust area.
Maintain all propane grills and associated propane tanks in proper working condition and free of excessive grease buildup.
Employee safety
A standard training procedure should be in place for all new hires. Basic first-aid and CPR training for personnel should be included.
Monthly meetings should be held to review safety practices and farm rules, and to hear suggestions about how to improve in other areas.
Farm "rules" should be posted in barns for reminders.
Safety equipment must be worn while operating machinery or equipment. Employees should not operate equipment without proper instruction.
Electrical maintenance
All electrical wiring should be installed by a qualified electrician and should meet the requirements of the National Electrical code. Have it checked on a regular basis.
Light fixtures should be caged or globed in outbuildings.
Electrical boxes and wiring should be free of dust, water or corrosion.
Electrical system should be checked at least twice a year and updated as needed.
Refrain from using temporary electrical cords where permanent wire could be installed.
Fans or other equipment should be checked for frayed wiring and plugs before using. Discard and replace any equipment that may appear defective.
Do not overload circuits or sockets. Have an electrician periodically inspect your electrical demands to see if any upgrades to your system are necessary.
Heating systems maintenance
Wood burning stoves and flues should be professionally installed and cleaned annually. Chimneys and flues should be replaced as needed. All should meet code requirements.
Regular heating system in home should be cleaned and checked by a professional every year. Any problems or failure of the system should be given immediate attention.
Portable heaters should be used only as a temporary source of heat and checked for proper maintenance. Portable heaters should not be used in barns near animals or combustibles, and should be vented properly. Older models should not be used. Newer brand name versions with instruction manuals are recommended. Instructions should be kept in an easily accessible place. Never use "homemade" heaters.
Woodstoves should be checked for creosote build up and cleaned annually.
All combustibles should have at least 36 inch clearance from stoves and portable heaters.
Confirm any professional contractor you use has proper insurance coverage before using them.
Machinery safety and maintenance
Machinery should be adequately checked, inspected, lubricated and maintained regularly to ensure proper working order. Maintain records of all maintenance indefinitely.
Machinery should not be used exceeding its capacity for lifting or carrying. Always adhere to manufacturer guidelines.
Only experienced, trained personnel should operate machinery. Never let children operate or ride on machines.
All machinery should have guards and shields for protecting operators from moving parts.
Protective gear (i.e. proper shoes, goggles, clothing, etc…) should be worn at all times by employees to prevent injuries. Always follow manufacturer safety guidelines.
Fire extinguishers should be on machinery. SMV symbols should be on farm machinery. Roll over bars need to be on tractors.
Store machinery in separate buildings or locations separated by at least 100 ft. to help prevent a total loss.
Liability concerns
"Visitors" should not be allowed near animals without supervision and/or permission. Post signs advising visitors of this requirement.
Post signage advising "visitors" of areas that are restricted and off limits.
Only experienced personnel should be allowed to operate machinery or equipment. Children and visitors should stay clear of moving machinery. Machinery should not be left unattended.
All swimming pools or ponds should be fenced with self-locking gates to prevent the unsupervised entry of children, animals or visitors.
The premises should have well lit walkways or entrances to eliminate trip and fall exposures. The premises should be free of debris. Steps with side rails and sidewalks should be in good condition. Periodically inspect rails to ensure they are secure.
Parking lots should be in good condition and any holes should be filled immediately to avoid trip and fall hazards.
Periodically inspect public use restrooms for hazards and clean accordingly. Keep a consistent log of your inspection times.
Post "Warning" signs on stall doors of horses with a known vice or other odd habit.
Be sure that anyone around horses knows basic safety procedures.
Dogs should be confined during activities such as riding instruction or training. Dogs have become an increasing hazard for homeowners. The insured should know all dogs on his premises and watch them around strangers or for unusual behavior.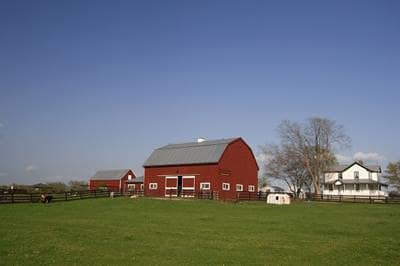 This "document" is intended for general information purposes and should not be construed as advice or opinions on any specific facts or circumstances. The content of this document is made available on an "as is" basis, without warranty of any kind. This document cannot be assumed to contain every acceptable safety and compliance procedure or that additional procedures might not be appropriate under the circumstances. Markel does not guarantee that this information is or can be relied on for compliance with any law or regulation, assurance against preventable losses, or freedom from legal liability. This publication is not intended to be legal, underwriting, or any other type of professional or technical advice. Persons requiring advice should consult an independent adviser or trained professional. Markel does not guarantee any particular outcome and makes no commitment to update any information herein, or remove any items that are no longer accurate or complete. Furthermore, Markel does not assume any liability to any person or organization for loss or damage caused by or resulting from any reliance placed on this content.
Markel® is a registered trademark of Markel Group Inc.
© 2023 Markel Service, Incorporated. All rights reserved.
Was this helpful?