Horse shows during COVID-19 pandemic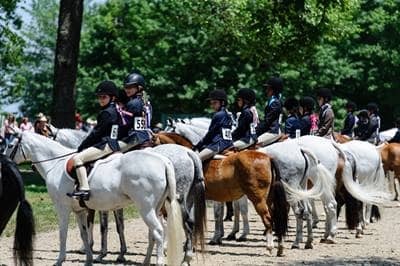 First and foremost, determine whether or not you should actually have your event. Many factors will be involved in finalizing your decision. As portions of the country phase back into operation, monitor your areas stay at home orders to see if restrictions in your area have lessened and allow for your horse show. The CDC also has a "Mass Gatherings" guidance publication that provides advice in making these decisions. You should continually monitor the COVID-19 situation and make adjustments so that you can provide a safe environment for your spectators, exhibitors, general public and staff.
Important steps you can take.
Complete daily (at a minimum) sanitizing of:

All public areas
Riding rings
Aisles
Any frequently touched items such as gate latches, stall door handles, light switches, hose ends, and spray nozzles

Provide hand sanitizing stations at entrances and washing and sanitizing stations throughout your facility
Disinfect all items or surfaces handled by multiple people
Consider allotting extra staff for more frequent sanitizing and disinfecting
When managing a show office, consider:

Pre-package paperwork for exhibitors allowing easy pick up
Limiting the number of people in the show office at one time
Post reminders regarding social distancing and sanitation
Eliminate sharing of office supplies (such as pens, tape, etc.)
Provide a sanitation station when entering and exiting the office
Consider face masks for show office staff

Only designated individuals (trainers/staff) are to move and set jumps or other arena equipment.
Although there is no evidence that horses can contract or become ill from COVID-19, practice good hygiene by washing your hands with soap and water for a minimum of 20 seconds or using a >60% alcohol hand sanitizer after touching a horse, communal areas, or communal equipment to prevent environmental spread of the virus. Hand sanitizer is not as effective as soap and water, so only use when there is no soap and water available and hands are not visibly soiled.
Promote fresh air circulation by opening doors to barns and arenas.
Utilize signage / poster to communicate important COVID-19 information to those attending your horse show. The CDC has several free posters that can be downloaded.

Post these at conspicuous places such as gate entrances and other prominent areas throughout your horse show.
Caution and advise all visitors and staff.
Monitor their own health:

Not attend if they are feeling ill or experiencing any of the COVID-19 symptoms such as fever, coughing, or unusual shortness of breath. (Caution all staff to stay home and seek medical advice if sick.)
Not to attend if any of the following situations apply:

They are over 65 years and older
Are immune compromised
Are ill
Have been exposed to someone with a respiratory illness in the last 14 days
Not to attend if they have been to an airport in the last 14 days

Instruct riders to maintain a minimum space barrier of at least six feet from others at all times.
No more than 10 people should be in an enclosed area or present at any single activity at one time.

Stagger portions of the show, if needed, to accommodate spacing.
Outside events should maintain a social distancing separation of six feet.
Show organizers should carefully consider stall assignments to keep barn groups separated.

Post signs in warm up areas to keep riders 6 feet apart
This information is intended to only provide guidance related to lessoning the risk of spreading COVID-19 and not aimed at providing any suggestions for horse shows per se.
CDC COVID-19 Posters
https://www.cdc.gov/coronavirus/2019-ncov/prevent-getting-sick/prevention-H.pdf
https://www.cdc.gov/coronavirus/2019-ncov/downloads/sick-with-2019-nCoV-fact-sheet.pdf
https://www.cdc.gov/coronavirus/2019-ncov/downloads/COVID19-symptoms.pdf
https://www.cdc.gov/coronavirus/2019-ncov/downloads/2019-ncov-factsheet.pdf
---
Sources:
https://www.horsetalk.co.nz/2020/03/14/equine-coronavirus-covid-19-no-evidence-horse-human-spread/
https://worldequestriancenter.com/statement-world-equestrian-center-covid-19-update/
https://thehorse.com/187113/covid-19-resources-for-equestrian-facilities-in-california/
https://www.cdc.gov/coronavirus/2019-ncov/community/large-events/mass-gatherings-ready-for-covid-19.html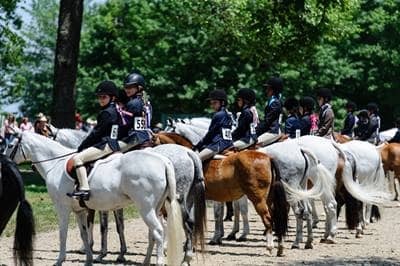 This document is intended for general information purposes only, and should not be construed as advice or opinions on any specific facts or circumstances. The content of this document is made available on an "as is" basis, without warranty of any kind. This document can't be assumed to contain every acceptable safety and compliance procedures or that additional procedures might not be appropriate under the circumstances. Markel does not guarantee that this information is or can be relied on for compliance with any law or regulation, assurance against preventable losses, or freedom from legal liability. This publication is not intended to be legal, underwriting, or any other type of professional advice. Persons requiring advice should consult an independent adviser. Markel does not guarantee any particular outcome and makes no commitment to update any information herein, or remove any items that are no longer accurate or complete. Furthermore, Markel does not assume any liability to any person or organization for loss or damage caused by or resulting from any reliance placed on that content.

*Markel Specialty is a business division of Markel Service, Incorporated, the underwriting manager for the Markel affiliated insurance companies.
© 2022 Markel Service, Incorporated. All rights reserved.

Was this helpful?