Tips to stop slip and falls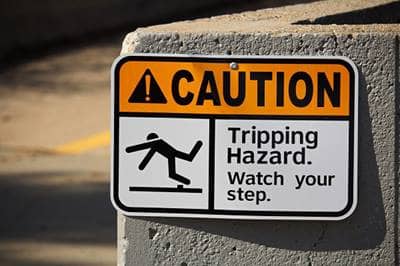 "Horse farms and equine facilities are not unlike many businesses that need to address the inherent dangers around the premises. What makes these unique is the variety of footing and floor surfaces common to the industry. Having a dirt floor that meets the concrete wash pad and then transitions to a linoleum office and carpeted lounge, creates many hazards. The changes in grade and elevation are also exaggerated when dealing with entry points into stables or part of a dressed arena."

George Sotter, a registered professional engineer and author of STOP Slip and Fall Accidents, specializes in the prevention and investigation of slip, trip, and fall accidents. We have included some of Sotter's simple and cost effective ways of stopping slip and fall accidents.
Warning signs with ANSI standard images for known areas of hazard, such as hay lofts or uneven flooring at entry points.
Good lighting throughout can prevent shadows that obscure tripping hazards.
Reduce the use of extension cords, especially for long term usage. All cords should be properly stored after each use off the floor/ground.
Provide clean, absorbent floor mats so students, boarders or visitors can dry the soles of their shoes when entering an office or lounge area.
Use absorbent mats and rugs in wet areas, such as drinking fountains and ice or beverage vending machines. Make sure the mats have beveled edges and are not tripping hazards.
Use abrasive mats to trap rain, mud, and snow at the entrance. When mats get dirty or saturated, exchange them for clean ones.
Make sure stairs comply with your local building code, stair treads are easy to see, and handrails are firmly mounted and easy to grip.
Apply abrasive tapes or coatings to floors and stairs. Replace the tape if it becomes loose, worn, or torn.
Maintain surveillance of potentially slippery areas, and clean up spills immediately to prevent falls.
Wash racks/areas need to be well kept with good drainage. Racks for hoses and equipment should be provided to reduce tripping hazards.
Inspect floors for debris, brooms, clothing, and equipment that may create a tripping hazard. If there is anything in the walkway that should not be there, remove it immediately.
Hay carts, forks and muck buckets need to have a designated storage area out of the main stable aisle.
Tack should be brought out once the mount is ready and removed and returned to the tack room or wash rack when finished and not placed on the ground.
Ramps for loading horses or equipment on trailers need to have an anti-slip coating or mat as well as other inclined or elevated surfaces, such as mounting blocks.
Parking lot areas should not be overlooked in the evaluation of the premises as many incidents happen on the way in and out of the facility.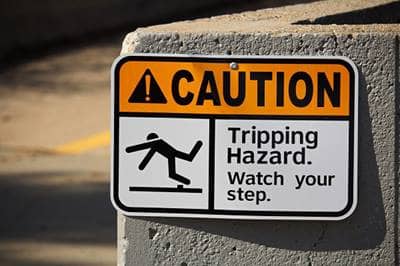 This document is intended for general information purposes only, and should not be construed as advice or opinions on any specific facts or circumstances. The content of this document is made available on an "as is" basis, without warranty of any kind. This document can't be assumed to contain every acceptable safety and compliance procedures or that additional procedures might not be appropriate under the circumstances. Markel does not guarantee that this information is or can be relied on for compliance with any law or regulation, assurance against preventable losses, or freedom from legal liability. This publication is not intended to be legal, underwriting, or any other type of professional advice. Persons requiring advice should consult an independent adviser. Markel does not guarantee any particular outcome and makes no commitment to update any information herein, or remove any items that are no longer accurate or complete. Furthermore, Markel does not assume any liability to any person or organization for loss or damage caused by or resulting from any reliance placed on that content.

*Markel Specialty is a business division of Markel Service, Incorporated, the underwriting manager for the Markel affiliated insurance companies.
© 2022 Markel Service, Incorporated. All rights reserved.

Was this helpful?