How to be prepared for and respond to a vehicle accident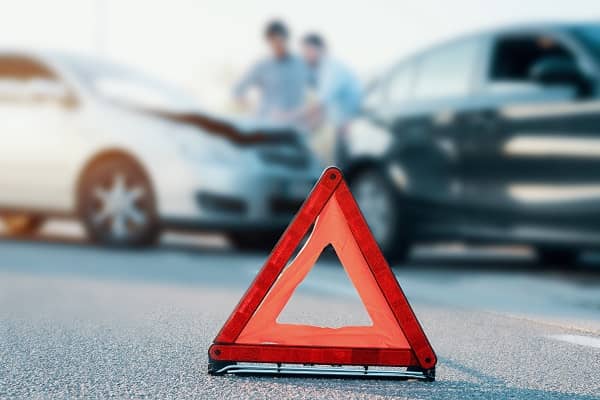 No one wants to be in an auto accident, yet on average, according to the National Highway Traffic Safety Administration, there are more than 6 million police reported auto accidents in the U.S. every year. If you were involved in one of those accidents would you or your employees know what to do? How you prepare ahead of time, and how you react afterwards, may help protect you and your interests.
Be prepared
Breakdowns and accidents are unexpected and often stressful situations, so it's good to be prepared for anything that could go wrong while out on the road.
Do you have or carry these necessary emergency items?
A basic first aid kit
Pen and paper
Mobile phone with camera
Information about any medical allergies or medical conditions requiring special attention
Important contact information
Warning triangles, emergency flares or cones
Flashlight and extra batteries
Booster cables
Small tool kit
Work gloves
A tire pump and tire pressure gauge
A towel and hand wipes
Thermal blanket
Fire extinguisher
Reflective jacket or vest
Duct tape
Do you have insurance policy information?
Keep important insurance information in your glove box:
A copy of your current insurance ID card
A business card from your agent or broker
After an accident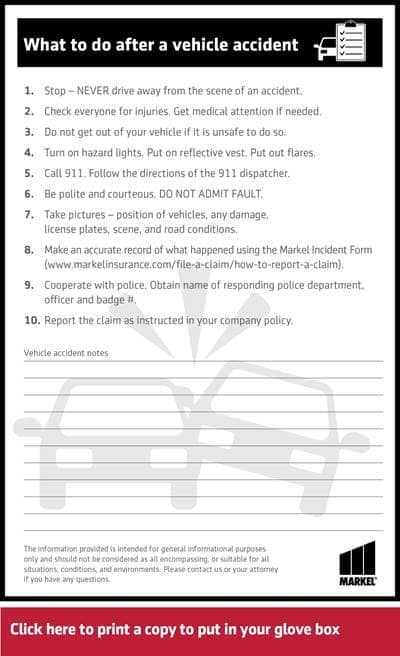 The moments after an accident can be hectic and stressful. Stay as calm as possible and:
Stop. Never drive away from the scene of an accident – even a small one.
Turn on your hazard lights to advise other drivers.
Do not get out of your vehicle if it is unsafe to do so.
Call 911. Tell them where you are, what happened and if anyone appears to be injured.
Follow any instructions given to you by the 911 dispatcher.
Do not move anyone that is injured.
Do not move your vehicle unless you need to for safety reasons.
To further enhance your safety, set out flares, cones or warning triangles if you can safely do so. If it's dark, you should have a flashlight to also help keep you safe.
Be polite and courteous and do not admit fault. Do not discuss the accident with anyone but the police, your agent, or insurance company. Do check to see if everyone in the other vehicle(s) need medical attention.
If it is safe to do so:

Assess the damage; Walk around the vehicle and review any damage.
Take pictures.

Position of vehicles before being moved
Photograph the damage to each vehicle involved in the accident.
Show the overall context of the accident.
Photograph any license plates involved.
Also take photos of the scene, the road conditions, any traffic signs and the direction each vehicle was traveling.
Avoid taking pictures of injured parties.

Make an accurate record

Obtain vehicle and driver information from everyone involved. Write it down on a Markel Incident Report Form

https://www.markelinsurance.com/~/media/specialty/claims/incident_report_form.pdf

Or record pertinent information on your phone:

Names
Addresses
Telephone numbers
Any witnesses, people, and vehicles involved
Make a note of how many people are passengers in each involved vehicle. Are any of them children?
Insurance name, policy number, insurer's phone, and agent's contact information for all drivers involved
Provide this information about you to others involved in the accident
Vehicle(s) involved:

Make
Model
Year
Color
VIN
License plate number

To the best of your ability, document the facts of what happened

Exact location of the accident including or street signs or landmarks to identify accident location
Your speed
Date and time of accident
Weather, road, and visibility conditions
Any contributing factors to the accident such as obscured traffic signs
The direction you were traveling
The direction the other vehicle was traveling
Time police arrived
Name of responding police department, officer name and badge number
Police report number (and find out how to get a copy of the police report)
Damage to your vehicle. (If your vehicle is unsafe to drive, arrange for a tow.)
Any damage to other vehicles
Damage to property other than vehicles
Download and print a convenient card for your vehicle's glove box for reminders and note taking in the event of an accident
After you leave the scene
Do not sign any paperwork from the other driver's insurance company or attorney until instructed to do so by the Markel Claims department
Promptly report the accident as you have been directed per company policy. The accident must then be reported to your agent and/or to Markel Claims as soon as possible by either:
Promptly follow up with Markel claims to:

Provide any accident-related correspondence you receive, including

Incident reports
Statements
Bills
Letters

Include your policy number and claim number on each document

If you receive any type of legal papers, immediately call Markel Claims. If possible, fax the documents to Markel Claims at 855-662-7545 or email a copy to markelclaims@markel.com.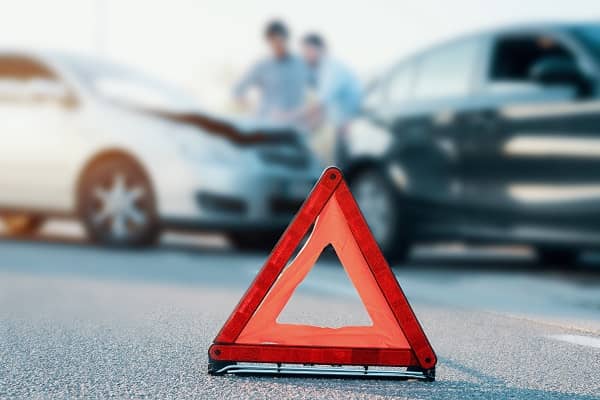 This document is intended for general information purposes only, and should not be construed as advice or opinions on any specific facts or circumstances. The content of this document is made available on an "as is" basis, without warranty of any kind. This document can't be assumed to contain every acceptable safety and compliance procedures or that additional procedures might not be appropriate under the circumstances. Markel does not guarantee that this information is or can be relied on for compliance with any law or regulation, assurance against preventable losses, or freedom from legal liability. This publication is not intended to be legal, underwriting, or any other type of professional advice. Persons requiring advice should consult an independent adviser. Markel does not guarantee any particular outcome and makes no commitment to update any information herein, or remove any items that are no longer accurate or complete. Furthermore, Markel does not assume any liability to any person or organization for loss or damage caused by or resulting from any reliance placed on that content.

*Markel Specialty is a business division of Markel Service, Incorporated, the underwriting manager for the Markel affiliated insurance companies.
© 2022 Markel Service, Incorporated. All rights reserved.

Was this helpful?