Lessons from losses - Restaurants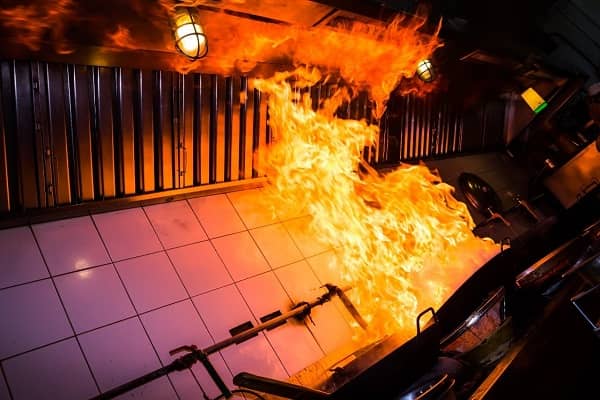 A large kitchen fire causes extensive structural damage when a pressurized deep fat fryer malfunctions and ignites. As a result, the restaurant suffers more than one million dollars in property damage. Unfortunately, the fire suppression system installed does not deploy, and the building is not equipped with sprinklers. Employees attempt to control the fire with available fire extinguishers. The restaurant manager finally notifies the fire department after twenty minutes from the start of the incident. Emergency response arrives within four minutes of the call. Due to the strength of the fire, they fight the fire from the exterior of the building. Fortunately, the blaze was controlled, and there were no injuries.
According to National Fire Protection Association (NFPA) 2010-2014 data, United States fire departments respond to over 7,000 structure fires each year in eating and drinking establishments. These fire incidents resulted in property losses of 165 million dollars.
Additional NFPA data revealed that:
Three out of five restaurant fires involved cooking equipment.

Deep fryers were involved in one out of every five fires.

Failure to clean was a factor in approximately 22% of fires.
Accidental fires are preventable. There are a number of best practices that can be implemented to prevent injury and property loss. Some of the steps to take to reduce exposure to fire loss in a restaurant are:
Ensure cooking equipment is covered by a UL-300 compliant automatic extinguishing system that is serviced semi-annually.

Utilize a fire alarm system that provides manual and automatic initiation devices.

Utilize smoke detection alarms.

Utilize a sprinkler system that conforms to NFPA 13 standards.

Have an adequate number of portable Class K fire extinguishers that are regularly serviced and properly located. Train staff on proper use.

Maintain contract for hood and duct system servicing and cleaning; quarterly serviced for high volume cooking operations, semi-annually for moderate volume and annually for low volume.

Ensure cooking appliances are vented to the exterior of the building.

Empty grease containers daily.

Ensure deep-fat fryers are installed with at least 16 inch spacing between cooking equipment.

Ensure baffle filters are in place and cleaned frequently.

Ensure appliances have automatic shut off devices.
Sources:
Kenneth J. Tremblay, 2011, "Firewatch," NFPA Journal, September/October 14
NFPA – National Fire Protection Association. https://www.nfpa.org/-/media/Files/News-and-Research/Fire-statistics-and-reports/Building-and-life-safety/oseating.ashx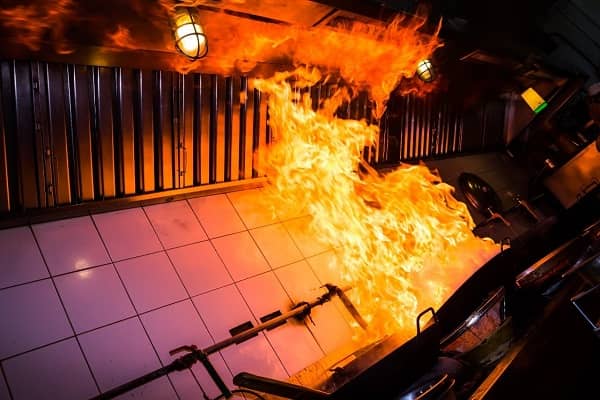 Was this helpful?