Why safe boating is important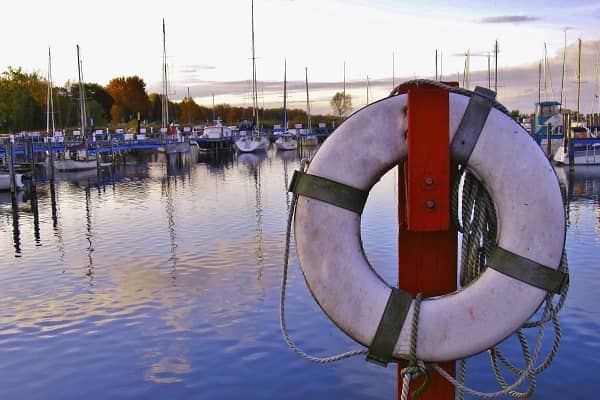 "If stupidity got us into this mess, then why can't it get us out?"
--Will Rogers

We all know how important it is to operate our boats in a safe and environmentally friendly manner. Generally boat safety is seen as a black and white issue. For those of you who navigate in the "gray area" of safety, I offer some information that I hope will convince you to become a better operator and help you better enjoy your time on the water. The following four stories are from www.DarwinAwards.com (enter "boat" in the search field).

The Darwin Awards: Honoring those who improve the species...by accidentally removing themselves from it!

Duct Tape
A misplaced faith in the miracle of duct tape led to the demise of a man boating on the Columbia River on Monday evening...

I Can't Swim!
The holiday weekend was a scorcher, with temperatures in the high 90's. Our candidate went for a cooling boat ride with his wife and children, but the cool breeze did not suffice, so he turned off the motor and dove into the lake...
Pumped Up!
The location: a small boat harbor in Santa Cruz. The victims: a sailboat and its owner. The opening scene: employees sprinting away from the dock's fuel pumps -- a vision guaranteed to evoke dread in the souls of innocent bystanders...
Baked Alaska
This one is for the ladies. I was the Commanding Officer of a 75-foot Navy Diving Tender, YST 10. Our mission was to train future naval officers to navigate the Strait of Georgia, northwest of Vancouver. It was a lovely June afternoon, with clear blue skies and gentle breezes. A trainee spotted a flicker of fire on the horizon, where there should have been nothing but water...

It's easy to make light of others' misfortunes, but because we really care for you, we want to make sure that nothing terrible happens to you while you're out having fun. So what can you learn from theses stories? Maybe, "Fix it right the first time", "Know the limits of your vessel", "Keep an eye on the weather", "Always wear a properly fitted PFD", "Make sure your mate knows how to operate the boat", "Know your boat", "Never start your boat without first checking the bilge for fumes" and "Too many sweets can be bad for your health."

The US Coast Guard Auxiliary and US Power Squadron offer courses to help you avoid winning a Darwin Award (except maybe for the Baked Alaska thing), and the USCGA and US Power Squadron members are always willing to conduct a Vessel Safety Check with you on your boat.

We urge you to take advantage of any opportunity to become a better, safer boater and if you're not sure about something; safety gear, proper repairs, weather forecasts, how much Rum and Grand Marnier to use on a Baked Alaska, etc., ask us. Any of our underwriters or claims staff can get you pointed in the right direction.

Be Safe Out There!