Boat navigation 101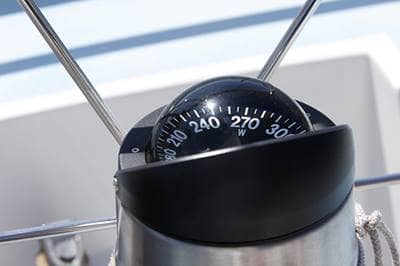 Types of navigation tools
Nautical charts
A nautical chart is a road map for the water. You can use both paper and electronic (GPS) maps to find your way. It is a good idea to have both on your boat for longer trips for comparison and back up. The National Oceanic and Atmospheric Administration (NOAA) of the United States Government supply most nautical charts. The NOAA also provides a document that lists all the chart symbols to help you read the chart.
Navigational aids
Aids to navigation (ATON) are markers to assist navigators in the water. These include landmarks such as islands, channel markers, lighthouses, beacons and buoys. There are both lateral and non-lateral markers. Lateral markers indicate where it is safe to travel and consist of red and green ATONs. Non-lateral markers are usually white with orange shapes and black lettering. The shapes on the markers indicate what information they are providing such as directions or information (squares), hazards (diamonds), controlled areas (circles) or off-limit places (crossed diamonds). There is much to learn about navigational aids. The United States Coast Guard provides more information on ATONs in a pamphlet you can print and keep in your boat for reference.
Marine compass
A marine compass is a valuable tool. It allows the navigator to understand the direction the boat is pointed. In the day and age of GPS, you may be wondering why you need a compass. GPS should not take the place of the marine compass. GPS will tell you the direction you are headed not where your boat is pointed. Where you are pointed and where you are headed can be very different. Due to the current and the possibility of drifting sideways, a boat can be headed a different way than it is pointed. This will take the boat off course. Understanding how to use both the compass and GPS will better keep you on track.
We hope this introduction gives you an idea on the types of navigational tools you will need to safely reach your destination. The United States Coast Guard Auxiliary and the United States Power Squadrons both offer in-depth boating courses that will take a closer look at all you need to know when you are out navigating on the water.
For further protection on the water, Markel boat insurance offers specialized boat insurance that protects you if you become legally liable for someone else's injuries or property damage due to a boating accident. In addition, Markel boat insurance also offers protection to help cover the cost to repair or replace your boat in the event of an accident, fire, theft, or vandalism.
Find a licensed Markel Marine agent in your area, and start protecting your boat today!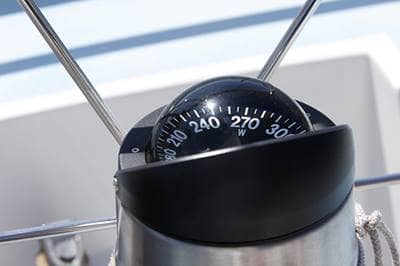 Was this helpful?
Policies as low as $100 per year.
Get a fast, free online quote today and get the protection and peace of mind you deserve. Plus, save up to 35% with our discounts.
Or call +1.800.236.2453 to speak with a boat insurance specialist.