Keep dogs safe on your boat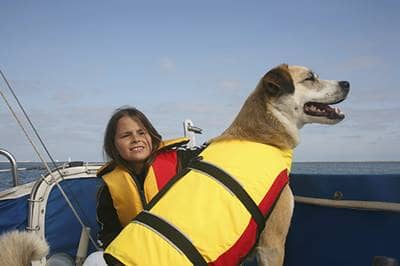 10 tips to keep dogs safe on a boat
Purchase a good life jacket

Like humans, dogs need a life jacket too. Even if your dog is a good swimmer, weather conditions, hypothermia, disorientation, panic, or fatigue can be challenging if your dog falls overboard. Take your dog to get fitted for a life jacket and look for these features:

Handles – grips on the top will help you lift your dog out of the water
Color – pick a bright color like orange, so you can easily see your dog
Comfort – make sure it is the right fit and there aren't any snaps or straps that are pinching or uncomfortably rubbing your dog




After you purchase the life jacket, have your dog wear it for a short time and then swim in it so your dog gets used to wearing it, and is more comfortable wearing it onboard the boat. This way you can adjust the straps if necessary and help reduce any anxiety the dog might experience.

Take your dog on the boat while it's docked

Let your dog explore the boat before taking your trip. This will help your dog get used to its surroundings and decrease any possible stress. Spend about an hour on the boat to give your dog ample time to get acclimated. It's a good idea to start the boat while it is docked too, so your dog isn't startled by the sound, smell, or vibration before your trip.

Teach your dog commands and practice drills

It's important your dog knows basic commands to keep him or her safe on and around the boat. These safety commands include, "sit," "lie down," "stay," "come," and "on/off boat." You may also want to practice "rescuing" your dog by creating drills that teach your dog to swim to specific spots on your boat.

Make a plan

Think about the worse case scenario and plan for it. Knowing what you will do in an emergency situation can be life saving for your dog. If your dog goes overboard, you can plan to shut off the engine and designate one person to rescue the dog.

Bring a pet-friendly first-aid kit

A first-aid kit for your dog should include non-stick bandages, gauze and vet tape, dog nail clippers, duct tape, hydrogen peroxide, antibiotic ointment, and emergency vet contact information.

Start with a short trip

Before you set out on a full-day trip, get your dog used to being on the boat for a couple of hours. This will allow your dog to feel how the boat moves.

Safety considerations

Provide a ramp that allows your dog to safely get on and off the boat. Also consider placing a non-slip pad on the bottom of your boat, so your dog isn't sliding back and forth. In addition, bring a leash to help guide your dog safely on and off the boat. Make sure your dog is wearing ID tags in the rare instance your dog goes overboard and is rescued by another boater.

Shade and water

Designate a shaded area on your boat where your dog can be out of the sun for a while and also have access to plenty of drinking water, such as in the cabin or under an umbrella. You don't want your dog to get over heated and dehydrated. Also, apply dog-friendly sunscreen to keep your dog from getting sunburn.

Spot to potty

Before boarding, make sure you walk your dog. You can plan to make frequent land stops to allow for potty breaks. If possible, you can train your dog to go in a specific spot on your boat. Use a portable potty mat made of fake grass or doggie pads for this purpose. Be sure to take waste bags, paper towels, and pet deodorizer for clean up.

Petproof your boat

Make sure all loose and sharp items that can be tripped over or your dog can get caught up in are stored out of the way, but still easily accessible to you when you need them. Also keep any cleaning supplies locked up.
We hope these tips help guide you in keeping your dog safe on a boat, so you can have an enjoyable experience out on the water. For further protection on the water, Markel boat insurance offers specialized boat insurance that protects you if you become legally liable for someone else's injuries or property damage due to a boating accident. In addition, Markel boat insurance also offers protection to help cover the cost to repair or replace your boat in the event of an accident, fire, theft, or vandalism.
Find a licensed Markel Marine agent in your area, and start protecting your boat today!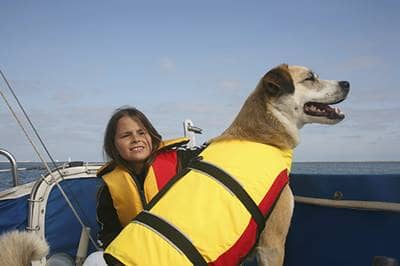 Was this helpful?
Policies as low as $100 per year.
Get a fast, free online quote today and get the protection and peace of mind you deserve. Plus, save up to 35% with our discounts.
Or call +1.800.236.2453 to speak with a boat insurance specialist.