Suddenly in command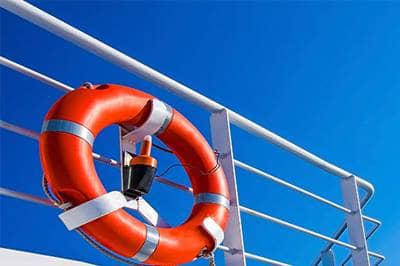 Life happens – sometimes it happens on a beautiful day on the water when the skipper of the boat has a sudden heart attack. Would you be prepared to take over the boat to get you (and everyone aboard) back to shore? Tragedy is often the result if the crew is not prepared or knowledgeable about what to do if they find themselves suddenly in charge. It's unfortunate that many people incorrectly assume that driving a boat is like driving a car when if something bad happens they simply call 911 or AAA. But it's an entirely different story on the water when time may mean the difference between life and death in a crisis situation. That's why it's so important for everyone on board to understand the basics of boating. This includes knowing the location of the personal flotation devices (PFDs), the fire extinguishers, emergency signaling devices and the VHF radio, how to lower the anchor, and how to operate the boat should they find themselves "suddenly in command".
The good news is that the Coast Guard Auxiliary offers an excellent 4 hour course titled "Suddenly in Command" which is designed for those not generally at the helm (the course will also provide value for new boat owners as well). This safety primer teaches attendees the basics of boat handling and what to do in case of an emergency because everyone on board needs to know how to start the boat, shift it, steer it and stop it as well as how to pick up a person in the water because delays can quickly turn catastrophic.
Horror stories abound and if you don't want to be that person who didn't know how to run the boat or how to use the VHF radio to signal for help then you and/or other crew members need to take this course. Meanwhile, let me leave you with the steps on how to operate the VHF marine radio to send a distress call in an actual emergency situation. Turn to Channel 16 and do the following:
How to operate a VHF marine radio in an emergency situation
Distress signal "MAYDAY", spoken 3 times
The word "THIS IS" spoken 3 time along with the "NAME" of the vessel in distress (spoken 3 times) and call sign or boat registration number, spoken once.
Repeat "MAYDAY" and name of vessel, spoken once.
Give position of vessel by latitude or longitude on your GPS or by noting a well-known landmark or channel marker
Give nature of distress (person overboard, boat sinking, fire, etc)
Kind of assistance desired
Number of persons onboard
Any other information which might facilitate rescue
The word "OVER".
And remember this, after you transmit your call you need to RELEASE the microphone button so that the Coast Guard can communicate back to you! Therefore, it's important to stay by the radio if possible. And please make sure all crew members can identify their location, the nature of the emergency, what type of boat they are in or how the boat can be identified, and how many persons are on board. When seconds count it's imperative that everyone on board knows the drill and practices in advance of leaving shore. Because you never know if the life that's saved will be your own!
For more information about safe boating and safe boating courses, contact your local United States Coast Guard unit or your local United States Coast Guard Auxiliary Flotilla at www.uscg.mil (USCG) or www.cgaux.org (USCG Auxiliary)
Happy and safe boating!
About the author: Karen has been boating for 25 years and is a Markel boat insurance customer. Her 23' Chaparral is slipped in the Chain O'Lakes, in northern Illinois, where she and her husband spend as much time as they can during the summer months.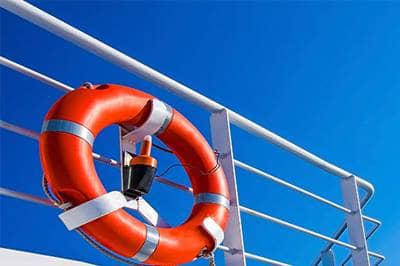 Was this helpful?
Policies as low as $100 per year.
Get a fast, free online quote today and get the protection and peace of mind you deserve. Plus, save up to 35% with our discounts.
Or call +1.800.236.2453 to speak with a boat insurance specialist.