Tips to winterize your boat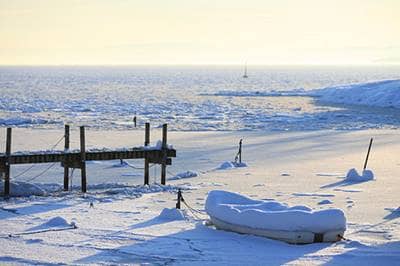 Boat winterizing is never fun. It usually means that summer is on its way out of town and taking your fun on the water with it. The only thing that would be worse would be getting to next spring and finding out that your boat winterization efforts weren't properly executed and your fun on the water will continue its hiatus until your boat is fixed.
But, don't worry! Boat winterizing isn't difficult if you approach it with a plan. Really, there are two options when it comes time to winterize your boat.
1. Pack up the kids and the dog, sell the house and start heading down the lakes to the Caribbean or
2. Start planning for haul-out.
While option number one probably seems more romantic, the second is far more realistic...so let's focus on that one. What follows are ten key elements to help keep your vessel safe through the cold weather.
Boat Winterizing Step One: One last trip
Before anything else, you need to take your boat out for (at least) one more trip. This time, though, instead of gawking at the flora and fauna, gawk at your boat. Make notes about the things you want to repair, replace or modify - the outdated electronics, the stinky holding tank, the dirty carpets, the sticky winch and all those things that have caused you to say, "I ought to take care of that someday."Once the list is complete, convert it into a schedule of projects to do this fall, this winter and next spring. See, you don't have to completely give up boating for the winter!
Boat Winterizing Step Two: Unpacking
Remove as much gear from the boat as possible. Take home the pots, pans, dishes and cups and run them through the dishwasher. Empty the icebox and take the food home or donate it to for the local food pantry. Wash the linens and blankets. Air out the cushions and pillows. Pull out your fire extinguishers so they can be inspected over the winter.
Boat Winterizing Step Three: Cleaning
With all that gear out of the cabin, give her a good scrubbing from front to back. Wipe out the lockers and drawers. Rub down the wood with lemon oil. Clean all those hairs out from behind the head. Scrub the carpets and send the curtains to the cleaners. Get down in the bilge and retrieve all those things you've dropped in there over the years. If you clean your bilge, do not pump any bilge water overboard if it has an oily sheen!
Boat Winterizing Step Four: Air it Out
Once the boat is cleaned, remember to leave the interior doors and lockers open so air can circulate. You might want to put out some moisture and odor absorbes such as DampRid or ZoneDry just before you close up the boat.
Boat Winterizing Step Five: On Deck
Pull out your anchor and rinse the mud off the chain and rode. Clean that black gunk out the scuppers and send a small child into the lazzerette with a scrub brush. Lay your sails and lines out on the lawn and wash them with warm soapy water. Make sure they are dry before you stow them for the winter. If your sails or canvas needs repair, now is the time to drop them at the sail loft. Cover up that hole on the back of your boom where the birds build their nest each spring.
Boat Winterizing Step Six: Engine System
Winterizing your engine and systems comes next. Start by topping off your tanks (not more than 7/8 full to allow for expansion in the spring) and stabilizing your fuel. Change your engine oil and replace all the filters. Check the coolant in closed cooling systems for the proper degree of protection. Check the hoses, belts and clamps. Make sure all your thru-hulls open and close, and then leave them open. Clean your strainers. Check with your local authorities about how to recycle your used oil, filters, used coolant and absorbent pads. Do not throw any of these items into the dumpsters!
Boat Winterizing Step Seven: Head to the...well...Head
Flush your head with plenty of fresh water and pump out your holding tank. Run non-toxic antifreeze through the intake lines (don't just dump it down the bowl), the y-valve, macerator and discharge hose.
Boat Winterizing Step Eight: Water Tanks
Completely drain your fresh water tanks and water heater (turn it off first). You can add non-toxic antifreeze directly to your water tank and pump it directly through your hot and cold plumbing (don't forget about the shower on the transom). But to save time and antifreeze, consider installing a siphon hose fitting just before your water pump and a water heater bypass loop.
Boat Winterizing Step Nine: Anti-Freeze
Don't forget to run non-toxic anti-freeze through ice makers, air conditioning pumps, sump pumps, fish wells and bilge pumps.
Boat Winterizing Step Ten: After Hauling
Once your boat has been hauled, you'll want to fog the cylinders on gasoline engines and flush the engine's raw water cooling system with non-toxic antifreeze (if you don't have a closed cooling system, you may need to drain the engine block first). Open all thru-hulls, check your shaft, strut, cutlass bearing, props, intake screens and anodes. Check the hull for blisters. Change the gear lube in lower units. Clean and disconnect the batteries. Some boat owners remove the batteries so they can charge them at home over the winter. Others make sure the batteries are fully charged before haul-out and leave then in the boat. Wash the deck and hull. Cover the exhaust and any holes to keep critters from getting in your boat.
Boat Storage Tips
Once you are done winterizing your boat, it's time to consider how you store your boat. There are a few keys to remember and ten "must-dos" at the end.
Covering your boat to keep the snow off is a good idea and there are just as many ways to do this as there are boat owners. Some use wood frames and plastic tarps, others build PVC fortresses with fancy canvas covers, many boat owners shrink wrap their boats and a few do nothing at all. Each method has its advantage and disadvantage, but it all comes down to personal preference.
Check your owner's manuals for any special recommendations or winterizing procedures. And if you haven't done this before, seek out the help of an experience friend or hire a professional.
Ten Boat Storage "Must-Dos"
Store boats stern down so rain and melting snow will drain out through the scuppers
Open all seacocks and drains to prevent damage from freezing
Use fuel stabilizing additives and follow proper procedures for winterizing engines and systems
Provide structural support under boat covers and tarps
Never tie off boat covers or tarps to boat stands
Trailer boat hulls should have some support so the weight is not all on the trailer tires
Remove electronics, food stuff, valuables, canvas, cushions and store at home
Put moisture absorbers in the cabin and lockers
Never use a portable heater or auto battery charger in bilge
If your boat is blocked, check stands and blocking periodically during storage
Now you know how to prepare your boat to survive the winter and be ready to go at the first sign of calm waters in the spring!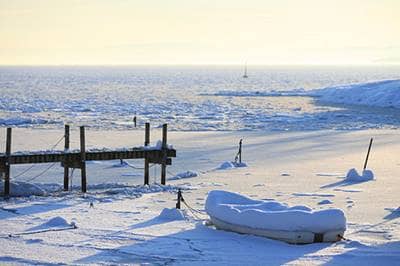 Was this helpful?
Policies as low as $100 per year.
Get a fast, free online quote today and get the protection and peace of mind you deserve. Plus, save up to 35% with our discounts.
Or call +1.800.236.2453 to speak with a boat insurance specialist.