Ebola, forgotten but not gone?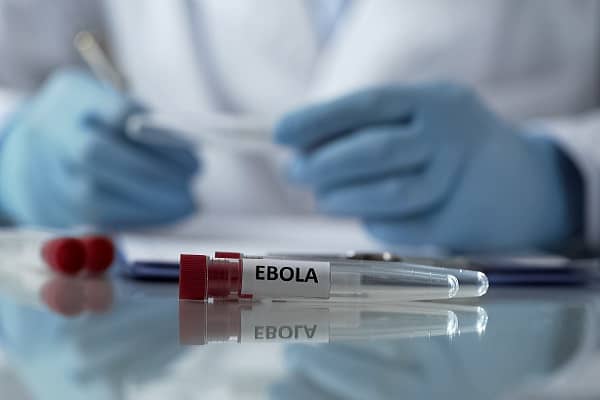 Ebola has gotten some press over the last year. As I reviewed my collection of infectious disease articles the thing that bothered me the most was I really hadn't given Ebola, or any other hemorrhagic virus, much thought. You might be thinking that it's no big deal since most Ebola cases occur in the Democratic Republic of the Congo. Stop and think again. The World Health Organization described an Ebola outbreak as "the most acute public health emergency in modern times". Last year the US Department of Health and Human Services gave $23 million to Merck to produce more of an experimental vaccine to keep an Ebola outbreak from worsening or spreading to other areas. The EMS Biosafety Transport Consortium and the Centers for Disease Control and Prevention have both created detailed documents dealing with Ebola exposure hazards for ambulance personnel. The United States is not isolated from Ebola. People with Ebola have been transported in Nebraska. We perform tabletop exercises for multi-casualty incidents, weather related disasters, hazardous materials, and other events, because they (hopefully) fall outside our normal sphere of activities. In "The Viral Storm, The Dawn of a New Pandemic Age", microbiologist Nathan Wolfe defined risk literacy as "the ability to distinguish between different levels of risk severity", but he also warned "the constant barrage of threats articulated by the media has led to chronic risk habituation." In other words, we are barraged by so many threats, we become insensitive to them. How do we create a rational response that guarantees a reasonable, effective use of our resources that maximizes safety? Maybe it's time to have communicable disease tabletop exercises. The first step is to understand the problem.
What is Ebola?
Ebola was first described in 1976. It is named after a river so the town in which it was found was not stigmatized. A simple virus, it consists of seven genes that are wrapped in two layers of protein. This is packaged with a polymerase (enzyme) and wrapped in a membrane studded with glycoproteins (proteins with sugar attached). When Ebola gets inside a cell, the enzyme makes copies of the Ebola genes and tricks the host cell into using them to make the proteins Ebola needs. Two of the proteins are sneaky. VP35 stops interferons from being made. Interferons alert the immune system that an invader is present. So, VP35 knocks out some sites of the immune system radar. VP24 works like a stealth bomber and makes the remaining immune system radar less effective. Ebola then attacks immune system cells and spreads via the liver, spleen and lymph nodes. This eventually results is a cytokine storm which initiates a pathologic response in which a patient can lose 10 liters of fluid a day.
How do we respond?
Policies and procedures must be developed to fit specific environments. However the EMS Biosafety Transport Consortium, as described by Isakov, makes the following assumptions:
"All healthcare workers (hospital and out-of-hospital) who are involved will have received education and training and demonstrated the necessary competencies for management of patients with serious communicable diseases."

"Healthcare facilities and transporting ambulance agencies have procedures for the management of patients with serious communicable diseases"

"Facilities and transporting ambulance agencies are conducting tabletop and operational exercises that test and refine procedures for the transfer of patients."How can we refine things we don't think about?

"The guidance complements other CDC guidance for management of patients with serious communicable diseases."
Where do we go for help?
The CDC gives the warning that acquisition of personal protective equipment (PPE) is not enough. Every ambulance service must conduct its own risk assessment to determine appropriate PPE for individual members. PPE practices must include:
Repeated training and demonstrated competency in the wearing and use of PPE

Selection of PPE so that no skin is exposed

Supervised donning and doffing procedures
Guidance can be found at http://www.cdc.gov/vhf/ebola/hcp/procedures-for-ppe.html. To deal comprehensively with Ebola issues, the CDC has a "Detailed EMS Checklist for Ebola Preparedness" at http://www.cdc.gov/vhf/ebola/pdf/ems-checklist-ebola-preparedness.pdf. The service Medical Director, local public health department personnel, and infection control experts must be involved to tailor policies and procedures to your specific environment. The mindset and skillset we acquire in dealing with Ebola can make our general handling of communicable disease more effective.
---
References
"Hope for Ebola Patient, at last" Science, Vol 366, Issue 6472, page 1437, December 20,2019

Kupferschmidt, K "Successful Ebola treatments promise to tame outbreak"

Science

, Vol 365,Issue 6454, pp 628-9, August 16, 2019

"More Ebola vaccine ordered", Science, Vol 365, Issue 6456, page 845, August 30, 2019

Cohen, J, "When Ebola protection fails", Science, Vol 346, Issue 6205, pages 17-18, October 3, 2014

Isakov A, Miles W, et alia, "Transport and management of patients with confirmed or suspected Ebola virus disease." Ann of Emerg Med, 2015; 66(3); 297-305.

Wolfe, Nathan "The Viral Storm, The Dawn of a New Pandemic Age", Times Books, New York, New York 2011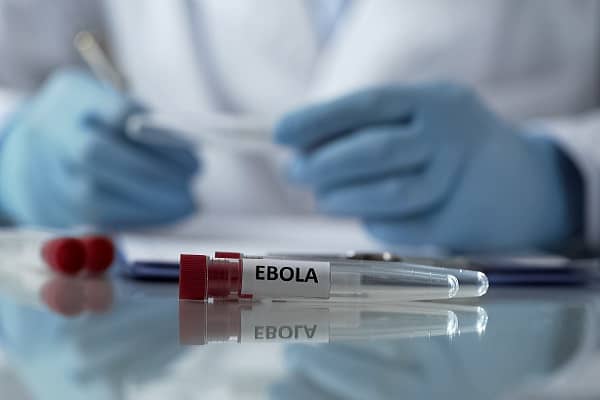 This document is intended for general information purposes only, and should not be construed as advice or opinions on any specific facts or circumstances. The content of this document is made available on an "as is" basis, without warranty of any kind. This document can't be assumed to contain every acceptable safety and compliance procedures or that additional procedures might not be appropriate under the circumstances. Markel does not guarantee that this information is or can be relied on for compliance with any law or regulation, assurance against preventable losses, or freedom from legal liability. This publication is not intended to be legal, underwriting, or any other type of professional advice. Persons requiring advice should consult an independent adviser. Markel does not guarantee any particular outcome and makes no commitment to update any information herein, or remove any items that are no longer accurate or complete. Furthermore, Markel does not assume any liability to any person or organization for loss or damage caused by or resulting from any reliance placed on that content.

*Markel Specialty is a business division of Markel Service, Incorporated, the underwriting manager for the Markel affiliated insurance companies.
© 2022 Markel Service, Incorporated. All rights reserved.

Was this helpful?