7 motorcycle maintenance tips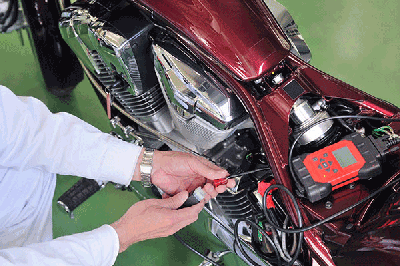 Motorcycle maintenance is important to keep your bike in tip-top shape, so you can enjoy your ride for years to come. Plus, a bike in great condition is a safer bike for you.
Always follow your motorcycle manual for regular check-up information. Here are some general tips for inspecting your bike, brought to you by Markel motorcycle insurance.
1. Oil
Check your manual for the frequency of changing your oil. In general, it is recommended that you change your oil at least once per year. If you put a lot of miles on your bike, you will need to change it more often. Similarly, if you drive in dirty or dusty areas, the quality of your oil will break down faster, so you will need to change it more than once per year. Always check your oil before you hit the road – it should be at high or max level. If it is low, add more.
2. Drive Chain
The drive chain transfers the power from your engine to your rear wheel. Without proper care, it can be very dangerous. It's a good practice to lube your chain after each ride while it is still warm. This allows the oil to penetrate all parts of the chain. In addition, check the chain tension. The right tension prolongs the life of your bike.
3. Tires
Check the air pressure and any signs of wear and tear. Always keep the correct amount of air pressure for good handling on the road and to avoid blowouts. With the right pressure, they will last longer.
4. Brakes
Test your brakes before each ride to make sure they are in good working order. This also means checking the brake fluid level. To keep your brakes at optimum performance, brake fluid should be replaced one to two years depending on the instruction in your manual. Also check the thickness of your brake pads. It is recommended they be replaced before they are worn down to the metal.
5. Air filter
Regularly clean your air filter. You can do this with compressed air. A dirty filter can cause your engine to work harder and cleaning it will give your bike more power. You can also replace your filter if it is cumbersome to clean.
6. Fuel
If you have a fuel filter, make sure it is clean and unclogged. Also, inspect fuel lines for damage. It there is any sign of cracking you will need to have the lines replaced right away.
7. Battery
To extend the life of your battery, keep it charged to 100% when not in use. You can do this with a trickle charger. Make sure the top of the battery is clean. Check the electrolyte level so it doesn't get too low. If it is low, add distilled or deionized water.
We hope this article helps you maintain your motorcycle, so you can continue to enjoy the open road. Be sure to always follow your motorcycle manual for regular check up information. For your protection, Markel offers specialized motorcycle insurance with coverage for damage you cause to others, coverage for your bike, accessories and riding gear, and coverage for your injuries including medical payments. You can also purchase roadside assistance, which offers a 24-hour emergency road service program. For as little as $25 per year, you can get 24-hour motorcycle emergency towing and road service, tire and battery service, trip interruption reimbursement and more!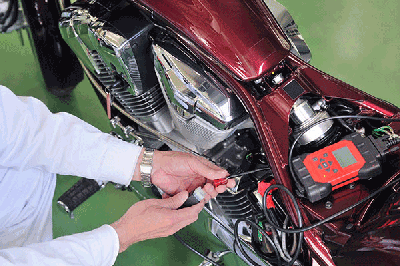 Was this helpful?
Policies as low as $50 per year.
Enter your zip code to get a fast, free online quote. Plus, save up to 35% with our discounts, including 10% just for switching.
Or call +1.800.236.2453 to speak with a motorcycle insurance specialist.