The truth about motorcycle coolant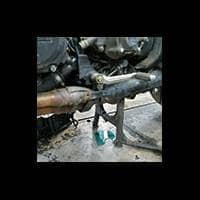 Heading into the garage and discovering a leak coming from your motorcycle is a terrible feeling. I recently had a customer experience this and for the sake of anonymity, we'll just call him Leaky Pete.
In today's world, a large percentage of bikes are liquid cooled and a false perception of coolant is that all coolant is the same. I even had a customer tell me "it never wears out." The truth is that cooling systems must be regularly maintained or issues will develop. Unfortunately, Leaky Pete learned this the hard way and developed a serious cooling system leak after years of deferred maintenance.
Our bikes' water pumps are shaft driven from the engine and a seal is needed to keep the coolant in and the oil out. However, coolant collects contaminates. Plus, cavitation and issues with dissimilar metals and plastic in the cooling system can cause degradation of hoses, o-rings, impellers, etc. Manufacturers make coolant recommendations based on the design of the engine and its use. Read your owner's manual or consult your dealer for questions about servicing your cooling system.
While your bike is quietly waiting for spring and the open road, take the time to see when your system was last (properly) serviced. You'll save money and avoid breakdowns on the road.
Don't be a Leaky Pete; spring is right around the corner!
---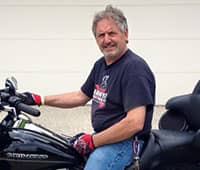 About the author:
John "Woody" Graves is one of those "been there, done that" motorcycle enthusiasts. Enthusiast is actually an understatement; it's his passion and way of life. Woody's passion dates back to 1971 when he started motocross racing. Since then he's dedicated his life to restoring, fabricating, and repairing motorcycles. Today, Woody owns and operates his own motorcycle shop in Waukesha, WI. He's also still racing and a promoter of the Midwest Vintage MX series. With five decades of experience working on his own bikes, building race bikes, and servicing customer's bikes, he has the knowledge to help you enjoy your ride and stay safe on the road.
Was this helpful?
Policies as low as $50 per year.
Enter your zip code to get a fast, free online quote. Plus, save up to 35% with our discounts, including 10% just for switching.
Or call +1.800.236.2453 to speak with a motorcycle insurance specialist.