Top ATV trails in the U.S.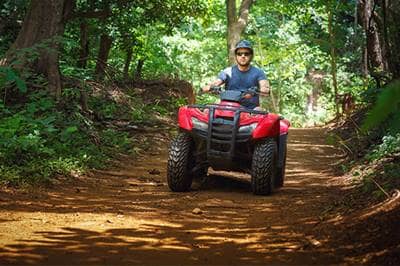 Looking for some new trails to take on? We've compiled a list of the 5 best ATV trails in U.S. national forests and state parks based on their popularity with off-road enthusiasts across the country.
Brock Creek Trails, The Ozark National Forest, Arkansas

This ATV trail includes 42 miles of winding trails with two large loops and many smaller interconnecting loops. It's considered a two-way multiple use trail that ATV/UTV riders share with hikers, dirt bikes, mountain bikes and horseback riders. There are also one-way trails conducive for slow riding. The trails wind through the beautiful dense hardwood forest with creek crossings. It has both easy smooth trails and difficult rough trails. Camping is allowed at the Brock Creek Campground and Trailhead; however, note that you will need to bring your own water.

Croom Trails, Withlacoochee State Forest, Brooksville, Florida

ATV enthusiasts consider Croom Trails one of the best ATV trails in the world. With 55 miles of groomed, shaded, smooth riding trails consisting of hardwood hammock, tight scrubs, and some wetlands. There is a range of trails for both the beginner and the advanced rider. There are also circle tracks in fenced areas for novice riders to practice. It also has a 50 acre sand bowl and many hills to ride due to abandoned mines. The trails are mainly used for off-road driving and mountain biking.

Hanging Rock, Wayne National Forest, Ohio

The Hanging Rock 5,000-acre area of Wayne National Forest boasts of 24 miles of trail for multiple use, including ATV, mountain bikes, hiking and horseback riding. Some steep slopes are challenging. The Wayne National Forest is beautiful with many ponds scattered throughout, bridges, rock shelters, springs and hardwood and pine covered hills.

St. Joe State Park, Missouri

St. Joe State Park is a popular place to ride ATVs or UTVs as it offers 2,000 acres and 54 miles of trails in the wooded hillsides. There are 800 acres of sand flats made of crushed limestone. In addition to ATV/UTV riders, the trails allow dirt bikes, four-wheel drive vehicles and dune buggies. Riders may experience dirt, mud, gravel rocks, low hanging vegetation, natural obstacles, steep grades, inclines and water crossings without bridges. The park has two campgrounds.

5. Coral Pink Sand Dunes State Park, Utah

With its 1,200 acres of beautiful rose-colored sand dunes made from the Navajo sandstone formation, sand trails and juniper and pinion pine trees, ATV or UTV riders experience one of the best riding destinations in the country. There are steep dunes for advanced riders and also trails for intermediate riders and beginners. Located just southeast of Zion National Park, the park offers spectacular views of Zion. The park also has modern campground amenities.
We hope this list of places to ride ATVs leads you to your next ATV or UTV adventure and it's a fun and safe experience. Remember to follow the posted rules and regulations to keep the areas available for the next generation of off-road enthusiasts! For further protection, your ATV or UTV needs insurance coverage that's different from what your auto or homeowners insurance can provide. That's why Markel offers specialized ATV insurance coverage tailored to meet your unique needs. For more information, visit www.markelinsurance.com/ATV or call 800-236-2453 to get a free, no obligation insurance quote.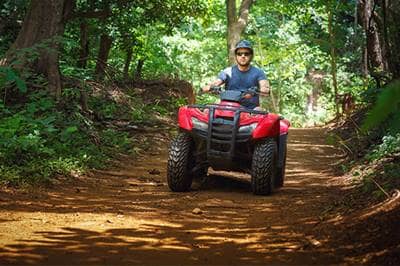 Was this helpful?
Policies as low as $50 per year.
The trail starts here. Get a fast, free online quote today and get the protection and peace of mind you deserve. Plus, save up to 35% with our discounts.
Or call +1.800.236.2453 to speak with an ATV insurance specialist.