Personal protective equipment (PPE)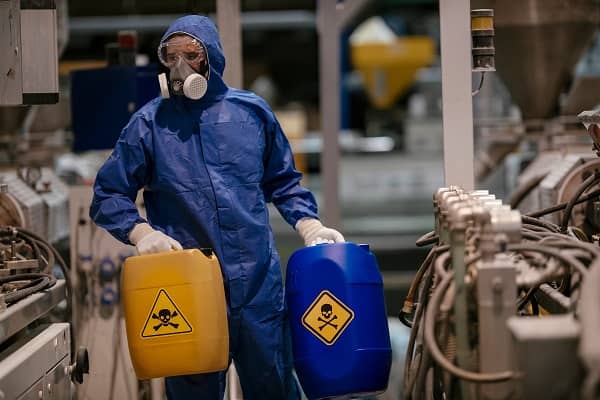 Employers strive to maintain a safe workplace. In particular, they want to protect employees from workplace hazards. Part of that process is providing clothing and equipment that will protect them from the hazards they face. Personal protective clothing and equipment, commonly referred to as PPE, is critical to preventing injury and free from occupational illness.
Federal OSHA requires PPE as a defense against hazards from chemical splashes to struck-by incidents. In fact, OSHA requires employers to provide employees with PPE when there's a risk of exposure, and OSHA also requires employees to use the PPE that's provided.
OSHA's mandate is clear: "Protective equipment … shall be provided, used, and maintained in a sanitary and reliable condition whenever it is necessary by reason of hazards of processes or environment, chemical hazards, radiological hazards, or mechanical irritants encountered in a manner capable of causing injury or impairment in the function of any part of the body through absorption, inhalation, or physical contact."
It's not only important to determine the need for PPE, but also how to select PPE for particular types of hazards.
PPE is not optional
Some people seem to think PPE is optional. They think that if their PPE is uncomfortable or just too much trouble, they don't have to wear it. PPE is not a matter of choice.
OSHA requires it, and so do many employers. Any inconvenience or discomfort is a lot less than the inconvenience and discomfort of an injury caused by not using PPE when it is required.
Identifying hazards
The first step is identifying the hazards that are present in the workplace. To ensure that no hazards are ignored, OSHA requires employers to "assess the workplace" to determine if there are, or are likely to be, hazards that call for the use of PPE.
OSHA suggests employers carry out this assessment by checking out each work area to identify sources of hazards that could harm employees, e.g., impact, penetration, compression, chemicals, heat, etc. The assessment might find a risk of injury from contact with moving machines or parts, or from sharp objects that could pierce or cut the hands, feet, or other body parts. It could also be discovered that new equipment or new chemicals pose new risks.
In addition to checking the work area, near misses, accidents, and injury records should be reviewed to identify situations that could be made safer by using PPE.
Another part of hazard assessment is to consider how and where people are positioned in the work area. Is there a risk of colliding with stationary objects? Are there objects that could fall on people—or work procedures that make people likely to drop heavy objects?
Also check for certain special hazards, for example:
Burn hazards –

from hot processes and equipment, electrical hazards, welding, heat treating, etc.

Chemical hazards

– chemicals demand a lot of attention because they pose so many potential hazards that can be reduced by using PPE.Safety Data Sheets (SDS's) are good resources to determine when PPE is needed and what kind to use.
When hazards are identified
If the assessment identifies hazards, you then need to decide how to protect employees from them. Although PPE is common, it should actually be chosen as a last resort. First, determine if engineering controls, e.g., ventilation as protection from chemicals and hazardous dust, or administrative controls, e.g., scheduling to avoid prolonged exposure can eliminate the need for protection. Or perhaps the process can be changed to use different, less-toxic materials. But often, these types of controls are not enough. That's where PPE comes in. Select PPE that will best protect employees from the hazards identified. PPE must meet applicable standards and fit each affected employee properly. In addition, ensure that employees know how to use the PPE.
What you need to know about your PPE
The OSHA regulation emphasizes the importance of employee training. It states that employees who use PPE have to know:
When PPE is needed, what PPE is needed, how to properly put on, wear, adjust, and take off PPE, the useful life and limitations of PPE, and how to properly care for, maintain, and dispose of PPE
Payment for PPE
Employers must pay for most types of PPE when used by employees exclusively in the workplace, e.g., not for personal use at home or other non-workplace activities. Companies would typically buy:
Electrical protection (electrically insulated tools, rubber insulating gloves)
Chemical protection (chemical-resistant gloves/aprons/clothing, encapsulating chemical-protective suits)
Eye, face, head, hearing, and respiratory protection
Companies would typically not pay for clothes or items that are not worn by employees exclusively for protection from hazards. For example:
Non-specialty prescription safety eyewear, provided that the employer permits such items to be worn off the jobsite
Everyday clothing (long-sleeved shirts, long pants, street shoes, and normal work boots)
Ordinary clothing and skin creams used solely for protection from the weather, e.g., winter coats, gloves, rubber boots, hats, raincoats, ordinary sunglasses, and sunscreen
Back belts
Employee-owned PPE
When an employee voluntarily purchases and wears his or her own PPE and is allowed to use it at the workplace, the company is not required to reimburse the employee for that equipment. However, the company is responsible for its adequacy, maintenance, and sanitation.
If an employee has provided his or her own PPE, but the company's hazard assessment determines that an upgrade or replacement of PPE is required, the company pays for the upgrade or replacement regardless of who paid for the original PPE.
Selection and fit
To be effective and allow employees to perform their job, PPE has to fit properly. Most PPE comes in different sizes, and it's important that the gear fits well enough so there are no dangerous gaps in protection. Additionally, employees have to be able to move comfortably while wearing it.
PPE condition and inspection
To protect employees, PPE must also be in good condition. That means no rips, tears, disintegration, or other damage. Inspect it carefully before putting on gloves, goggles, clothing, or any piece of PPE. Employee's health and well-being are at stake. If an item is damaged, don't use it! Turn it in and get new protective gear.
Donning and doffing PPE
Employees also have to know the correct way to put on and remove PPE. When putting it on, the chief concern is to get a good fit and make sure it's in good condition, and all fasteners are fastened.
Be careful when removing PPE, too. Be especially careful with PPE that has been contaminated by hazardous chemicals. You don't want to spread the contamination to your body, other people, or clean areas. To avoid that risk, remove contaminated PPE one piece at a time, from the top down. Keep gloves on while removing the protective clothing so that bare hands are not exposed to contamination.
Once the PPE is off, keep it clean and in good condition. Again, contaminated clothing is a special concern. Place it in specially assigned containers for disposal.
Specific types of PPE
Electrical protection - PPE designed to protect against electrical hazards. The clothing and boots are usually made of rubber, which resists electricity. Hats are usually made of formed plastic. Check each piece of PPE carefully to be sure it's not damaged—torn, too soft, too hard, etc.
Head protection - Wear a helmet or hard hat when there's a risk of falling objects—including tools and materials being used by workers above you. Many hats can also protect you from electrical shock. Be sure, however, never to wear aluminum headgear around electricity. Metal is an electrical conductor and could be a deadly mistake in such instances.
Eye and face protection - Many, if not most, industrial jobs can put you at risk of eye or face injuries. In fact, many operations include multiple hazards—flying particles, molten metal, liquid chemicals, acids or caustic liquids, chemical gases or vapors, or potentially harmful light radiation. Fortunately, there is a wide range of safety glasses and goggles available. Some can even build in corrective lenses for those who wear prescription glasses.
Foot protection - Foot protection is needed when there's a danger of injury from objects falling or rolling onto the foot or piercing the sole. In general, safety footwear should be sturdy and have an impact-resistant toe. Wear safety boots or shoes with impact protection if you handle heavy materials that could be dropped. You need compression protection if you work around objects that could roll over your feet. In work areas with nails, scrap metal, and other sharp objects on the floor, you need protection from items that could pierce the soles of your footwear.
Hand and body protection - No particular pair of gloves can protect you from every possible hand hazard. Your hands may be at risk for cuts, abrasions, burns, punctures, and the varied effects of contact with hazardous chemicals. Know exactly what hazards are present to ensure that you select gloves that will do the job.
If you're at risk of burns or cuts, you might wear leather or canvas. Metal mesh gloves are effective when you work with sharp or rough objects. Electricians usually wear rubber gloves and insulating sleeves to protect them from electrical shock or burns.
The same limitations apply to protective clothing. You can't just cover parts of your body with any form of PPE. You have to select PPE that's designed to protect against the hazard you face, whether it's a particular chemical or heat or sharp tools. Rubber and fabrics like neoprene provide protection against certain chemicals or acids.
Noise protection - There's no question that prolonged exposure to loud noise can damage your hearing. OSHA has determined what level of noise is harmful and has detailed requirements for testing noise levels and employee hearing. When noise levels can't be reduced, you have to use some form of hearing protection, either earmuffs, earplugs, etc.
Respiratory protection - OSHA also has detailed requirements for protecting your lungs and respiratory system. When there's a measured risk of inhaling harmful substances, you have to wear a respirator. The type of respirator you use depends on the type and level of hazard.
Training
As mentioned earlier, OSHA requires employers to train in the proper use of PPE.
OSHA says that employees must demonstrate that they understand what they have learned, along with "the ability to use PPE properly" before they can be allowed to perform work that requires PPE. Also, the retraining of employees is needed when: An employee doesn't seem to understand when and how to use PPE, or changes in the workplace or the types of PPE used make the previous training out of date.
In summary
Wearing and using PPE should be an everyday part of how we do our jobs. PPE use is a legal requirement for employers and employees. We all have to know when to wear PPE—and why we're wearing it. We have to choose the right PPE and know how to inspect it, put it on, and adjust it for a good fit. We also have to be able to remove it properly and maintain, store, and dispose of it correctly.
We face many hazards at work. Fortunately, we have the knowledge to identify those hazards and to protect against them. PPE - wear it!
---
By:
Mike Huss
Loss Control Consultant
References:
Source: BLR – Business & Legal Resources, Occupational Safety & Health Administration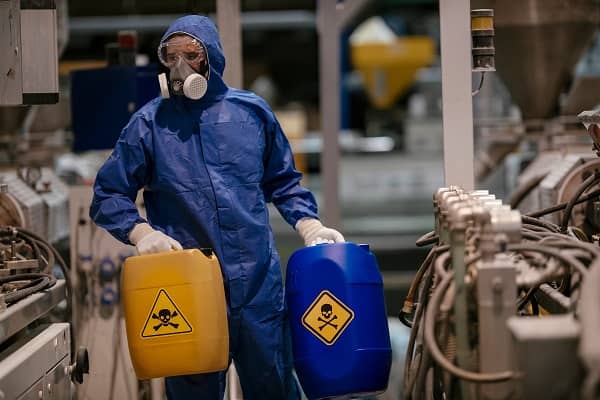 This document is intended for general information purposes only, and should not be construed as advice or opinions on any specific facts or circumstances. The content of this document is made available on an "as is" basis, without warranty of any kind. This document can't be assumed to contain every acceptable safety and compliance procedures or that additional procedures might not be appropriate under the circumstances. Markel does not guarantee that this information is or can be relied on for compliance with any law or regulation, assurance against preventable losses, or freedom from legal liability. This publication is not intended to be legal, underwriting, or any other type of professional advice. Persons requiring advice should consult an independent adviser. Markel does not guarantee any particular outcome and makes no commitment to update any information herein, or remove any items that are no longer accurate or complete. Furthermore, Markel does not assume any liability to any person or organization for loss or damage caused by or resulting from any reliance placed on that content.

*Markel Specialty is a business division of Markel Service, Incorporated, the underwriting manager for the Markel affiliated insurance companies.
© 2022 Markel Service, Incorporated. All rights reserved.

Was this helpful?