Emergency evacuation plans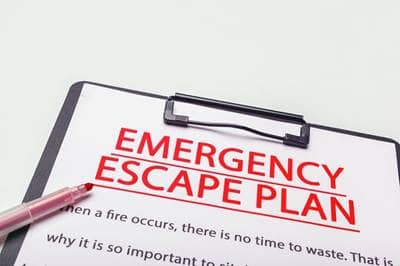 As a facility owner, you have a duty to ensure the safety of your students and employees. The American College of Sports Medicine's (ACSM) Health/Fitness Facility Standards and Guidelines recommends that a facility must be able to respond in a timely manner to any reasonably foreseeable emergency event that threatens the health and safety of facility users.
ACSM recommends that a facility must:
Have an appropriate emergency response plan.
Have qualified personnel to execute its emergency response plan.
Be able to execute its emergency response plan in a timely manner.
Moreover, according to the US Department of Labor Occupational Safety and Health Administration (OSHA) "an emergency action plan must be in writing, kept in the workplace, and available to employees for review. However, an employer with 10 or less employees can communicate the plan orally to employees."
The effectiveness of your plan depends on how well you communicate and practice it. Communicate your plan to employees regularly and increase students' and employees' awareness by involving them in fire drills. Post floor evacuation plans showing the exit routes from a building or floor.
Include the following information in your fire evacuation plan:
Identification of emergency egress or escape routes.
Procedures for accounting for employees and occupants after the evacuation has been completed.
Identification and assignment of personnel responsible for rescue and emergency medical care.
Regular inspection of exit routes to ensure they are not blocked.
Procedures for identifying the whereabouts of students and guests to ensure their safe egress from your building.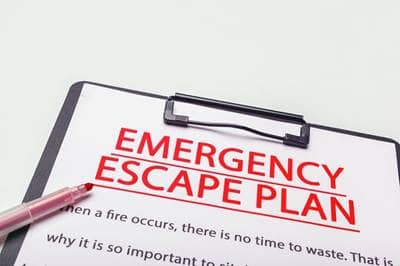 This document is intended for general information purposes only, and should not be construed as advice or opinions on any specific facts or circumstances. The content of this document is made available on an "as is" basis, without warranty of any kind. This document can't be assumed to contain every acceptable safety and compliance procedures or that additional procedures might not be appropriate under the circumstances. Markel does not guarantee that this information is or can be relied on for compliance with any law or regulation, assurance against preventable losses, or freedom from legal liability. This publication is not intended to be legal, underwriting, or any other type of professional advice. Persons requiring advice should consult an independent adviser. Markel does not guarantee any particular outcome and makes no commitment to update any information herein, or remove any items that are no longer accurate or complete. Furthermore, Markel does not assume any liability to any person or organization for loss or damage caused by or resulting from any reliance placed on that content.

*Markel Specialty is a business division of Markel Service, Incorporated, the underwriting manager for the Markel affiliated insurance companies.
© 2022 Markel Service, Incorporated. All rights reserved.

Was this helpful?