Radon exposures in the workplace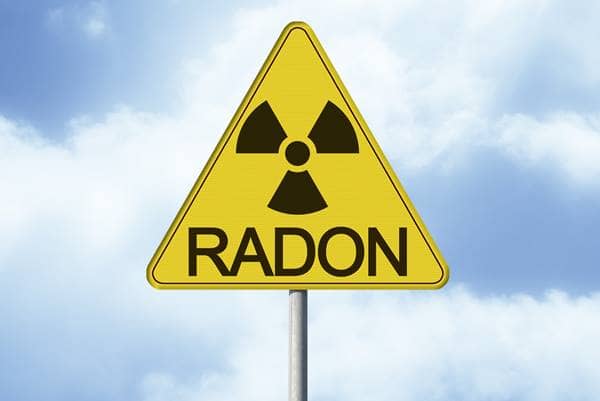 By: Libby Reed
Risk Solutions Specialist
Radon is a colorless, odorless, radioactive gas naturally present in soil, rock, air, and water. The gas is produced due to the decay of radioactive metals, and uranium found in the earth is the primary source of radon. Since high radon levels can be found in various places in the environment (from indoor facilities to underground spaces), workers in any industry can experience exposure to this hazardous chemical. Sites with possible radon exposures include factories, warehouses, offices, schools, homes, trenches, excavations, basements, cellars, mines, etc. If a worksite is found to have high radon levels, employers must ensure that they take precautions to keep their employees safe and healthy.

Possible health effects

When radon gas is inhaled, its particles deliver a dose of radiation to the lungs. This radiation can cause acute and long-term health consequences, such as:
Coughing
Shortness of breath
Coughing up blood
Chest pain
Lung cancer
According to the United States Environmental Protection Agency (EPA), radon is estimated to cause tens of thousands of lung cancer deaths each year. Additionally, radon is the second leading cause of lung cancer in the United States, with the first being cigarette smoking.

Safety controls

Employers should take steps to remediate high radon levels in the workplace by working with professional, qualified contractors or personnel. Examples of remediation activities are sealing cracks and other openings in the foundation, installing ventilation systems, soil suction, and pressurization methods.
Any workers involved in radon remediation must also be protected from the hazard. Safety controls for those individuals may include:
Proper ventilation of the workplace with outdoor air to limit exposures to respiratory hazards as much as possible.
Properly fitted, selected, and maintained respirators with a formal respiratory protection program.
Monitoring/measuring worker radon exposure to ensure exposures do not exceed the OSHA exposure limit for adult employees of 100 pCi/L averaged over a 40-hour work week.
The Occupational Safety and Health Administration (OSHA) Ionizing Radiation Standard requires employers to conduct surveys as may be necessary to comply with the provisions of the standard (29 CFR 1910.1096(d)(1)). To view the full standard, click here.

Sources:

https://www.epa.gov/sites/default/files/2016-12/documents/2016_consumers_guide_to_radon_reduction.pdf

https://www.osha.gov/ionizing-radiation/hazards

https://www.osha.gov/laws-regs/regulations/standardnumber/1910/1910.1096#1910.1096
This "document" is intended for general information purposes and should not be construed as advice or opinions on any specific facts or circumstances. The content of this document is made available on an "as is" basis, without warranty of any kind. This document cannot be assumed to contain every acceptable safety and compliance procedure or that additional procedures might not be appropriate under the circumstances. Markel does not guarantee that this information is or can be relied on for compliance with any law or regulation, assurance against preventable losses, or freedom from legal liability. This publication is not intended to be legal, underwriting, or any other type of professional or technical advice. Persons requiring advice should consult an independent adviser or trained professional. Markel does not guarantee any particular outcome and makes no commitment to update any information herein, or remove any items that are no longer accurate or complete. Furthermore, Markel does not assume any liability to any person or organization for loss or damage caused by or resulting from any reliance placed on this content.
Markel® is a registered trademark of Markel Group Inc.
© 2023 Markel Service, Incorporated. All rights reserved.
Was this helpful?