Safety news
By: Kim Coonrod
Director, Risk Solution Services
Administration & Operations


Prevent heat-related Illnesses
The heat is on! Be prepared to protect yourself from heat-related illnesses. Check out the NIOSH fast fact tip sheet on the symptoms of heat-related illnesses and preventative steps you can take to avoid them. For more information on heat stress, along with resources to share with your employees, visit the NIOSH heat stress webpage.
---
Are employers required to provide workers with water during high temperatures?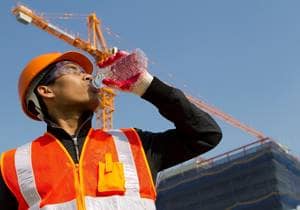 Employers are responsible for providing workplaces free of known safety hazards. This includes protecting indoor or outdoor workers from extreme heat. Heat conditions can change rapidly and management's commitment to adjusting heat stress controls is critical to prevent heat illness. OSHA has updated heat resources to help keep workers safe. Some states have adopted standards that cover hazards not addressed by federal OSHA standards. California, Minnesota, and Washington have standards for heat exposure.
---
Learn about effective use of in-vehicle monitoring systems on the new NIOSH webpage
NIOSH recently released a webpage about how in-vehicle monitoring systems (IVMS) can be effective tools for employers to reduce risky driving behaviors and improve motor vehicle safety when paired with video-based supervisory coaching of drivers. Find more information on the
IVMS webpage
.
---
Sting and bite prevention
A
new fact sheet
helps to protect outdoor workers from allergic reactions to insects.
---
MSDs affect construction workers of all ages, study of worker compensation claims shows
Age-specific efforts aimed at preventing musculoskeletal disorders related to overexertion – a significant cause of MSDs among construction workers in the US, could help address the problem, researchers from NIOSH say.
The researchers led a study that looked at 2007-2017 data from workers compensation claims for construction employees in Ohio. The state is the most populous of the four that have exclusively state-run workers compensation systems (the other states are North Dakota, Washington, and Wyoming.) Researchers note that Ohio insures around two-thirds of the state's workers, and only employers with 500 or more workers can self-insure in the state.
Results show that although the prevalence of claims was greatest among the 35-44 age group, the average claim was more costly and resulted in more days away from work among those 45-64. "Differences between age groups in the rate and severity of specific work-related musculoskeletal disorder types might be communicated to workers and their supervisors to help them focus on the most important risks," the researchers wrote.
Other potential measures: promoting the use of ergonomic tools and equipment, modifying tasks, and providing training in safe work practices.
Citing a
previous study
conducted by CPWR – the Center for Construction Research and Training, the researchers note that in 2015, 37% of work-related MSDs occurred because of overexertion while pushing, pulling, holding, carrying, and catching materials, while around 30% were caused by overexertion from lowering and/or lifting materials.
The study was
published
in the Centers for Disease Control and Prevention's
Morbidity and Mortality Weekly Report
.
---
A concussion with loss of consciousness may increase the risk for disability later in life: study
People who have suffered a concussion and lost consciousness may be at increased risk for disability or limitations later in life, according to a recent study by researchers from the University of Pennsylvania and Johns Hopkins University.
The researchers analyzed 2011-2014 data from the
National Health and Nutrition Examination Survey
, which involved nearly 7,400 adults with a mean age of 58. Respondents were asked if they had ever had a concussion and lost consciousness, as well as about their ability to take part in daily activities such as eating, preparing meals, dressing themselves, completing household chores, carrying heavy objects or walking up stairs. The respondents also answered questions about any physical, mental, or emotional issues that prohibited them from working or limited their work.
Around 16% of the respondents reported having suffered a concussion with loss of consciousness and, of them, 47% had some disability in at least one area of function. That percentage was 37 among the respondents who hadn't suffered a concussion.
Regarding impaired abilities, 38% of the former group said they have difficulty with mobility, such as walking up 10 steps or standing up from an armless chair; around 36% reported having at least some difficulty with general physical activities such as standing for long periods or carrying heavy objects; and about 35% indicated they're limited in the type or amount of work they can perform.
"This substantial burden of disability suggests that research into how to better care for and improve the functioning of people with concussions over the long term should be a priority for both public health and for planning for individuals," study author Andrea L.C. Schneider, an assistant professor of neurology at Penn and a member of the American Academy of Neurology, said in an AAN press release. "And it's possible that this is an underestimation, as the study did not include people in the military, nursing facilities or prisons who may have be more likely to experience concussions and disability."
The study was
published online
on May 26 in the AAN journal
Neurology
.
---
Construction, manufacturing workers show 'significantly higher incidence' of carpal tunnel: study
Workers in construction and manufacturing may experience a "significantly higher incidence" of carpal tunnel syndrome compared with office workers, results of a recent study by researchers from the Henry Ford Health System show.

Analyzing 2003-2018 data on employment, demographics and injuries from Bureau of Labor Statistics databases, the researchers found that, overall, injuries related to carpal tunnel syndrome fell to 900,380 in 2018 from 1.3 million in 2003 – a 30.7% drop. Higher rates of carpal tunnel injuries were associated with manual labor requiring lifting, gripping and forceful wrist motion – all of which are common in the construction and manufacturing sectors.

Activities that may put workers at increased risk of developing carpal tunnel syndrome include high-force hammering, long-term use, extreme wrist motions and vibrations, according to an HFHS press release.

"This study is an important reminder that carpal tunnel is a primary contributor to hand and upper extremity pain in both the clerical and manufacturing workplaces, and that ergonomic conditions for workers in both industries should be equally considered," Charles Day, the study's lead researcher and executive vice chair and chief of hand and upper extremity surgery in the department of orthopedic surgery at HFHS, said in the release.

The study was published in the Journal of Occupational and Environmental Medicine.
---
Vapors from isopropyl alcohol can irritate, ignite: hazard alert
Vapors from isopropyl alcohol solutions and disinfecting wipes can irritate workers' eyes, nose and throat; cause dizziness and headaches; and build up in the air and easily ignite, warns a new hazard alert from the Washington State Department of Labor & Industries.

Employers with workers who use solutions or wipes with IPA, also known as rubbing alcohol, to clean and disinfect surfaces must ensure the facility has proper ventilation.

According to the alert, two recent incidents involving exposure to potentially hazardous levels of IPA in the air occurred at separate workplaces in the state. One involved presaturated wipes (70% IPA), while the other involved over-the-counter rubbing alcohol (70% IPA) and presaturated wipes (55% IPA). In both cases, ventilation was poor and several workers were exposed to IPA levels in the air that were higher than the 15-minute short-term exposure limit.

Occasional, brief use of IPA products usually isn't a concern, Washington L&I says, but prolonged use and exposure – especially in enclosed areas – can create risks for workers. Employers can reduce the risk by:
Establishing a written hazard communication program that addresses chemical exposures.
Measuring personal exposures to ensure they're below regulated limits.
Training workers to identify hazards associated with IPA use.
Providing personal protective equipment such as goggles, face shields, appropriate respirators and emergency eyewash stations.
Posting warning signs around equipment and/or entrances where overexposures could occur.
---
Study links not wearing seat belts to greater incidence of pediatric spinal fractures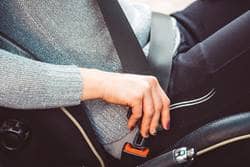 Nearly two-thirds of pediatric spinal fractures sustained in motor vehicle crashes occur as a result of not wearing a seat belt, according to the results of a recent study led by researchers from the Cohen Children's Medical Center.
Using data from the
National Trauma Data Bank
, the researchers looked at 34,563 pediatric patients who fractured their spines between 2009 and 2014. Some of the patients had multiple spinal fractures, which resulted in a total of 45,430 fractured vertebrae.
Overall, teens between the ages of 15 and 17 accounted for about 63% of the spinal fractures – two-thirds of which occurred in motor vehicle crashes. Most of the fractures from motor vehicle crashes occurred in males (54.4%). Among the patients who were unrestrained during the crash, 44.2% were teens.
When seat belts were worn during a crash, the patients had a 21% lower risk of death as well as lower odds for multiple types of fractures and other injuries.
In a press release, the researchers say measures to increase seat belt use among children and teens – especially young drivers – should be emphasized.
The study was
published
in the journal
Spine
.
---
OSHA actions impact the construction industry
OSHA's current agenda affects other employers, too.

The Occupational Safety and Health Administration (OSHA) is planning to take actions that will directly impact employers in the construction industry.

Among the most prominent are the proposed amendments to the Hazard Communication Standard (HCS) that are being designed to conform to changes in the United Nations' Globally Harmonized System of Classification and Labeling of Chemicals (GHS).

Although the standard applies to all employers that ship, store or handle hazardous materials, construction employers may have new compliance obligations from some materials now being classified as "hazardous" or managed in a different hazard class, resulting in new program, training and communication obligations.

The proposed amendments, among other things, seek to modify certain hazard classes, conditions for labeling, and language used on safety data sheets (SDS), point out attorneys Cressinda Schlag, and Kelli Morgan Dreger of the Jackson Lewis law firm. In addition, OSHA's amendments propose updates to the HCS classification and labeling framework to be consistent with more recent versions of GHS.

OSHA's proposed HCS amendments have the potential to affect many products used on construction sites, including aerosolized products and products in small containers, as well as alter some chemical product labels and SDSs, the attorneys note. They add, "Construction workers often encounter and use materials that are or will be defined as 'hazardous' under the HCS."

These materials include, but certainly are not limited to, all cleaning products used for sanitation, paint, and concrete. One major amendment proposes to revise criteria for the classification of certain health and physical hazards, including unstable gases, non-flammable aerosols, skin corrosion, or irritation, eye irritation and aerosols, generally. The proposed amendments also would create a new hazard class for desensitized explosives.

If the proposed amendments become effective, covered employers in the construction industry will need to ensure proper product classification, update their written programs, SDSs, and training materials to comply, the attorneys point out.

"Employers also may need to modify their labeling procedures and methods of communicating chemical hazards to workers and other employers on site," they explain. "Once these changes are complete, employers will have to train affected managers, supervisors, and employees."

Some stakeholders have opposed the amendments. California's Division of Industrial Relations Division of Occupational Safety and Health (Cal/OSHA), for example, has expressed a fear that the proposed amendments will limit protections for workers.

Cal/OSHA submitted comments with the federal agency contending that the amendments will reduce the amount and quality of chemical hazard information available to workers, asserting this is because it discounts chemical evaluations from the Environmental Protection Agency and other regulatory agencies.

The proposed amendments also may conflict with hazard communication and regulatory frameworks already adopted by some states. These are already in place in California, and Washington state, Schlag and Dreger observe.

The good news is that there is plenty of time for construction and other affected employers to make their views known to the federal safety agency. A virtual public hearing on the proposed revisions will be held Sept. 21. See Docket No. OSHA-2019-0001, at regulations.gov.
---
Construction workers at higher risk of COPD, study shows
Workers in
construction trades
are at significantly higher risk for
chronic obstructive pulmonary disease
than non-construction workers, according to the results of a
recent study
.
A team of researchers from CPWR – The Center for Construction Research and Training, Duke University, and the University of Maryland studied nearly 18,000 participants in the
Building Trades Medical Screening Program
, or BTMed, to determine the risk of COPD among different trades. The study involved a larger cohort than a 2010 study of construction workers at US Department of Energy nuclear facilities who participated in the BTMed. Those workers were found to have increased COPD risk, according to CPWR.
Overall, 13.4% of the participants had COPD and more than two-thirds of the cases were classified as moderate to severe. Compared with non-construction workers, the participants had a 1.34 times greater risk of COPD and a 1.61 times higher risk of severe COPD. The trades with the highest level of risk were cement masons/bricklayers (2.36 times), and roofers (2.22).
Based on the new findings, the researchers say additional preventive measures are needed to lower workplace exposures to vapors, gases, dusts, and fumes to reduce the risk of COPD. Workers who smoke can benefit from cessation support and advice.
The study was
published
in the
American Journal of Industrial Medicine
.
This document is intended for general information purposes only, and should not be construed as advice or opinions on any specific facts or circumstances. The content of this document is made available on an "as is" basis, without warranty of any kind. This document can't be assumed to contain every acceptable safety and compliance procedures or that additional procedures might not be appropriate under the circumstances. Markel does not guarantee that this information is or can be relied on for compliance with any law or regulation, assurance against preventable losses, or freedom from legal liability. This publication is not intended to be legal, underwriting, or any other type of professional advice. Persons requiring advice should consult an independent adviser. Markel does not guarantee any particular outcome and makes no commitment to update any information herein, or remove any items that are no longer accurate or complete. Furthermore, Markel does not assume any liability to any person or organization for loss or damage caused by or resulting from any reliance placed on that content.

*Markel Specialty is a business division of Markel Service, Incorporated, the underwriting manager for the Markel affiliated insurance companies.
© 2022 Markel Service, Incorporated. All rights reserved.

Was this helpful?