Safety news - Summer 2019
By: Mike Huss, Loss Control Consultant
OSHA provides compliance assistance resources to protect workers from falls
Falls remain the leading cause of worker fatalities in the construction industry. Working with industry stakeholders, OSHA developed a collection of compliance assistance resources to raise awareness of common fall hazards in construction, educate employers and workers on fall prevention, and reduce the number of fall-related injuries and fatalities. These resources include the National safety stand-down to prevent falls in construction to be held May 6-10; a series of fall safety videos; a fall prevention training guide; fact sheets on ladders andscaffolding; and a brief video, 5 ways to prevent workplace falls. For more information, read the news release and visit OSHA's fall prevention webpage.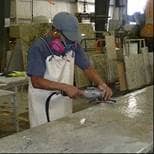 New FAQs available on controlling silica in general industry
OSHA posted new frequently asked questions (FAQs) on the standard for respirable crystalline silica in general industry. OSHA developed the FAQs in consultation with industry and union stakeholders to provide guidance to employers and workers on the standard's requirements, including exposure assessments, regulated areas, methods of compliance, and communicating silica hazards to workers. Visit OSHA's silica standard for general industry webpage for more information and additional compliance assistance resources.
CPWR releases alert, toolbox talk on lightning safety
Silver Spring, MD — Stressing the importance of lightning awareness while working outdoors, the Center for Construction Research and Training – also known as CPWR – has published a hazard alert and toolbox talk
addressing the topic.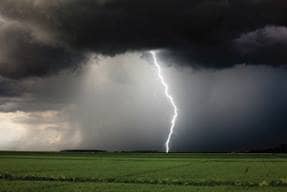 About 300 people are struck by lightning each year in the United States, resulting in approximately 30 deaths and numerous other serious injuries, according to the National Weather Service. Construction workers who work in open spaces or on high places such as roofs are at risk of being struck by lightning, CPWR states.
In the hazard alert, CPWR advises workers to:
Seek shelter in an enclosed building or hard-topped vehicle when they hear thunder. Remain in the shelter until 30 minutes after the last sound of thunder.

Avoid objects that conduct electricity, including metal objects such as scaffolds, heavy equipment or light poles; plug-in power tools or telephones; puddles or bodies of water; pipes; and trees.

Follow your employer's written emergency action plan outlining lightning safety procedures.
The toolbox talk provides tips on what workers should do when shelter options are not available. Among them:
Make sure you are not the highest object in the area.

Refrain from standing in the open, on a roof, under a tree or in an open shelter.

Reduce your risk of being struck by squatting down with your feet together, allowing only your feet to touch the ground.

Cover your ears with your hands to protect against noise.
If a co-worker is struck by lightning, he or she will not carry an electrical charge. Call 911 and then move the victim to shelter until help arrives. Perform CPR if the victim does not have a pulse. Use an automated external defibrillator, if available.
OSHA warns about hazards of ATVs at the workplace
The U.S. Consumer Product Safety Commission (CPSC) states that in 2016, ATVs caused more than 101,200 injuries in the U.S., and that 26 percent of those injuries affected kids under the age of 16. Between 2010 and 2013, an average of 532 adults were killed each year on ATVs, along with an average of 77 kids under the age 16.
The CPSC issued a press release on May 23, 2018, urging riders to avoid paved surfaces when operating ATVs. They made this move after finding that nearly one-third of reported ATV deaths, or at least 770 deaths between 2010 and 2013, were related to incidents involving ATVs on paved roads or parking lots.
"Off-road vehicles are not designed to be driven on paved surfaces," said Ann Marie Buerkle, CPSC Acting Chairman, "and collisions with cars and other on-road vehicles can be deadly for ATV operators."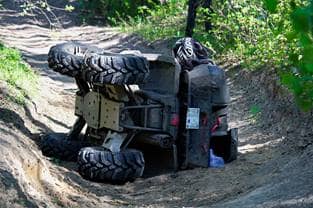 The Occupational Safety and Health Administration (OSHA) also cautions about ATV hazards in the workplace, noting that though the majority of injuries and deaths occur during recreational use, "ATV use in America's workplaces is widespread and increasing..." The administration has investigated workplace fatalities involving ATVs, and found that there were certain factors involved, including:
Unbalanced loads

Loads in excess of the ATV's specified limits

Operating at excessive speeds for the terrain/operation

Operating ATVs on paved roads

Not wearing a helmet

Insufficient or no training

Carrying passengers
OSHA recommends that employers provide instruction and hands-on training for employees on the safe handling of ATVs, and that companies should not permit ATV drivers to carry passengers. They also provide several other safety guidelines, including that employers ensure that employees only haul items on the ATV "in accordance with the manufacturer's specifications and never exceed the weight limit."
Are you prepared for a tornado?
A tornado is a violently rotating column of air extending from the base of a thunderstorm down to the ground. Tornado intensities are classified on the Fujita Scale with ratings between F0 (weakest) to F5 (strongest). They are capable of completely destroying well-made structures, uprooting trees and hurling objects through the air like deadly missiles.
Although severe tornadoes are more common in the plains states, tornadoes have been reported in every state.
A tornado safety checklist is available from the Red Cross or from FEMA.