Safety news
Riding lawnmower safety
Landscapers and lawncare crews rely on riding lawnmowers to cover more ground in less time. The tight, zero-turn radius on many riding lawnmowers also allows for closer mowing to buildings, trees, and other obstacles. However, with these advantages come the hazards of machine rollovers and contact with blade(s) or other moving parts.

The US Consumer Product Safety Commission estimates that 35,000 injuries and hundreds of deaths related to riding lawnmowers occur each year. The US Bureau of Labor Statistics reports that 252 landscaping service workers died of work-related injuries in 2019. These accidents, mostly due to loss of mower stability and operators thrown from or falling under the equipment, are preventable.

For additional information, view TDI's Safety at Work Riding Lawnmower Safety Fact Sheet.

NAHB offers resources on managing opioid misuse in residential construction
Washington — In response to the particularly heavy impact the opioid crisis is having on the construction industry, the National Association of Home Builders has introduced several free resources intended to help residential construction organizations combat the issue.

A Centers for Disease Control and Prevention analysis published in August revealed that construction workers rank first among 26 occupations in total drug overdose deaths. That same month, the Massachusetts Department of Public Health released a report that found construction and extraction workers in the state are six times more likely to suffer an opioid-related overdose death than workers in all other occupations.

Aiming to "stem the tide of the opioid epidemic's reach into the homebuilding industry," NAHB is offering:
An executive training package, including a webinar and other downloadable materials, outlining why industry action is needed
Supervisor training packages on workplace interventions and preventing opioid misuse in the industry
Fact sheets on the risks associated with taking opioids, and identifying medical, and nonmedical opioids
Resources on non-opioid alternatives to pain management
A state-by-state guide of locally available resources
"Opioid addiction is our nation's leading public health crisis, and it affects people across all socioeconomic classes, races, genders and jobs, and the homebuilding industry is no exception," NAHB Chairman Greg Ugalde said in a June 10 press release. "NAHB is pleased to provide resources and possible solutions to this issue affecting so many lives." NAHB said it plans to update and add to the resources as they are finalized.

Stay safe on scaffolds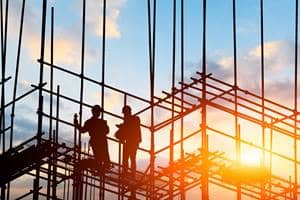 Violations of OSHA's scaffolding standard (1926.451) are a mainstay on the agency's annual Top 10 list of most-cited standards, ranking fourth in fiscal year 2020 and third in FY 2019. According to a "Toolbox Talk" on scaffolding safety released by OSHA as part of its national safety stand-down to prevent falls in construction, scheduled for May 3-7, "Hardly a workday goes by without a construction worker falling off a scaffold to his death. These deaths can be prevented".
Here's how:
Make sure scaffolds are inspected daily. Check the guardrails, connectors, fastenings, footings, tie-ins, bracing and planking. Remove any damaged scaffolds from service immediately.
Don't climb cross-bracing
Never stockpile materials on scaffolds. Remove all tools and leftover materials at the end of the day.
Don't overload scaffolds. Pile necessary materials over ledger and bearer points.
Ensure the area near the scaffold is free of debris, unneeded equipment or material, and any other slip, trip or fall hazards
Climb the access ladders provided with each scaffold. Don't climb off the end frames.
Use a rolling scaffold only on level surfaces, and lock caster brakes when the scaffold isn't in motion. Make certain the route is clear of holes and overhead obstructions when you're moving it, and secure all loose materials.
Use personal fall protection equipment tied off to an anchorage point from a lanyard, lifeline and/or deceleration device.
For additional information, go to: osha.gov.

Protect your eyes while working
Every day, about 2,000 US workers injure their eyes severely enough to need medical treatment, according to NIOSH. With May being healthy vision month, let's take a look at how workers can protect their eyes.

Why are workers getting eye injuries?
"Workers experience eye injuries on the job for two major reasons," the American Optometric Association says. "They were not wearing proper eye protection or they were wearing the wrong kind of protection for the job." As a result, eyes can get scraped or struck, penetrated, or burned, NIOSH warns. That's why it's important to make sure workers are wearing eye protection, such as goggles, face shields, safety glasses or a full-face respirator. "Eye protection should be fit to an individual or adjustable to provide appropriate coverage," the agency says. "It should be comfortable and allow for sufficient peripheral vision."

Tips for prevention
When it comes to preventing eye injuries in the workplace, NIOSH has the following advice for employers:
Ensure engineering controls, such as machine guards and work screens, are used.
Conduct a hazard assessment to determine the appropriate type of eyewear for a given task, and then make sure workers have access to the eyewear.
Need help determining what constitutes "appropriate" eyewear? AOA has recommendations:

If you're working in an area that has particles, flying objects or dust, wear safety glasses with side protection (side shields).
If you're working with chemicals, wear goggles. If you're working near hazardous radiation (welding, lasers or fiber optics), wear special-purpose safety glasses, goggles, face shields or helmets designed for that task.
Working safely in the heat: what you need to know

Heat-related illnesses accounted for 783 worker deaths and nearly 70,000 serious injuries in the US from 1992 to 2016. In 2018 alone, 3,950 workers experienced days away from work as a result of nonfatal injuries and illnesses from on-the-job heat exposure.
"Millions of US workers are exposed to heat in the workplace, and although heat-related illness is preventable, each year thousands of workers are getting sick from their exposure to heat, and some cases are fatal," Stephen Boyd, deputy regional administrator for OSHA Region 6, said during an OSHA webinar on preventing heat-related illnesses and injuries.
Working in a hot environment can trigger ailments that include heat rash, heat cramps, heat exhaustion, and heatstroke – considered a medical emergency. Symptoms of heat exhaustion include feeling faint or dizzy; excessive sweating; cool, pale, clammy skin; nausea or vomiting; rapid, weak pulse; and muscle cramps. Workers who are experiencing heat exhaustion need to get to a cool, air-conditioned place. If fully conscious, they should drink water, take a cool shower, and use a cold compress.
Workers with heatstroke may experience a headache but no sweating and have a body temperature above 103° F. Other symptoms are red, hot, dry skin; nausea or vomiting; and loss of consciousness. Call 911 if a case of heatstroke is suspected, then take action to cool the worker until help arrives.

Other tips from OSHA to help prevent heat-related illnesses include:
Drink water every 15 minutes.
If working outside, take rest breaks in the shade to cool down.
Wear a hat and light-colored clothing when working outdoors.
Monitor co-workers for symptoms of heat-related illnesses.
OSHA provides employer and worker resources for working in hot weather via its "Water. Rest. Shade." campaign.


This document is intended for general information purposes only, and should not be construed as advice or opinions on any specific facts or circumstances. The content of this document is made available on an "as is" basis, without warranty of any kind. This document can't be assumed to contain every acceptable safety and compliance procedures or that additional procedures might not be appropriate under the circumstances. Markel does not guarantee that this information is or can be relied on for compliance with any law or regulation, assurance against preventable losses, or freedom from legal liability. This publication is not intended to be legal, underwriting, or any other type of professional advice. Persons requiring advice should consult an independent adviser. Markel does not guarantee any particular outcome and makes no commitment to update any information herein, or remove any items that are no longer accurate or complete. Furthermore, Markel does not assume any liability to any person or organization for loss or damage caused by or resulting from any reliance placed on that content.

*Markel Specialty is a business division of Markel Service, Incorporated, the underwriting manager for the Markel affiliated insurance companies.
© 2022 Markel Service, Incorporated. All rights reserved.

Was this helpful?