Safety news - Winter 2019
Top five safety concerns for workers
An EHS survey by 360training.com finds workers are more concerned about their workplace safety than they were a year ago. The May 2019 study asked 1,069 workers in industries impacted by EHS concerns to name their top safety concern.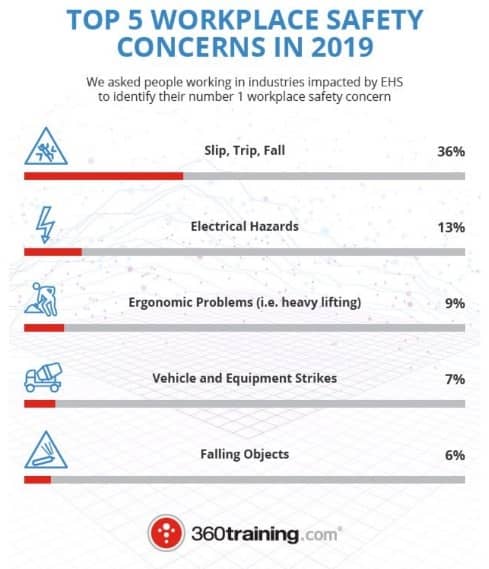 The top five are:
Slip, trip and fall: 36%
Electrical hazards: 13%
Ergonomic problems: 9%
Falling objects: 6%.
The top concern varied by industry:
Construction: electrical hazards
Manufacturing: ergonomic problems
Oil and gas: chemical exposure
Transportation: vehicle and equipment strikes
Utilities: electrical hazards
The study found that concern for overall workplace safety is on the rise. Thirty-nine percent of respondents said they're more concerned with on-the-job safety this year than they were last year. Twenty-five percent said they worry on a daily basis about getting injured at work. Construction workers are 27% more likely to have this concern. Workers in the oil and gas industry are also more likely to have this concern.
For more information about the study go to https://www.360training.com/blog/new-survey-reveals-rise-workplace-safety-concerns/.
NIOSH releases international travel planner for small businesses
NIOSH has unveiled a new resource intended to help small business owners ensure the health and safety of employees who travel internationally. The 36-page travel planner includes checklists for each stage of a trip in three important areas: job, location and personal. Each checklist has questions to help identify risks, considerations, and actions that need to be addressed before, during, and after an employee's trip.
The pre-travel checklist comprises 30 questions that address preparing for weather, language differences, health concerns, local travel, and the potential for natural disasters, among others. NIOSH recommends employees review their travel plan upon arriving at their destination and "continue to check it as conditions change, or every two to four weeks."
The guide also contains numerous documents to help assess or record information during each planning stage, including an employer task timeline, a travel health assessment, a location health and safety plan, a packing list, a contact and emergency information form, an incident report, and a post-travel report.
The guide is available at https://www.cdc.gov/niosh/docs/2019-165/pdfs/2019-165.pdf?id=10.26616/NIOSHPUB2019165
Sitting at home vs. at work: Study explores which is worse for your heart
Sitting while watching TV may be more harmful to your cardiovascular health than sitting at work, researchers from Columbia University's Vagelos College of Physicians and Surgeons suggest. For about 8.5 years, researchers followed nearly 3,600 participants, who self-reported their time spent sitting at work and at home watching TV, as well as how much of their time they spent exercising.
Participants who logged four or more hours a day of TV watching had a 50% higher risk of a cardiovascular event and death compared with those who watched TV less than two hours a day. In contrast, people who sat the most at work had the same health risks as those who sat the least. "It may be that most people tend to watch TV for hours without moving, while most workers get up from their desk frequently," researcher Keith M. Diaz, assistant professor of behavioral medicine at Columbia, said in a June 25 press release. "The combination of eating a large meal such as dinner and then sitting for hours could also be particularly harmful."
Even among the participants who sat and watched TV the longest, moderate to vigorous physical activity (e.g., brisk walking and aerobic activities) reduced their risk of heart attack, stroke, or death. Further, participants who logged at least 150 minutes of exercise a week had no increased risk of these health outcomes.
"Our findings show that how you spend your time outside of work may matter more when it comes to heart health," Diaz said in the release. "Even if you have a job that requires you to sit for long periods of time, replacing the time you spend sitting at home with strenuous exercise could reduce your risk of heart disease and death. Almost any type of exercise that gets you breathing harder and your heart beating faster may be beneficial."
The study was published online June 26 in the Journal of the American Heart Association. https://www.ahajournals.org/doi/full/10.1161/JAHA.118.010406
OSHA and NOAA make severe weather safety resource
Severe weather can have hazardous effects on all facets of our lives: homes, transportation, and livelihood. OSHA and NOAA are working on a public education effort to help people stay safe during severe weather.
It is not uncommon that the morning news anchor is discussing yet another flooding, tsunami, or tidal surge that tears through neighborhoods and demolishes buildings with no mercy. To help the general public—especially businesses and their workers—stay safe during severe weather, OSHA and the National Oceanic and Atmospheric Administration (NOAA) are working together.
Their severe weather page is designed to help workers, and the public, prepare for floods caused by rain, rising rivers, tidal surges, ice jams, and dam failures. It provides information about hazards, preparedness, response/recovery tips, and OSHA resources.
The preparedness page provides information on the following: an evacuation plan, emergency supply kits, and flood watches and warnings. Planning information is essential to ensuring a readiness to evacuate in an orderly manner before rising waters impact businesses, residences, or evacuation routes. It is a good idea to find out if your business or residence is in an area that is prone to flooding. If it is, OSHA and NOAA recommend you monitor NOAA Weather Radio or commercial radio television stations for information about flood watches and warnings. A basic Disaster Supplies Kit is a good tool to have on-site too since you never know when you or your company might need emergency supplies.
The response/recovery page provides information on the hazards to avoid during flooding. Information covers tips for vehicle use, health hazards such as downed electrical lines, mold, and wild animals. The dangers of severe weather do not just apply during the crisis; many hazards remain during recovery and cleanup. This page provides guidelines that may be applicable to workers involved in assessing and/or cleaning up the damage on their worksite. Read up on road and vehicle guidelines during response/recovery as well, since nearly half of flood fatalities are vehicle-related.
Workers who have to respond to flooded areas face the greatest risk from floods, but all workers can better protect themselves with proper knowledge about flood risks and evacuation plans.
Because employers are responsible for the safety and health of their workers, anticipating hazards associated with flood response and recovery operations is imperative and important. OSHA's severe weather page with NOAA aims to help employers, workers, and the public to be better prepared in weather crises.
New brochure spotlights OSHA on-site consultation program
A new brochure from OSHA highlights the benefits of the agency's free On-Site Consultation Program for small employers. In the two-page document, titled Safety and Health Advice You Can Trust for Your Small Business, the agency urges employers to evaluate their workplace for hazards to reduce the risk of worker injuries and illnesses.
According to OSHA, an onsite consultation offers small employers:
Confidential workplace safety and health services
Assistance with finding and fixing hazards
Advice on complying with OSHA standards
Help with establishing and improving safety and health programs and training workers
Because the consultation program is separate from OSHA enforcement activity, these services do not result in penalties or citations, the agency emphasizes, adding that the program can save employers money and improve workforce engagement.
The brochure explains how to initiate an onsite consultation and describes each step of the process, stating, "Your business's only obligation is to correct unsafe and unhealthy working conditions within a reasonable time period."
The brochure is available at https://www.osha.gov/Publications/3357consultation-sm.pdf
Study links workplace injuries to greater risk of suicides, fatal drug overdoses
People injured at work are more likely to die of suicide or a drug overdose when the injury requires at least a week off, results of a recent study led by researchers from the Boston University School of Public Health show.
The researchers reviewed workers compensation data collected between 1994 and 2000 for more than 100,000 injured workers in New Mexico and linked it with the workers' Social Security Administration earnings and mortality data through 2013, along with National Death Index cause-of-death data through 2017. They found that 36,034 of the workers sustained a lost-time injury between 1994 and 2000. Lost-time injuries were defined as requiring more than seven days off the job or resulting in permanent disability.
Women with lost-time work injuries were 193% more likely to die from drug-related causes and 92% more likely to die from suicide. Men were 72% more likely to die by suicide and 29% more likely to die of drug-related causes.
"These findings suggest that work-related injuries contribute to the rapid increase in deaths from both opioids and suicides," senior study author Leslie Boden, a BU professor of environmental health, said in a July 22 press release.
Suicides and opioids may be driving the recently reported three-year decline in U.S. life expectancy, the researchers noted. Boden said recommendations that could help workers after an injury include "improved pain treatment, better treatment of substance abuse disorders and treatment of post-injury depression."
The study was published online July 12 in the American Journal of Industrial Medicine.
https://www.safetyandhealthmagazine.com/articles/18756-study-links-workplace-injuries-to-greater-risk-of-suicides-fatal-drug-overdoses
OSHA guide highlights hazards of snow and ice removal
OSHA has released a guide aimed at employers and workers involved in snow and ice removal activities. Falls are the leading cause of injuries and fatalities among workers who remove ice and snow from rooftops and other structures, according to the agency. "Workers can fall off roof edges, through skylights, and from ladders and aerial lifts," the pamphlet states. "A roof collapse can also hurt or fatally injured workers." The guide is available at https://www.osha.gov/Publications/OSHA3966.pdf
---
By: Kim Coonrod
Director, Loss Control
This document is intended for general information purposes only, and should not be construed as advice or opinions on any specific facts or circumstances. The content of this document is made available on an "as is" basis, without warranty of any kind. This document can't be assumed to contain every acceptable safety and compliance procedures or that additional procedures might not be appropriate under the circumstances. Markel does not guarantee that this information is or can be relied on for compliance with any law or regulation, assurance against preventable losses, or freedom from legal liability. This publication is not intended to be legal, underwriting, or any other type of professional advice. Persons requiring advice should consult an independent adviser. Markel does not guarantee any particular outcome and makes no commitment to update any information herein, or remove any items that are no longer accurate or complete. Furthermore, Markel does not assume any liability to any person or organization for loss or damage caused by or resulting from any reliance placed on that content.

*Markel Specialty is a business division of Markel Service, Incorporated, the underwriting manager for the Markel affiliated insurance companies.
© 2022 Markel Service, Incorporated. All rights reserved.

Was this helpful?