Safety news
By: Kim Coonrod
Director, Risk Solution Services
Administration & Operations
N95 respirator approval, fit testing and efficiency: new fact sheets from NIOSH
NIOSH has issued a pair of fact sheets on filtering facepiece respirators, detailing how to tell if an N95 is approved by the agency as well as procedures for fit testing and testing filtration efficiency.
With an NIOSH-approved respirator, "you can be confident that it is working as expected" as long as it is properly maintained, is worn and used correctly, fits properly, and is replaced as recommended by the manufacturer.
"NIOSH only approves respirators that pass its strict quality assurance and performance requirements," the agency says. During its tests, NIOSH uses a "near worst-case penetrating aerosol size (i.e., particles that are best able to make it through a filter)." An N95 respirator must block at least 95% of those particles, which typically measure at 0.3 microns in diameter.
The fact sheet on fit testing and filtration efficiency testing covers the types of fit tests: qualitative and quantitative. It also includes a short checklist to ensure an N95 is protecting the user.
---
Stress in the workplace
Throughout the COVID-19 pandemic, stress levels among many workers have been through the roof. Studies have shown that between care-giving duties, job responsibilities and more, employees are feeling overwhelmed. And stress has been linked to health conditions such as cardiovascular issues, depression, and obesity.
"Everyone experiences stress from time to time," the National Institute of Mental Health says. "If you take practical steps to manage your stress, you may reduce the risk of negative health effects."
Tips include:
Recognize the signs of your body's response to stress. This can include difficulty sleeping, increased alcohol and other substance use, being easily angered, feeling depressed, and having low energy.
Try exercising. "Just 30 minutes per day of walking can help boost your mood and improve your health," NIMH says.
Explore meditation, muscle relaxation or breathing exercises. Set aside time in your daily schedule for these and other relaxing activities.
Learn to say "no" to new tasks if you feel like you're taking on too much. Decide what must get done now and what can wait.
Know that you're not alone. "Keep in touch with people who can provide emotional support and practical help," NIMH advises. "To reduce stress, ask for help from friends, family or religious organizations."
Ask for help. "If you're overwhelmed by stress, ask for help from a health professional," NIMH says. "You should seek help right away if you have suicidal thoughts, are overwhelmed, feel you cannot cope, or are using drugs or alcohol more frequently as a result of stress."
---
Fall protection remains atop OSHA's 'Top 10' list of most frequently cited violations
For the 11th consecutive fiscal year, Fall Protection – General Requirements is OSHA's most frequently cited standard. Although several standards swapped positions, the standards that make up the Top 10 remained unchanged from FY 2020. Hazard communication, which ranked as the second most frequently cited standard a year ago, fell to No. 5 in FY 2021. Among other notable movement, respiratory protection rose one spot to No. 2, while powered industrial trucks fell two spots, dropping to ninth from seventh.
The full list:
Fall protection – general requirements (1926.501): 5,295 violations

Respiratory protection (1910.134): 2,527

Ladders (1926.1053): 2,026

Scaffolding (1926.451): 1,948

Hazard communication (1910.1200): 1,947

Lockout/tagout (1910.147): 1,698

Fall protection – training requirements (1926.503): 1,666

Personal protective and lifesaving equipment – eye and face protection (1926.102): 1,452

Powered industrial trucks (1910.178): 1,420

Machine guarding (1910.212): 1,113
---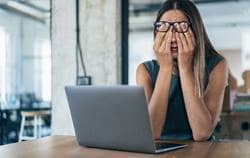 Burned out at work? You're not alone, survey finds
More than half of US workers say they're burned out, and around two out of five are considering a job change "to resolve stress," results of a recent survey show.
Commissioned by Talkspace, an online behavioral health care company, researchers from the Harris Poll in September surveyed nearly 2,100 adults from around the country to learn about employee attitudes toward mental well-being and work. Of the respondents who said they're thinking about changing jobs, 67% indicated that their employer hasn't followed through on promises to focus on mental health during the COVID-19 pandemic.
Although 52% of the respondents reported burnout, fewer than 20% of them are using their company's mental health benefits. "This signals that employees may not be fully aware of what's available, or may not feel comfortable taking advantage of certain benefits," a press release from the Harris Poll states.

Around 60% of the respondents believe that more support from management could positively influence employee retention.

"It's critical that employers pay attention to pain points and implement effective solutions that counteract chronic stress, enhance workplace culture and improve retention," Varun Choudhary, a physician and chief medical officer at Talkspace, said in the release.
---
Occupational heat exposure may boost risk of kidney disease: study
Workers in physically demanding jobs who are exposed to heat may be more susceptible to developing kidney disease, according to the results of a recent study led by a University of Oregon researcher.
After examining an epidemic of heat-related kidney disease among Central American workers with physically demanding occupations, as well as potential related cases in India and Sri Lanka, researchers cited "growing concern" that US workers in similar conditions may be affected by the disease.
Although an analysis of previous studies shows "limited available evidence characterizing occupational heat exposure" in the US, researchers still found that some workers may be at increased risk of kidney disease resulting from on-the-job heat exposure.
Findings support the prevailing notion that heat stress "induces tubular kidney injury, which is worsened by higher core temperatures, dehydration, longer work durations, muscle-damaging exercise, and consumption of beverages containing high levels of fructose," the researchers write.
In a press release, Chris Chapman, lead study author and postdoctoral researcher at the university's Bowerman Sports Science Center, said the tendency of some workers to exhibit higher rates of risk factors that may trigger kidney disease – such as obesity, high blood pressure and diabetes – "lead us to think this is something the US should be paying attention to."
---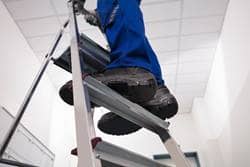 Look up: ladders and overhead power lines
From 1992 to 2005, at least 154 workers were killed after a metal ladder they were using came in contact with an overhead power line, according to Bureau of Labor Statistics data cited in a recent NIOSH review.
"As part of the site safety program and orientation," NIOSH says, "make supervisors and workers aware of power line distances from work areas, including ladder length and ladder staging areas. Use site diagrams to communicate this information and ground-level signs or taped markers to remind workers of overhead power line locations."

To help prevent injuries and fatalities, NIOSH recommends workers:
Look up. You need to know the location of overhead power lines before starting any job. "Always assume all overhead lines are energized and dangerous," the agency says.
Don't use metal ladders when working around or near overhead power lines.
Carry a ladder horizontally and in a lowered position when moving it. If a ladder is too long for one person to carry, ask for help.
Follow the 1:4 rule: "For every 4 feet between the ground and the upper point where a ladder is resting, set the feet of the ladder out 1 foot horizontally. For example, if the ladder is resting on the edge of a roof 16 feet above the ground, the bottom of the ladder should be 4 feet out from that edge."
Don't touch or go near a person or ladder that has come in contact with an overhead power line.
---
Create opportunities for worker engagement in safety
A key principle of OSHA's Safe + Sound campaign is "worker participation." (The others: "find and fix hazards", and "management leadership.") OSHA defines worker participation as "engaging workers at all levels in establishing, implementing, evaluating, and improving safety and health in the workplace so that workers understand they are a valuable partner in making their workplace safer and are encouraged to communicate with management about hazards on the job."
OSHA recommends employers ask for and listen to feedback when building a workplace safety and health program. "Creating opportunities for open dialogue encourages workers to raise safety and health concerns or report a work-related injury or illness without fear of retaliation."
Other steps:
Be present. Implement an open-door policy so workers know they can talk to you about safety and health concerns during work hours.
Invite your workers to a safety discussion listening session.
Set up a physical or virtual suggestion box that workers can use to relay safety and health concerns.
Host a celebration or ceremony to recognize workers who make safety contributions, or invite them to have lunch with your CEO, president or other leaders to discuss safety.
Involve workers when setting annual safety and health goals. For example, invite them to "help research, brainstorm and decide on the appropriate targets." Ensure workers at all levels of your organization can participate, regardless of skill level, status or education. Provide translation if needed.
---
Can you tell the difference between colds, flu, and COVID-19?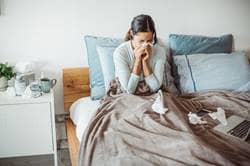 Symptoms of the common cold, the annual flu and COVID-19 can resemble one another. Knowing the signs of each will help you prevent the spread of diseases this fall and winter.
• Symptoms may be gradual
• Most common symptoms include sneezing, a stuffy nose and a sore throat
• It is rare to experience a fever or headache

With the flu:
• Symptoms usually show up abruptly
• Common symptoms include a fever, aches, fatigue, chest discomfort and a headache
• It is less common to experience sneezing, a stuffy nose or a sore throat

With COVID-19:
• Symptoms may appear two to 14 days after exposure to the virus
• Common flu-like symptoms include a fever, aches, fatigue and a headache
• Loss of taste and smell are more common with COVID-19 than with the flu, as are hospitalizations and post-illness conditions

If you do experience symptoms of COVID-19, the CDC recommends:
• Stay at home except to receive medical care
• Get tested
• Stay in touch with your doctor
• Monitor your symptoms; seek medical care immediately if you experience trouble breathing, pain or pressure in your chest or other signs of an emergency

Watch this video to learn more about cold and flu safety in the workplace.
Source: NSC
This document is intended for general information purposes only, and should not be construed as advice or opinions on any specific facts or circumstances. The content of this document is made available on an "as is" basis, without warranty of any kind. This document can't be assumed to contain every acceptable safety and compliance procedures or that additional procedures might not be appropriate under the circumstances. Markel does not guarantee that this information is or can be relied on for compliance with any law or regulation, assurance against preventable losses, or freedom from legal liability. This publication is not intended to be legal, underwriting, or any other type of professional advice. Persons requiring advice should consult an independent adviser. Markel does not guarantee any particular outcome and makes no commitment to update any information herein, or remove any items that are no longer accurate or complete. Furthermore, Markel does not assume any liability to any person or organization for loss or damage caused by or resulting from any reliance placed on that content.

*Markel Specialty is a business division of Markel Service, Incorporated, the underwriting manager for the Markel affiliated insurance companies.
© 2022 Markel Service, Incorporated. All rights reserved.

Was this helpful?