Buying a boat in the off season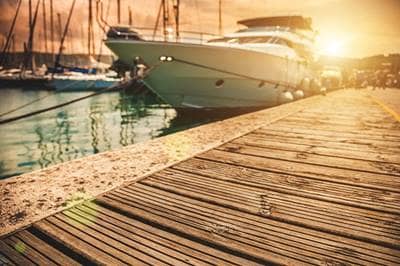 Similar to other industries, boat prices tend to be lowered in the fall and winter. Add in the fact that dealerships are trying to clear their inventory to prepare for next year's models and you're sure to find a few good deals.
But these "good deals" don't come without warning. The majority of boat buyers make mistakes that cost them time, money and frustration. As a general rule of thumb, if the deal sounds too good to be true - it probably is. So, how do you take advantage of the off-season deals without being taken advantage of? Accredited Marine Surveyor Todd Schwede of Todd & Associates offers a few tips to help you make a smart purchase and find a boat that's right for you.
First, think about how and where you plan to use your boat the majority of the time. Will you spend most of your time fishing, entertaining friends or pulling the kids on tubes and skis? Do you plan to use it in a nearby lake or out in the ocean? Does your boating experience match the skills you will need to operate the boat?
Answering these questions will help you narrow down the type of boat that will best fit your needs. The Boat Selector on DiscoverBoating.com is a great tool that can provide a side-by-side boat comparison to help you find exactly what you need. Being swept away by a good deal on a 28 foot cruiser if you were really looking for an 18 foot ski boat can end up costing you more in the long run.
Next, you'll want to take a thorough look at the boat to make sure you know exactly what you are buying.
Tips for buying a boat in the off-season
Tip #1: Make sure the Hull ID number was not altered.
Check to see that a replacement plate wasn't screwed or glued over the original Hull ID number. Make sure there aren't scratch markings that would also indicate that the Hull ID number was altered. The Hull ID number is a unique number that is assigned to each individual boat, typically located in the upper starboardtransom. It is used to track ownership, theft and safety recalls.
Tip #2: Look for signs of prior hull repairs.
Mismatched gel coat, sanding marks on the hull, a poor paint job and high water lines inside the bilge areas are just a few signs that previous hull repairs wererequired. While boats do require regular maintenance, signs of repair should be questioned to determine possible boat defects.
Tip #3: Test to make sure every system in the boat is working properly.
It's the buyer's responsibility to make sure that everything on the boat is in working condition. Make sure to test the breaker switches, lights, dashboards and controls. Ask if you can test drive the boat to make sure it operates the way it's supposed to.
You may also consider having a survey done on the boat before you purchase. A survey is an additional expense to consider; however, it may reveal a defect,which could save you a significant amount of money in the long run. The Society of Accredited Marine Surveyors (SAMS) and the Accredited Marine Surveyor (AMS) are two professionally recognized organizations that can help provide a list of certified surveyors in your area.
Tip #4: Take care of your new purchase.
Winter storage in areas of the country that experience snow and cold temperatures is extremely important. The advantage of buying a boat in the off-season is having the ability to ensure that the boat is properly stored and winterized. A boat that is not properly winterized may have problems when boating season arrives. After patiently waiting to use your new boat over the winter months, the last thing you want to do is spend time fixing it before the season even starts.
Winterization Tips
Store the boat stern-down, so rain and melting snow can drain through the scuppers.
Open all seacocks and drains to prevent freezing.
Use fuel stabilizing additives and follow proper procedures for winterizing engines and systems.
Provide structural support under boat covers and tarps.
Never tie-off boat covers or tarps to boat stands.
Trailer boat hulls should have support so the weight of the boat is not entirely on the trailer tires.
Remove electronics, food stuff, valuables, canvas and cushions. These items should be stored indoors.
Put moisture absorbers in the cabin and lockers.
Never use a portable heater or auto battery charger in the bilge.
If your boat is blocked, check the stands and blocking periodically during storage.
Be sure to do some research and talk with the seller to learn more about winterizing the boat you are looking to purchase. Remember, each boat is unique and may require special attention.
Conclusion
Buying a boat in the off-season may save you money. To make sure the benefit carries through in years to come, it's important to select the boat that's right for you and your needs, thoroughly examine the boat and know how to properly store the boat for the off-season. Following these tips and guidelines will help you to make a smart purchase, find a boat that's right for you and keep you from being swept away by end-of-season sales.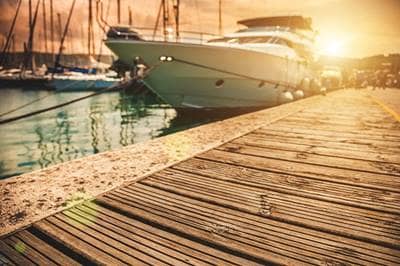 Was this helpful?
Policies as low as $100 per year.
Get a fast, free online quote today and get the protection and peace of mind you deserve. Plus, save up to 35% with our discounts.
Or call +1.800.236.2453 to speak with a boat insurance specialist.